News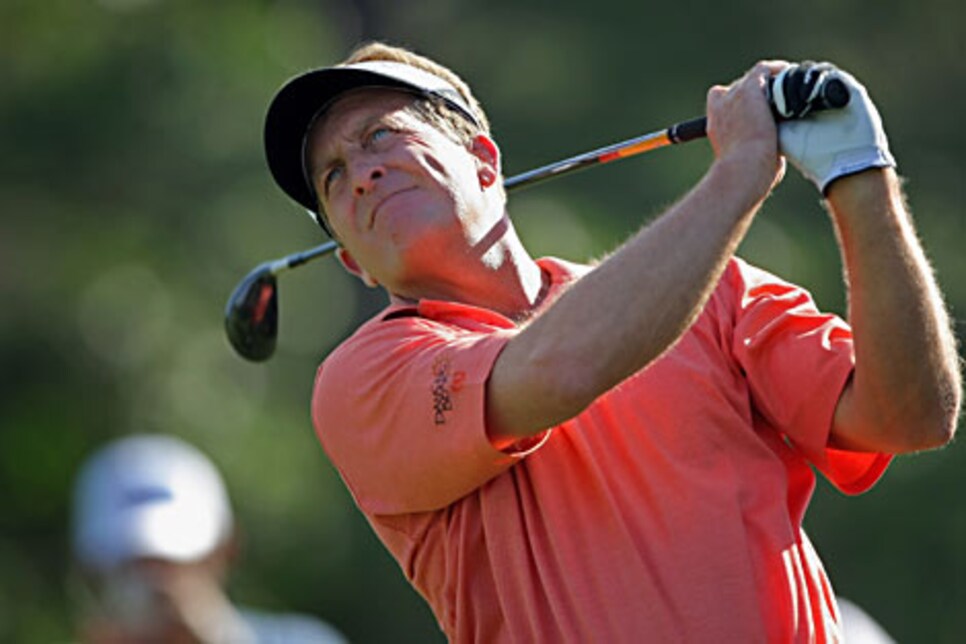 Funk's five-under 65 was the best opening round ever at the U.S. Senior Open.
COLORADO SPRINGS, Colo. (AP) -- The only thing that spoiled John Cook's comeback was Fred Funk's finish.
Cook, who blew a big lead on the back nine at the British Senior Open on Sunday, played a practice round with Greg Norman at The Broadmoor's East Course this week to prepare for the U.S. Senior Open and to commiserate over their respective final-round failures across the Atlantic.
Norman couldn't hold on to the 54-hole lead at the British Open two weeks ago.
All that pity paid off Thursday when Cook carded a 4-under 66, which was good for the clubhouse lead for most of the day until Funk birdied the 16th and 17th holes to go 6 under before three-putting the final hole and finishing at 5-under 65.
Funk had two birdies and an eagle on the first four holes of a spectacular round that was bogey-free until the 18th hole.
"Obviously, I got off to a ridiculously good start," Funk said. "It was a good day. You can't be displeased with a 65 on this course -- or any course."
Four players were tied for third place at 1 under: Morris Hatalsky, Eduardo Romero, Juan Quiros and Tom Kite.
Norman shot a solid 70, the same as defending champion Brad Bryant.
Cook birdied his first hole and was the only one in the 156-man field to play in the red numbers all day, but it was Funk who really conquered the East Course with its treacherous back nine and deceptive greens.
The winds kicked up after his fantastic start and he played even par until 16 as a handful of birdie chances eluded him.
"I hate to say it, I think I could have shot a 61 or 62 today," Funk said.
Cook, who blew a three-shot lead with eight holes to go and then lost to Bruce Vaughan in a playoff at Troon, Scotland, said he spent Monday moping around, walking this course without so much as swinging a club.
After a pep talk from his friend Tiger Woods that night, Cook teed off with Norman and Mark O'Meara on Tuesday.
"I mean, his was the Open Championship, mine was the Senior Open Championship, but still, when you have it in your grasp like that, you have something a little bit in common," Cook said. "So, it was a nice walk on Tuesday with these guys, and I got up and struck the ball nicely. I said, OK, new week, let's just go at it again."
Norman, who credits his rejuvenated golf game to new bride Chris Evert -- he finished third at the British Open and fifth at the Senior British Open -- followed each of his three birdies with bogeys on the next hole.
"I played well. I just couldn't get it over the hump," he said.
The notoriously tricky greens, where golfers must try to keep the pin between themselves and the Will Rogers Shrine of the Sun atop nearby Cheyenne Mountain, were surprisingly inconsistent, Norman said.
"Some were very mushy, very soft. They put a lot of moisture in some greens and not in others," he said. "It was tough judging, especially the second shot, not knowing what the golf ball was going to do. It got into a bit of a guessing game at the end of the day."
Norman figures that will even out Friday when he tees off in the afternoon in the 100-degree heat.
The 7,254-yard course, the longest for a U.S. Senior Open, sits more than 6,400 feet above sea level, so the golfers not only had to adapt to the tricky greens that left many of them red-faced but they had to adjust for altitude on their irons and tee shots.
"It's such a mental brain drain by the time you do your calculations and try to figure out whether it's 20 percent or 30 percent or 18 percent," Norman said. "By the time you do the math in your head, then you have to figure out what shot you want to hit."
The day's biggest gallery followed Norman's group that included Curtis Strange and Fuzzy Zoeller, who kept the mood light. On the third hole, a gaggle of geese even joined in, swooping in on the green as Strange putted for par.
Two holes later, Norman sank a 25-foot birdie putt and Strange was good from 18 feet. As Zoeller approached his 7-footer for birdie, he exclaimed, "The pressure's on me now!"
He played the hole for a 2-inch break but it didn't work, and before tapping in for par, Zoeller groaned, "Where's that mountain when you need it?"
Cook collected five birdies to go with one bogey, a turnaround from his slip-up in Scotland on Sunday, when he lost a playoff to Vaughan in a final-round disappointment reminiscent of the 1992 British Open when he missed a 2½-foot putt on the 17th to lose to Nick Faldo.