News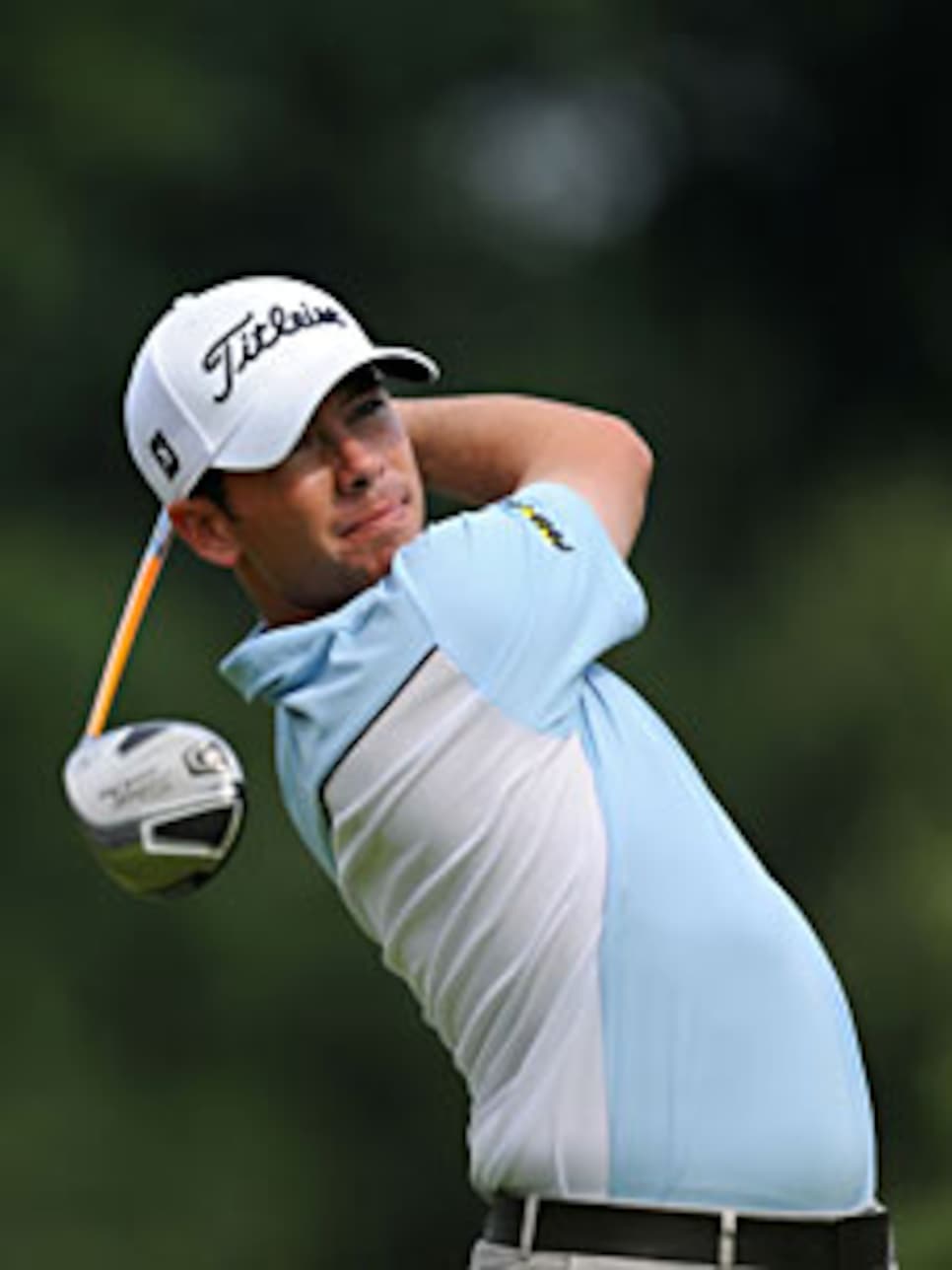 Reavie, 5'9" and not a long hitter, relied on finesse and accuarcy rather than power.
OAKVILLE, Ontario (AP) -- The Small Unit came up big in the Canadian Open.
Chez Reavie, proudly sporting an Arizona Diamondbacks logo on his light blue shirt, won the national championship Sunday for his first PGA Tour title, closing with a 1-under 70 in near-perfect conditions for a three-stroke victory over Billy Mayfair.
At a generously listed 5-foot-9, the 26-year-old former Arizona State player picked up the Small Unit moniker in a joking reference to Randy Johnson, the 6-foot-10 Diamondbacks pitcher known as the Big Unit.
Also in contrast to Johnson, Reavie relies on finesse rather than power. The short-hitter was on the mark all week at rain-softened Glen Abbey, hitting 44 of 56 fairways in regulation and 54 of 72 greens. The accurate play was a big factor, with the players allowed to use preferred lies in the fairways all four days.
Playing his sixth straight week on the tour, Reavie finished at 17-under 267. He earned $900,000 and spots the next two weeks in the World Golf Championships-Bridgestone Invitational and PGA Championship.
Mayfair, also a former Arizona State player, shot a 68. Sean O'Hair (68) and Steve Marino (70) tied for third at 13 under, and Canadian star Mike Weir (69) was another stroke back along with Nicholas Thompson (69) and Scott McCarron (71).
"I enjoyed it. I played well this week," said Weir, skipping the WGC event next week after a tiring two-week stretch at the British Open and Glen Abbey.
"It has been exhausting," Weir said.
Anthony Kim, a two-time winner this year coming off a seventh-place tie in the British Open, began the round a stroke back, but followed his third-round 64 with a 75 to tie for eighth at 11 under. The 23-year-old American would have moved into the top 10 in the world rankings with a victory.
After finishing off a third-round 68 early Sunday to take a one-stroke lead, Reavie got off to a slow start in the afternoon with bogeys on Nos. 1 and 3. He got a stroke back with a birdie on No. 4 and broke away from the field in the middle of the round.
The 26-year-old PGA Tour rookie made a 9-foot birdie putt on the par-4 ninth after Kim holed a 15-footer, then made a 30-foot birdie putt on No. 10 to get to 17 under -- three strokes ahead of Kim and four in front of McCarron.
On the downhill par-4 11th, Reavie escaped with a par after barely clearing raging 16-Mile Creek with his approach from an awkward stance in a right-side fairway bunker. Chipping from deep rough between the creek and green, he hit his third shot to 1½ feet.
Kim bogeyed the hole after missing the fairway to the left and having to hit out sideways into the fairway, leaving Reavie four shots clear.
Reavie three-putted for bogey on the par-5 13th, then made four straight pars before putting a fitting end to his breakthrough week with a 12-foot birdie putt on the par-5 18th, his second birdie of the day in the hole.
Reavie returned to the course early Sunday to finish the final two holes of the third round. After two-putting for par from the fringe on 17, he regained the lead with a tap-in birdie on 18 for a 68.
Reavie, the Knoxville Open winner last year on the Nationwide Tour, played 33 holes in 13 under Friday, shooting 65-64 for a three-stroke lead after the completion of the suspended second round Saturday morning.
Divots:@ Jim Furyk, the winner in 2006 at Hamilton and 2007 at Angus Glen, shot a 70 to tie for 14th at 9 under. "All in all, it was a decent week," Furyk said. "I feel my game's in a decent spot, but I'm a little frustrated." ... The tournament will return to Glen Abbey in 2009. The 2010 event is set for St. George's in Toronto.