News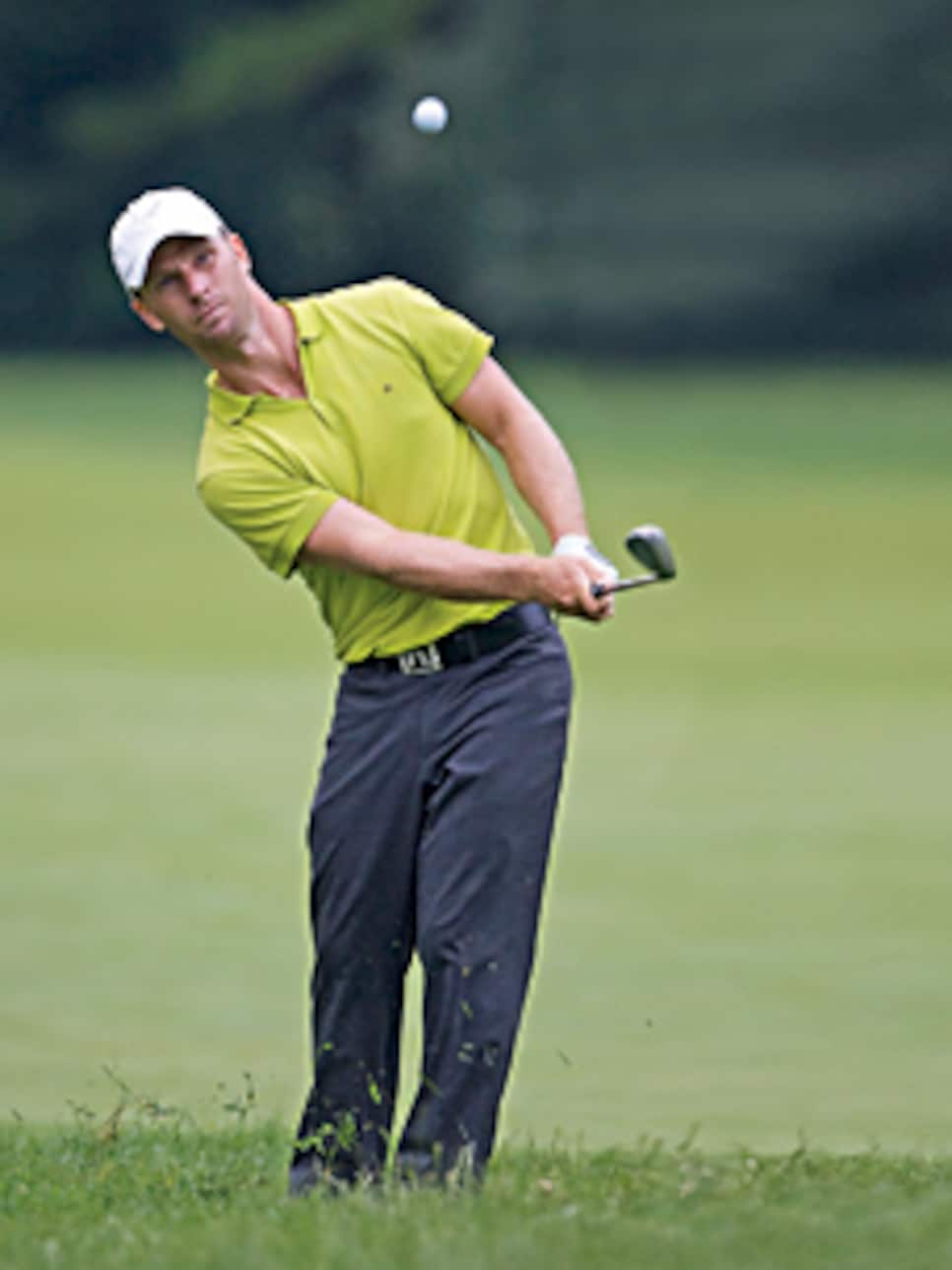 Johnson arrived in Milwaukee with less than $50,000 in 2008 earnings
The U.S. Bank Championship in Milwaukee last week was characterized fittingly, if unwittingly, Sunday afternoon in the obligatory television interview with a representative of the title sponsor. William Bertha, market president of U.S. Bank Wisconsin, was effusive in his praise for Kenny Perry, while never mentioning the winner.
Richard S. Johnson of Sweden probably would not have objected, thankful as he is to be withdrawing $720,000 from Bertha's bank, his take for winning his first PGA Tour event in his sixth season. Given that he had missed eight cuts in his 11 previous starts in 2008 (earning just $48,777), obscurity might have been an ally. Isn't it better to go unnoticed when attempting a heist of the U.S. Bank? For his part, Perry began the week lamenting that he was the object of relentless criticism for shunning a major championship to play in Wisconsin. "I don't understand it," Perry said Wednesday. "I don't know why they're ripping me for making a commitment."
Perry had agreed to play in the Milwaukee tournament, which he won in 2003, long before he qualified to play in the British Open. With Tiger Woods shelved with injuries, Perry has been the hottest player in golf -- so hot, in fact, that he flirted with winning a third straight tournament Sunday. In fact, he would have been tied for the lead (probably only momentarily) had he not missed a six-foot birdie putt at 18.
"I shoot 30 on the back nine, and I'm thinking, 'You know what? I could have won three in a row,' " he said. "I never even thought about winning this week because I was always so far behind, then the magic showed up on the back nine. I felt like I played poorly, and yet to almost win a golf tournament is pretty neat."
Perry, who equaled the scoring record for the back nine at Brown Deer Park GC, had a T-6, his fourth straight top-10 and sixth in his last eight tournaments. Johnson, meanwhile, birdied three of the last four holes, including the last two, to complete this improbable victory. Last year, he was 165th on the money list, requiring a return to Q school. He tied for 19th to regain his tour card, but had been playing so abysmally in 2008 that Q school seemed a certainty to turn up on his schedule again.
A hole-in-one on the 188-yard 14th hole in the opening round jump-started his week, indeed his year. It contributed to an opening-round 63 that provided the impetus for victory.
"I made that hole-in-one, and all of a sudden it felt like I could make some birdies," he said. "I haven't had that feeling for a while. It just opened the door where it felt like I got back to my old game. I'm hitting the fairways, I can attack the pins, and feel like I can make some putts.
"A good friend of mine, Will MacKenzie, won two years ago in Reno. He had a similar kind of season, where he wasn't playing great, then came out and won. We all know we're good enough out here that we can win. It's really neat to be able to pull it off."
Could it have been that he found a course that fit? Johnson is 5-foot-7 and 145 pounds, and Brown Deer Park is 6,759 yards, a perfect match. Accordingly, Johnson had rounds of 63, 67, 70 and 64 for a 72-hole total of 16-under-par 264.
Only a front nine of three-over-par 37 Saturday kept him from a wire-to-wire victory, as well as turning Sunday into a free-for-all. Seven players held or shared the lead in the final round, one of whom was defending champ Joe Ogilvie. Eventually, it came down to Johnson and Ken Duke, who were tied heading to the 17th hole.
Johnson took the lead by holing a 16-foot birdie putt at 17, then hit two perfect shots at the par-5 18th, the second with a 3-wood that went straight at the pin and rolled 20 feet past. A two-putt birdie gave him a one-stroke victory.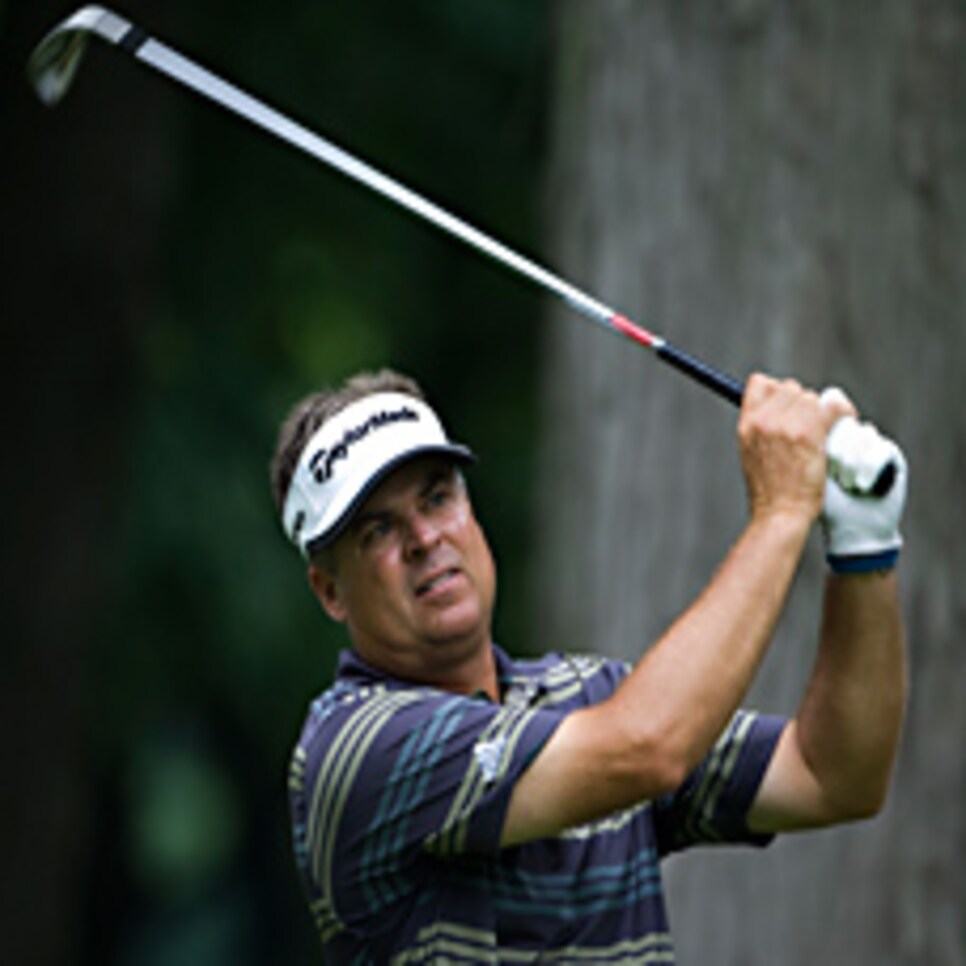 "As a player, that's what you practice for, to hit the shots when it's time to hit them, and he did it," said Duke, whose runner-up finish was the second of his career. "That's the way it goes. You just have to keep going and put yourself in that situation and, you never know, it might be your turn sometime."
Johnson, incidentally, thought about drowning his putter the week before. Instead, he went to the practice green and rid himself of his technical approach to putting. "I'm more of a feel putter," he said. "I went back to just aiming at a spot and trying to putt more with feel. I guess that's what I should have done in January."
He figured it out soon enough, at any rate, in time to rescue a season that until last week seemed destined to be a lost one.