News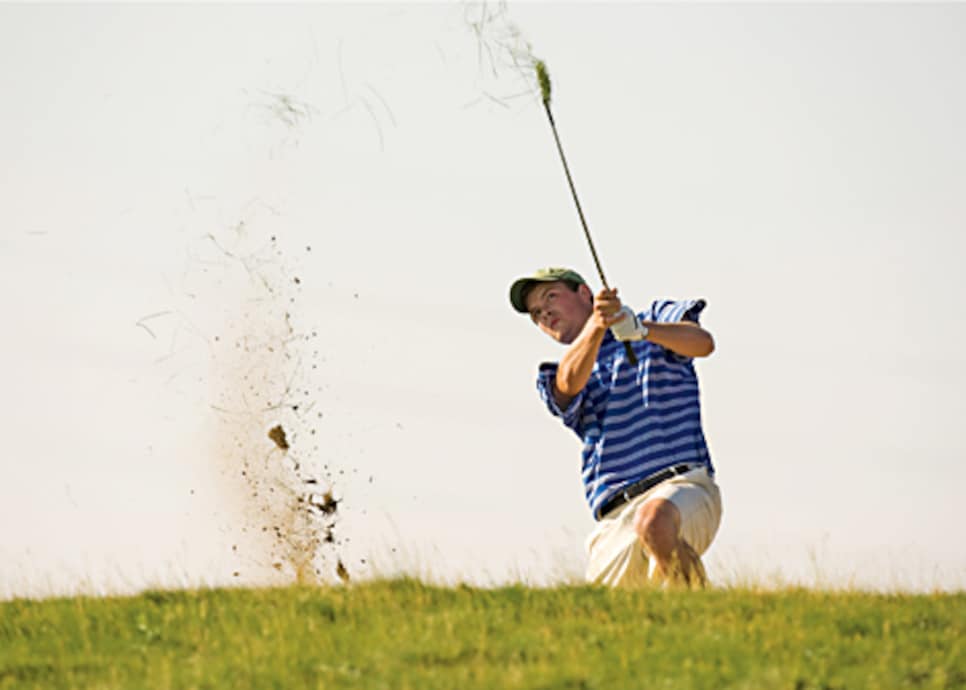 After his victory over Chin, Newman can eye an Augusta invitation
After trekking more than 50 miles over the course of nine rounds, the last in near 100-degree heat, Jack Newman enjoyed a short cart ride back to the Murphy Creek clubhouse in Aurora, Colo., last Saturday afternoon.
But as he bounced along in the back seat, his voice, like his game, never faltered. "How 'bout it," Newman proclaimed to former Michigan State teammate Matt Harmon via cell phone. "I'm going to the Masters, baby."
The unheralded Iowan, a guy who was only the second-best player on his Spartan golf team and didn't even crack the top 1,000 in one magazine's list of the best amateurs, should expect an invitation after winning the 83rd U.S. Amateur Public Links Championship.
Newman's 5-and-3 victory in the tightly contested 36-hole final against lefty John Chin, a rising junior at UC Irvine and the 2008 Big West Player of the Year, also earned him an exemption into next month's U.S. Amateur. The lanky 20-year-old claimed the APL with a hot putter, precision shotmaking and support from bleary-eyed family members, many of whom made the nine-hour drive from Des Moines, arriving just in time to watch the final.
"State green and Augusta green," said Michigan State coach Sam Puryear, a former Georgia resident who had a new Augusta National hat waiting for the junior-to-be. "That's pretty awesome."
After 36 holes of stroke play on the prairie/links-style course east of Denver, the bracket was primed for former Walker Cup teammates Rickie Fowler and Billy Horschel to meet in the final. Although Fowler was still there at the end, it was only as a spectator, walking the final 18 with his dad and trying to loosen up Chin, a fellow Californian.
However, the hot, dry day would belong to the laid-back Newman, a player who started getting better only after giving up baseball as a high school sophomore. After going 2 down just four holes into the final, Newman helped his cause by calling upon eldest brother Andy, a former club pro, to carry his bag the final 27. They talked about Andy's recent trip to Costa Rica, girls -- just about everything except golf. But Andy's advice would be crucial when they got to the final hole in the morning round, after Chin had stuck his approach to within three feet and Newman was 30 feet away, putting from the fringe.
"My brother said, 'Try to rain on his parade,' " Newman recalled. "It was just all or nothing on that, and I got lucky it went in."
The putt kept Newman 1 up through the first 18. That it came on the 468-yard par 4 was ironic considering he had missed three- and four-footers there the previous two days that would have closed out matches. As a result, he would need 21 holes to beat the highly rated Horschel and 24 to defeat Corey Nagy, an APL semifinalist last year before losing to eventual 2007 champ Colt Knost. By making that long one at 18 Saturday, it reinforced a tone Newman had set early on the 7,551-yard layout -- the longest in event history.
"The first 18, I made some really good putts," said Newman, whose workmanlike game plan wasn't much different than that of another Iowan, Zach Johnson, when he won at Augusta in 2007. "I think that sort of stunned John."
Chin, who until he lost the eighth hole in the morning hadn't trailed since the 17th hole of his 20-hole, first-round match, admitted as much.
"In the morning I shot the equivalent of four under, and I was 1 down," said Chin, who had his father, Michael, on his bag. "Jack was just awesome out there. He didn't make a mistake, and he putted really well."
The 6-foot-3, 175-pound Newman, whose biggest previous win had been the 2008 Western Intercollegiate in Santa Cruz, Calif., was not fazed when the powerfully built Chin routinely blasted drives 30 and 40 yards by him, or when Chin launched a 404-yarder Saturday afternoon in the thin Colorado air on the 506-yard, par-4 12th. After all, at Michigan State last year, Newman played alongside Ryan Brehm, one of the longest hitters in college golf.
In the final Chin's power occasionally got him in trouble. He started the second 18 by launching his drive well right into the tall, native grass and eventually conceded to go 2 down. On No. 9, a 348-yard par 4 that he drove with a 2-iron (and birdied) in the morning, Chin went for it again in the afternoon but found a deep ravine. He would lose that hole and the next two as Newman went 4 up. Chin knew it was over on No. 15 when he hit his drive in the pond right. Even after re-loading and putting his second attempt in play, he simply dropped his driver on the tee box and left it there. A spectator finally picked it up and handed it to his father. After Chin conceded on the green, Newman delivered bear hugs to his caddie brother and his father, Bob, before collecting the silver trophy.
Finally, the young man who wore Spartan-green swooshes on his golf shoes and a faded green State cap on his head would get a look at Masters green. "I'm going to The Show," he said.