News
Stadler Aces, Norman Struggles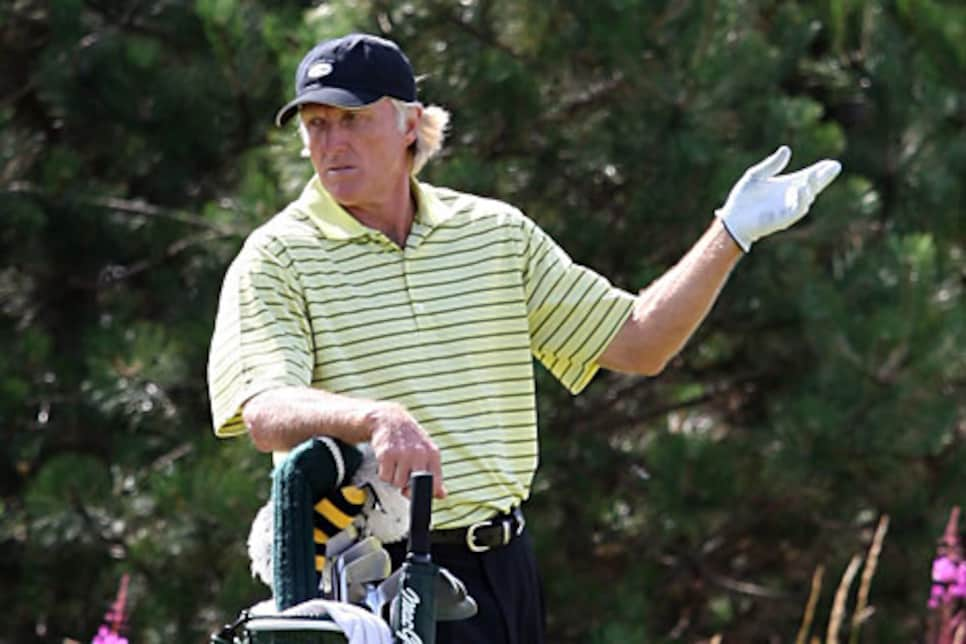 Six bogeys in his first 10 holes tells the story of Norman's round on Thursday.
TROON, Scotland (AP) _ Four days after nearly making history at the British Open, Greg Norman labored to a 4-over 75 Thursday in the opening round of the Seniors British Open to finish seven shots behind co-leaders Bruce Vaughan and Eduardo Romero.
In sunny conditions at Troon, Norman bogeyed six of the first 10 holes and was 6 over before he finally birdied the par-4 13th. He birdied the final hole with a pitch to 3 feet.
"Things just weren't going my way early on," Norman said. "I just had to hang in there and guts it out the best I could. The ball just wasn't rolling my way."
The Australian said windy conditions, similar to the British Open, had an impact on his game.
"I got to the first tee and I never played this golf course in this wind before," Norman said. "I didn't feel that confident with some of the tee shots."
The 53-year-old Norman led the British Open at Royal Birkdale with nine holes to play Sunday and appeared on course to become the oldest winner of a major before he finished third behind Padraig Harrington.
While Norman struggled, playing partner Tom Watson made every green and missed only one fairway in a bogey-free 70. Andy Bean, John Cook and Kirk Hanefield and Nick Job were one shot off the leaders.
Vaughan made eight birdies for a 3-under 68 on the links course. But his round was hampered by a double-bogey and a triple. He recovered from the 7s on the sixth and 12th holes to play the last six at 3-under par.
"It was either feast or famine," Vaughan said. "Outside of those two hockey sticks (7s), it was a good round."
Romero had only one bogey, driving into a fairway bunker at the par-5 sixth hole.
Romero captured his second Seniors tournament three weeks ago at the Dick's Sporting Goods Open at Endicott, N.Y. He lost a playoff to Loren Roberts at the Senior British championship two years ago at Turnberry.
"I feel strong, I feel good and I feel happy," said the Argentine, whose highlight was a 15-foot birdie putt at the 17th. "I think this is my week. I love this tournament and I am in good form, especially my putting."
Watson was pleased with his round.
"I don't think I have made all 18 greens ever in my life," said Watson, a three-time Senior British Open winner. "I am very happy. I shot a good round of golf in unusual conditions with the wind changing direction."
Vaughan, in his second season on the Champions Tour, said he would be pleased to win his first tournament on a links course used regularly for the British Open.
"I love coming over here," he said. "I wouldn't want a steady diet of it, but it's great to come over here to play these kind of golf courses."
Craig Stadler hit a hole-in-one at the "postage stamp" eighth hole — the shortest in the history of the British Open — winning 123 bottles of wine, one for every yard, as a prize from a sponsor.
Stadler used a pitching wedge to the front of the green and the ball bounced twice before rolling in. The ace happened after he birdied the seventh. Stadler finished with a 74.