News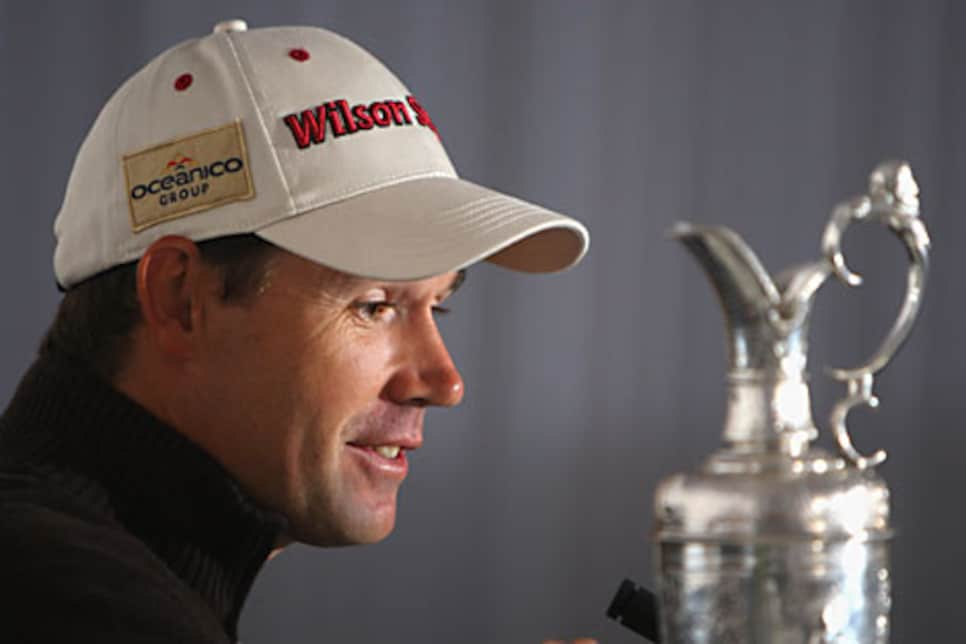 Tiger Woods never came up in the interview room after Harrington's win. That says something about the respect he garners.
SOUTHPORT, England -- I checked. There were no asterisks next to Padraig Harrington's name on the claret jug. Down next to 2008, the engraver had worked his magic and so had Harrington, playing the last six holes at Royal Birkdale in four under to capture his second Open Championship in as many years. It was such a comprehensive victory, such a brilliant display of links golf majesty and will to win, that Tiger Woods' name never came up in any of the post-victory interviews. That's the type of respect Harrington's name is now getting in the game of golf.
Sunday night, with the crosswinds howling across the Irish sea, this Dubliner played the last six holes in 3-3-4-4-3-4, leaving behind no smudge marks, not even the hint of a nick to the sterling silver reputation he has as one of the game's great new champions. Monday morning, he had his his right hand firmly planted on one handle of golf's most sacred trophy -- as firm as the grip he had on the situation Sunday when Greg Norman led by one stroke making the turn. Now he gets to keep the jug for another year.
"I'm going to cherish it again this year," the Champion Golfer For the Year said of the trophy. "It was great having it for a year and it was tough giving it back, so I'll probably enjoy it even more this year."
Harrington has delighted in telling stories of where the jug has traveled, the champagne that has been sipped from its mouth, and most recently how his son put ladybirds -- these tiny orange and black bugs from their garden -- down into its mouth.
Before the Open, he told a tale about a cab ride he took in San Francisco. The cabbie was a way-out-there golf nut, the kind who wore a golf glove while driving and reading chapter and verse from Michael Murphy's Golf in the Kingdom. Harrington had the metal box carrying the jug in the back seat, but he never told the driver its contents.
Before the championship, Harrington said he regretted not opening the box, that it would have been a story the cab driver could have told the rest of his life. "I got a call last night from one of the lads saying I need to bring it back to San Francisco so we can hunt down that taxi driver," he said, still glowing after shutting down the victory party at 4 a.m.
Harrington will handle the spoils of winning a major championship differently than he did a year ago. His goals are different now. The shock of winning a major championship should wear off quicker. As Harrington said in his news conference Sunday, handling No. 3 on the world rankings should be easier than No. 6, his highest-water mark until Royal Birkdale.
Asked if the PGA was coming along too quickly, Harrington didn't deliberate for long. "Last year, it was far too much far too quickly," he said. "I don't think it's going to be that this time around, I'm going to enjoy this week and I'm going to enjoy [the WGC- Bridgestone Invitational]. I think the high of this, while this is more satisfying, I don't believe I'll be quite as mentally [taxing] as last year. I'm assuming after second one, I'm gonna be more solid. While I'm thrilled to win, the high isn't the same."
So, no, there won't be any asterisks marring this victory. Harrington is considered a world-class player, and certainly he now joins Woods at the head of the class of great links players in the world. The Open Championship is played next year at Turnberry on the coast of Scotland, and Harrington's name will be right there with Tiger's as the favorite.
"I don't think this champion has anything to worry about with asterisks against his name," said Peter Dawson, secretary of the R&A. "In fact, he proved that last year, didn't he?"
Yes, he did Peter. Both years.