News
Johnson Joins The Winner's Circle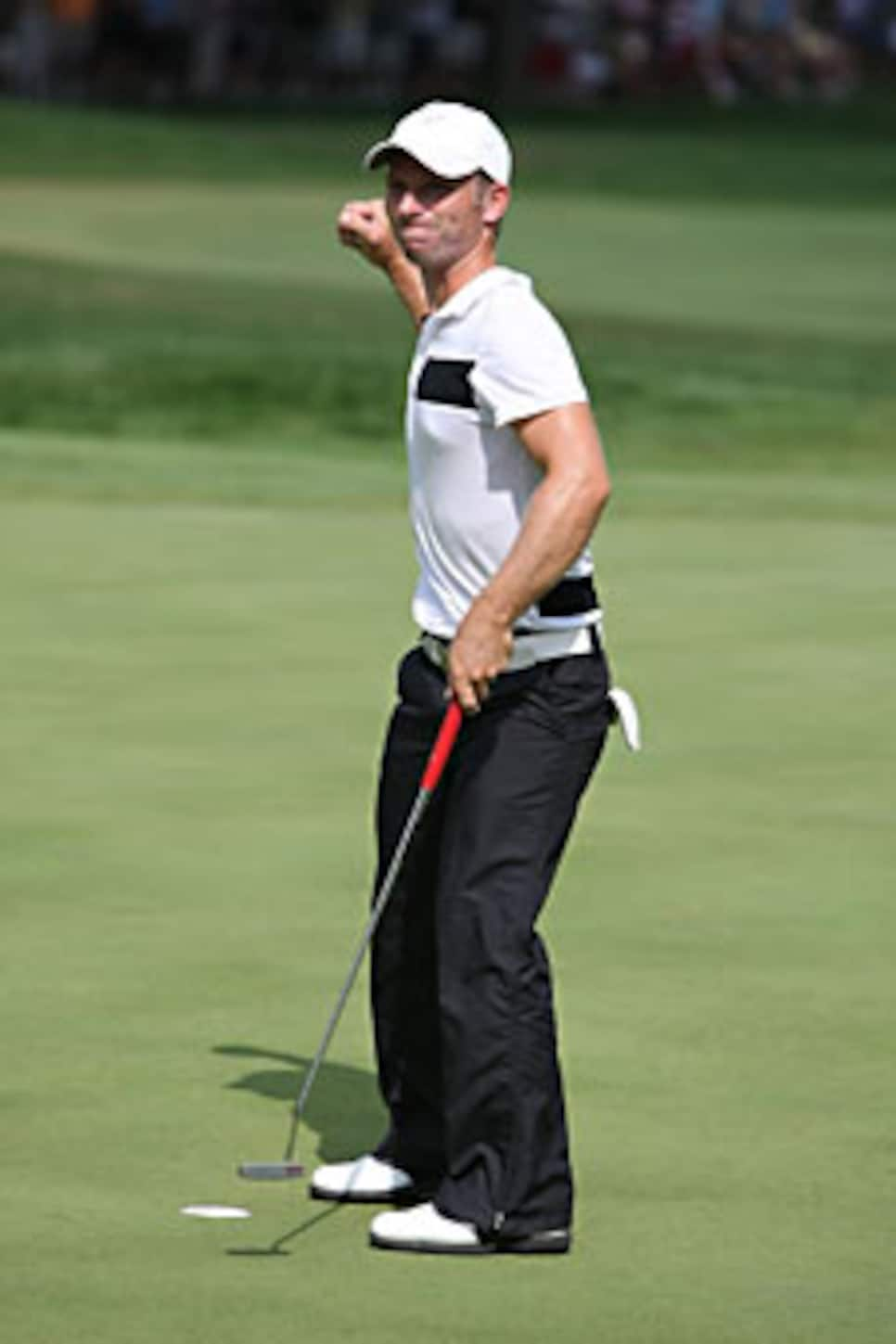 Johnson's win makes him the seventh first-time winner on the tour this year.
MILWAUKEE, WI (AP) -- Richard S. Johnson knows winning the U. S. Bank Championship will change his life.
Johnson just isn't sure how big a difference it will make to become the sixth Swedish winner on the PGA Tour and seventh first time winner this season.
"Well, I don't know, ask me next year," Johnson said Sunday when asked what it meant after he fired a 6-under 64 to beat Ken Duke by a stroke for his first Tour victory.
Johnson is aware, however, that he is much richer. After having struggled all season on tour to make less than $50,000, the $720,000 first prize will come in handy.
"You know, I'm probably like every other person, I got a mortgage to pay off as well, so that probably will happen a little bit," Johnson said.
Johnson birdied three of his last four holes to finish at 16-under on the 6,759-yard Brown Deer Park Golf Course. The key birdies were when he sank a putt of about a dozen feet on the par-4 17th hole to break away from a tie with Duke at 14 under and his short putt of less than two feet for birdie on the par-5 18th.
The final birdie was set up by a great second shot to reach the green.
"I hit a three wood just straight at the pin and it rolled up to 20 feet and I two-putted for birdie," he said.
That final birdie was vital to victory because Duke, playing in his threesome, also birdied the final hole.
Duke, who shot a 5-under 65, managed to birdie the hole even though his second shot landed in a greenside bunker. Although Duke was disappointed he failed to get his own first tour victory, he felt good that he battled Johnson to the end .
"He played good," Duke said. "I holed a couple of putts on him early, but he holed a couple back on me. I had a great week. Shoot 5-under on Sunday and just get beat by one. You got to take your hat off to him."
Dean Wilson (65), Chad Campbell (65) and Chris Riley (66) tied for third at 13-under.
Kenny Perry closed with a 64 to get to 12 under and finish tied for sixth. He had been criticized for skipping the British Open to play here after winning three of his last five tournaments, including last week's John Deere Classic.
Perry had chosen to play in Milwaukee because he felt he had the best chance of picking up points so he can make this year's Ryder Cup team, which will be played in his native Kentucky. He said his finish vindicated that decision.
"I accomplished my goal," Perry said. "I wanted to top-10 it. I told my people, I told my friends, I said, 'If I can just go there and have a good top 10, I've accomplished my mission."
Johnson started the day at 10 under, a shot back of third-round leaders Gavin Coles and Nick Flanagan. The two Australians shot even-par 70 to finish tied for 11th.
The Swedish golfer struggled early with bogeys on two of his first four holes but made the turn only one shot back of Matteson, Duke and Campbell, who were all at 12 under.
His day turned around after a bad shot on the par-5 sixth hole. After hitting his tee shot in the rough, his second shot hit a tree and stayed in the rough. His next shot, however, found the green and he made a 15-footer for birdie.
"Then all of a sudden (I) just went, 'Okay, I can do this.' From there on I played unbelievable," he said.
He birdied the next hole, a par 3, and got two more to start the back nine and begin his run to victory.
When it was over, Johnson was not as much excited as quietly satisfied with his victory.
"I mean, we all know that we're all good enough out here that we can win," he said. "I mean, it's really neat to be able to pull it off."