News
Oh Wins, Wie's Woes Continue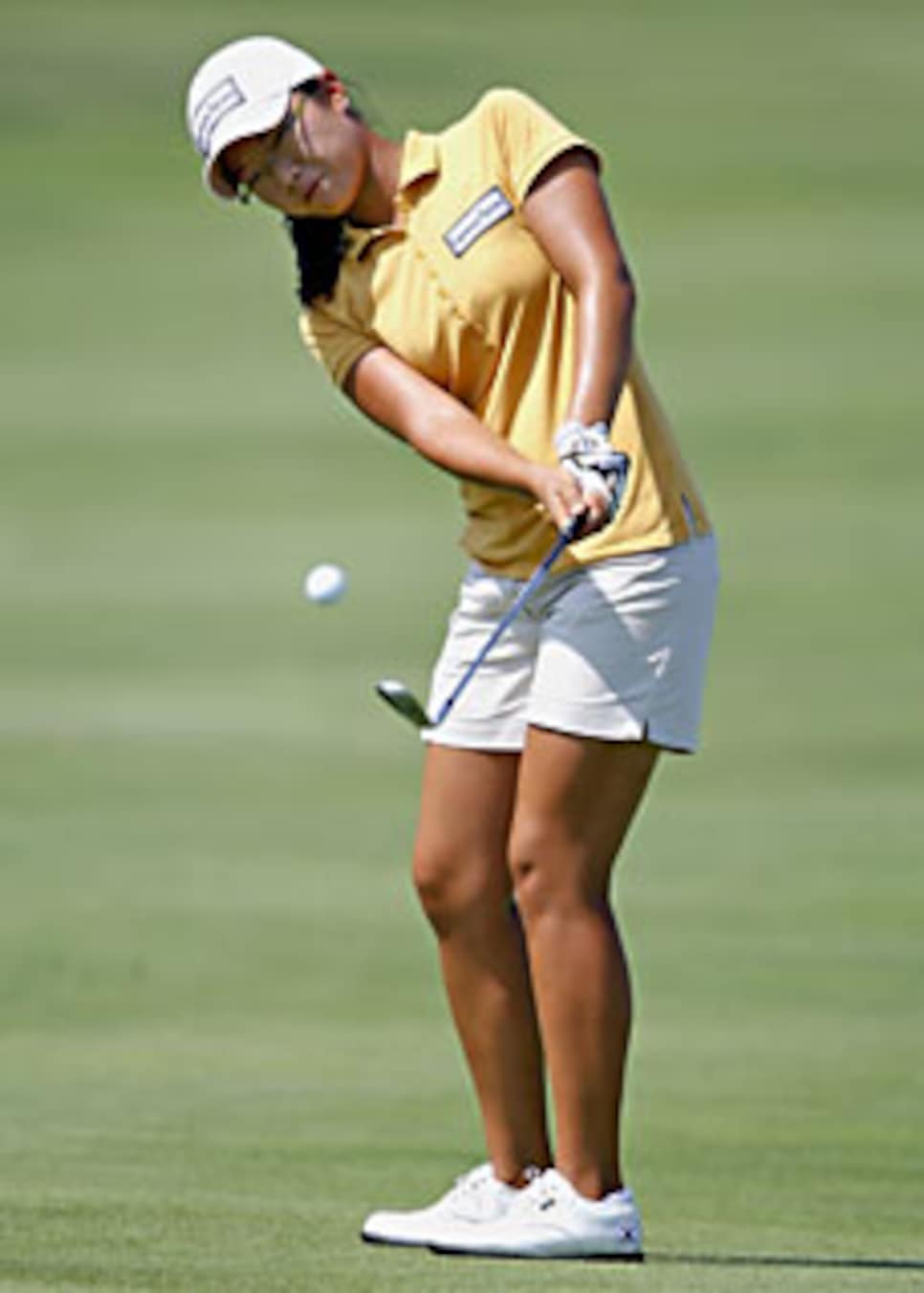 Oh's first tour victory comes in her sophmore year after a few close losses to fellow Koreans.
SPRINGFIELD, Ill. (AP) -- When a red-eyed Michelle Wie left the clubhouse at Panther Creek Country Club on Saturday, it looked like she took all the drama the State Farm Classic had to offer with her.
The 18-year-old golfer, on the verge of playing her way onto the LPGA Tour and playing her best golf of the year, was disqualified for failure to sign her scorecard.
But Sunday afternoon, a pair of young golfers did their best to fill the gap.
Second-year pro Ji Young Oh of South Korea won her first tournament Sunday, sinking a 6-inch putt for par to win the State Farm Classic in a playoff over 19-year-old Taiwanese rookie Yani Tseng.
Tseng, the leader coming into Sunday, chipped her third shot over the green and into the rough, then pitched her ball to about 6 feet from the cup.
But the 20-year-old Oh's third shot, from just inside the rough, left her with the tap-in that gave her the win.
Oh, who spoke English with reporters for much of the tournament, resorted to an interpreter after the overtime because she said she was floored by the win.
"I would love to do this interview in English," she said through the interpreter, "but my mind is totally blank."
Tseng, who shot a 66 in each of the first three rounds before her even-par 72 on Sunday, said after her loss that her nerves got the best of her Sunday.
"I really feel nervous," she said. "It's my first time (to open a round) at the top of the leaderboard."
Tseng, who won the LPGA Championship for her first career victory, said three of her closest losses -- as a pro and an amateur -- have come to South Koreans.
"I really don't like playing with Koreans," she joked.
Oh was among the steadiest golfers this week at Panther Creek Country Club.
She shot a 66 each of the first two rounds to stay quietly just behind the leaders. Then she shot a 69 Saturday to set herself up just behind Tseng.
Oh, like much of the field, struggled with heat and wind Sunday, bogeying three holes. But she still managed six birdies and, as Tseng melted on the playoff hole, Oh calmly chipped in close and tapped in the winner.
"I wasn't all that nervous," she said. "Starting this week, from the first day, I've been playing pretty well."
Na Yeon Choi finished in third place at 17 under for the tournament after shooting a 4-under 68 Sunday.
On a day dominated by youth, Chinese LPGA rookie Shanshan Feng shot a 9-under 63 -- the second best round of the tournament along with Christina Kim's first round -- and finished the tournament at 16 under par, tied for fourth place with Stacy Prammanasudh and Hee-Won Han.
Wie was disqualified after she finished her round Saturday -- a 5-under-par 67 that had her a stroke off the lead -- for failing to sign her scorecard a day earlier.
Wie was chased down by a tournament volunteer after she left the course at the 9th hole without signing her card, something required by golf's rules. LPGA officials say they didn't learn about Wie's miscue until after play started Saturday morning.
A win or high finish would have all but guaranteed her enough money to finish in the top 80 LPGA players this year, the cutoff for automatic inclusion in next year's tour.
Wie, a part-time golfer and full-time student at Stanford, played at the State Farm on a sponsor exemption. The LPGA allows non-touring players six of those a year, and Wie has one left.
She has said she would play at the Canadian Women's Open next month.
Wie was playing what might have been the best golf of the tournament, and the best she's played this year.
Oh, though, said Wie's absence didn't cheapen her win.
"I didn't think about it much," Oh said. "No one knows how well she would have played."