News
Harrington Claims His Second Claret Jug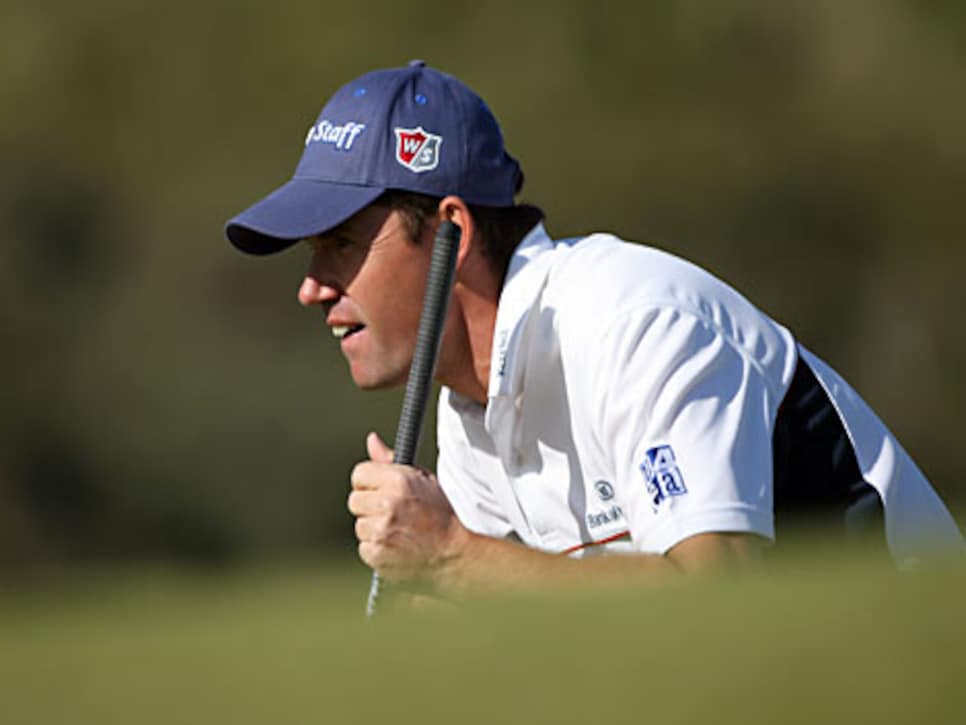 Harrington's eagle putt on 17 gave him a four-stroke edge and sealed the victory.
SOUTHPORT, England (AP) -- Turns out Padraig Harrington's wrist was strong enough to hit all the right shots in the British Open. Better yet, it was strong enough to lift the silver claret jug.
Harrington became the first European in more than a century to win golf's oldest championship two years is a row, smashing a pair of fairway metals into the par 5s Sunday that allowed him to pull away from mistake-prone Greg Norman and hold off a late charge by Ian Poulter for a four-shot victory.
"I enjoyed the claret jug so much I didn't want to give it back," Harrington said.
Even in the relentless wind, Harrington managed to shoot 32 on the back nine to close with a 1-under 69.
And to think he gave himself only a 75 percent chance of teeing off on Thursday, and only a 50 percent chance of finishing.
No one bothered asking him the odds of winning.
The 36-year-old Irishman injured his right wrist eight days ago, and it was so sore when he arrived at Royal Birkdale that he stopped practice after nine holes on Tuesday and three swings on Wednesday.
But he was at full strength in gusts up to 40 mph off the Irish Sea, especially down the stretch. He ripped a 3-wood into the wind to about 40 feet on the par-5 15th and got down in two putts for birdie to build a two-shot lead. Then came a 5-wood that bounded up the green on the par-5 17th and settled 4 feet away for eagle.
"There's no doubt it helped me this week," Harrington said, referring to his wrist. "It helped take all the pressure, all the stress, all the expectations away from me."
A year ago, Harrington was an emotional wreck at Carnoustie after making double bogey on the final hole and beating Sergio Garcia in a playoff. Backed by a four-shot lead after his eagle on the 17th, he was afforded a pleasurable walk along the dunes toward the final green, the only suspense his margin of victory.
He finished at 3-over 283, becoming the first European since James Braid in 1905-06 to win the Open in successive years.
It was his first victory since the British Open last year, and it could not have come at a better time. Harrington moved to the top of Europe's Ryder Cup standings, and the victory moved him to No. 3 in the world ranking behind Tiger Woods and Phil Mickelson.
"I'm quite enjoying this," Harrington said, cradling the claret jug. "I don't think I'll get down off the stage."
Norman played a familiar role as the tragic figure.
This had all the elements of a fairy tale like few others in golf. Norman, 53, married tennis great Chris Evert three weeks ago and was on the tail end of his honeymoon when he wound up with a two-shot lead going into the final round and a chance to become the oldest major champion. Instead, it ended like so many other majors when he was in his prime.
The Shark lost his two-shot lead after the third hole. He still had a one-shot lead going to the back nine, but bogeyed three of the next four holes and had to settle for a 77 and a tie for third with Henrik Stenson (71).
"I walk away from here disappointed, but with my head held high, because I hung in there," Norman said.
Poulter thought he could bring England its first British Open since Nick Faldo in 1992, playing bogey-free over his final 15 holes and making a 15-foot par on the 18th hole to finish off a 69. He went to the practice range in case of a playoff, but put his clubs away when he saw that Harrington made eagle on the 17th hole.
Norman tried to keep alive his hopes with a 35-foot par putt on the 14th, and a shot from a pot bunker that made him spin backward, turning to see the ball land 4 feet away for a birdie. Harrington, however, didn't back down.
"Padraig played brilliantly today, even though he tried to let it get away in the middle of the round," Norman said. "He came back and performed brilliantly, and he finished like a true champion."
Harrington walked off the 18th green with his children, Patrick and Cairan, and sat atop a pot bunker to pose with the jug.
The leaderboard featured a familiar name, missing an "s."
Chris Wood, a 20-year-old amateur from England, closed in on the lead until three straight bogeys on the back nine. He finished with a 72 and tied for fifth at 10-over 290 with Jim Furyk (71).
"It's been the best week of my life," Wood said.
Norman felt much the same, except for the final day.
What an amazing week for the Shark -- spending his honeymoon in Skibo Castle, showing up at Royal Birkdale to tune up for the Senior British Open and Senior U.S. Open, then finding himself with a two-shot lead going into the final round.
Fans perched themselves atop every sand dune to see if Norman could pull off a victory that would have ranked among the most stunning in golf, from Jack Nicklaus winning the Masters at age 46 to Ben Hogan returning from a life-threatening car crash to win the U.S. Open.
But instead of a fairy-tale ending, he delivered a rerun of opportunties lost in the majors.
"Where does it rank in those? Probably not as high as some of the other ones," said Norman, who now is 1-7 when he has at least a share of the 54-hole lead in majors. "Quite honestly, I'm sure I surprised a lot of people."
Norman hit into a pot bunker on the first hole and made bogey. He missed the green left on the second hole and made bogey. His tee shot buried in the right rough on the third hole for another bogey. And he had to make an 8-foot to save bogey on the sixth.
Just like that, a two-shot lead over Harrington turned into a two-shot deficit.
Even quicker, momentum swung back in Norman's favor.
Flawless over the first six holes, Harrington ran off three straight bogeys, and Norman stood on the 10th tee of the British Open with a one-shot lead and nine holes to play.
But he pulled his tee shot into the left rough and made bogey, losing the lead for good. The end for Norman was a tee shot into the pot bunker on the 13th, and a third shot that came up woefully short of the green. He scrambled for bogey, but only after Harrington made his first birdie of the round from 12 feet.
The only duel was between Harrington and Poulter, who came on strong in his pink pants and fist pumps.
Poulter had the look of an English winner over the home stretch with steady shots and a birdie on the 16th that fell into the cup sideways on its last turn. What ultimately cost him, however, was failing to birdie the par 5s from good positions, the last one a three-putt par from below the ridge.
"I can only do what I can do," Poulter said. "And I done my best."