News
Great Gray Shark Bites Again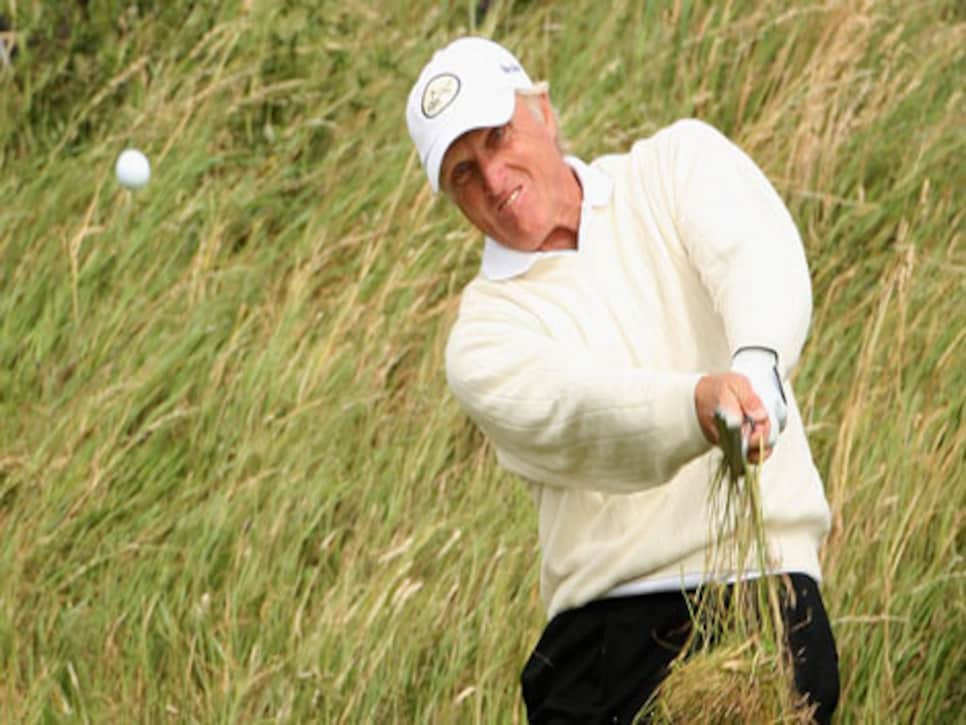 After starting with three bogeys in his first six holes, Norman pulled it together and played the last 12 in one-under par.
SOUTHPORT, England (AP) -- This sounds familiar: Greg Norman goes to the final round of a major with the lead.
And, no, we're not talking about 1996.
The 53-year-old, part-time golfer reclaimed a spot he used to know all too well in his prime, putting the Shark one more solid round away from becoming golf's oldest major champion in its oldest of major championships, the British Open.
What a nice wedding gift that would be: the claret jug.
Norman celebrated the three-week anniversary of his marriage to tennis great Chris Evert by shooting a 2-over 72 on Saturday, a brilliant round considering the fearsome, howling gusts that blew away a number of potential challengers and left everyone else hanging on for dear life at Royal Birkdale.
David Duval? Done in by an 82. Graeme McDowell? Finished off by an 80. Camilo Villegas? Mark him off the list after a 79.
But Norman shook off a tough start -- he drove his first shot into the rough and had three bogeys on his card after the sixth hole -- to make a triumphant walk up the 18th hole, improbably poised to add to the pair of British Open titles he already has at a time in his life when he probably spends more time practicing tennis with his new bride than he does hitting golf balls.
With Evert cheering him on, Norman nearly holed out a chip for birdie at the final hole, tapping in for a par that left him at 2-over 212 and two strokes ahead of defending champion Padraig Harrington and 36-hole leader K.J. Choi.
"I'm sure there are players probably saying, 'My God, what's he doing there?'" Norman quipped. "But I've played golf before. I've played successful golf before."
This is the first time since his epic collapse in the 1996 Masters that Norman has gone to the final round of a major with the lead. That day, he shot a dismal 78 to throw away a six-stroke lead on Nick Faldo, cementing his reputation as a great player who couldn't win the big one, someone with a staggering eight runner-up finishes in the majors.
But time has likely healed those wounds, and Norman certainly has a good feeling about his chances on this side of the Atlantic. After all, he won the 1986 Open at Turnberry and the 1993 edition at Royal St. George's -- the only major championships of this career.
Norman is trying to become the oldest major champion, a distinction currently held by the late Julius Boros, who was 48 when he won the 1968 PGA Championship.
Harrington also shot 72 in a breeze that gusted to 40 mph, sending balls off line and scores soaring. Choi, who started the day with a one-stroke lead on Villegas and two on Norman, slumped to a 75 but was still in the thick of things, tied with the last Open champion at 214.
Unheralded Englishman Simon Wakefield shot a 70 and was right in the mix at 215. He'll play in the next-to-last group Sunday with Choi, the final pairing reserved for Norman and Harrington.
"I might not sleep tonight," Wakefield said. "It's a very unfamiliar territory for me."
He's never won on the European Tour and had missed the cut in 10 of 22 events this year. But the 34-year-old birdied both par-3s on the back side, and made another at the par-5 17th to match the best round of the day.
Tiger Woods, recovering from knee surgery, and Kenny Perry, who decided he's rather play in Wisconsin than western England, couldn't have picked a better place to be on Saturday: anywhere but Royal Birkdale. That zephyr off the Irish Sea turned the third round into a test of survival, the only goal to limit the damage.
"It was probably about as tough as you can play out there," said 2003 Open winner Ben Curtis, who was thrilled to get off the course with a 70 that shoved him into contention for a second claret jug.
Curtis closed within five shots of the lead, but he had to hole out a 9-iron from 165 yards to do it. The American turned away in disgust after hitting the shot at No. 3, but the wind blew it back on line and right into the cup for an eagle 2.
The group at 217 also included England's Ross Fisher (71), Sweden's Alexander Noren (75) and young American Anthony Kim (71), holding up well in his Open debut. Six players were at 218, including U.S. Open runner-up Rocco Mediate and British amateur Chris Wood.
Rounds in the red? Forget about it.
Duval sure felt Birkdale's wrath. The 2001 Open champion quickly fell out of contention with a triple-bogey on his first hole on the way to an 83, tying his highest score ever in the tournament.
"I'm extremely disappointed in the score," Duval said. "But I assure you, few hit the ball better or more solid."
Choi began the day as the only player under par through 36 holes, but a double-bogey on the massive sixth hole put him in the same company as everyone else. When he three-putted from just off the green at No. 8, the South Korean found himself with plenty of company at the top.
There was briefly a four-way tie for the lead, with 2003 U.S. Open winner Jim Furyk joining Choi, Norman and Harrington. But Furyk's back nine started double-bogey, bogey, bogey and he struggled in with a 77 and 219 total.
Norman started rolling when the wind caught his drive at No. 8 and sent it rocketing 364 yards down the fairway, setting up an 8-foot birdie putt that brought a smile back to his face. He added two more birdies, including a tap-in at No. 17 after his eagle try came up just short.
It was sure easy to drop strokes in these conditions. Phil Mickelson's cap blew off in the middle of the 15th fairway. A course worker retrieved it for Lefty, who shot a 76 that erased whatever faint hopes he had for contending on Sunday.