News
Norman In Clubhouse Lead, Villegas One Stroke Back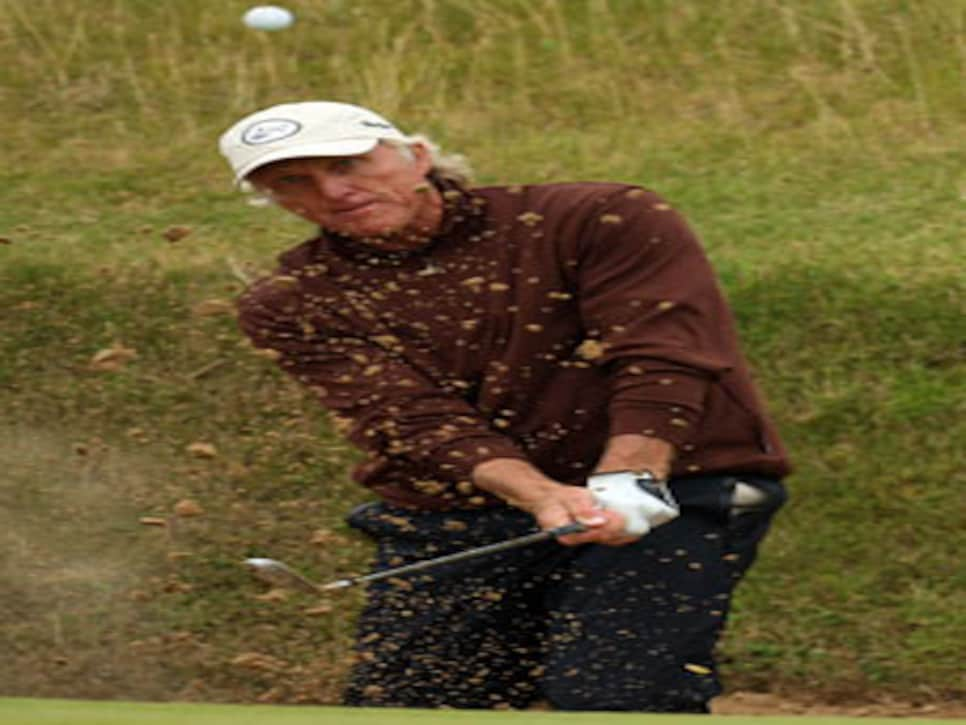 Greg Norman plays out of a bunker on the 17th during the second round of the 137th Open Championship.
SOUTHPORT, England (AP) -- The Shark was atop the leaderboard at the British Open -- with Spider-Man right on his tail.
Greg Norman shot his second straight 70 at treacherous Royal Birkdale on Friday, sinking testy putts at the final two holes to hang on as the only player at par midway through golf's oldest major championship.
But no one was hotter than Colombian heartthrob Camilo Villegas, who closed a 5-under 65 -- the best round yet -- with an astonishing five straight birdies.
Norman, a 53-year-old newlywed, was two strokes ahead of the field until he made a mess of No. 17. The Shark put two shots in the rough and another in a backside bunker, but rolled in a 12-foot bogey putt that limited the damage.
After a perfect drive on No. 18, Norman walked up the fairway twirling his club and taking in a huge roar from the British gallery, which knows him as a two-time winner of the Open, not the guy who squandered numerous chances to win majors on the other side of the Atlantic.
Norman's approach came up far short of the flag, then he rolled a putt 20 feet past. Facing another bogey, the Aussie calmly sank the par saver, giving the slightest hint of a fist pump, then a tip of the cap as his caddie patted him on the shoulder.
Among his fans: former tennis great Chris Evert, who married Norman last month.
"That was quite an ordeal last few holes," Norman said. "I felt like it was getting away from me a little bit."
Villegas, dubbed "Spider-Man" for his unique style of reading putts, has long been more flash than substance. He's never won on the PGA Tour, but put himself right in contention at a tournament known for unlikely champions, including Ben Curtis and Todd Hamilton.
The charismatic Colombian had eight birdies overall. He capped his amazing run at the end by striking the flagstick with his approach at No. 18, then sinking the putt after the ball ricocheted onto the fringe 18 feet away.
"It was a fun round," said Villegas, playing his first British Open. "It's very different than what we're used to playing in the United States."
Norman birdied three holes on the front side to offset a double-bogey at the gargantuan sixth, leaving him as the only player with a score that didn't have a plus sign in front of it.
A host of top players had yet to tee off, all of them hoping to avoid the cold, soaking rain and howling winds that made life miserable for the early starters Thursday. That group included Retief Goosen and Mike Weir, who both opened with 71s in brutal conditions and were to start the second round just a stroke off the lead.
Those who went out early Friday found conditions a bit easier, though they still had to contend with a light mist and a brisk breeze off the nearby Irish Sea. A pounding rain struck suddenly around lunchtime, threatening to make it another grim day for those drawing later tee times.
The forecast called for potentially heavy showers throughout the day on top of an ever-more-menacing wind, a possible repeat of Thursday morning.
Rocco Mediate, who shared the first-round lead with Graeme McDowell and Robert Allenby at 69, couldn't match that score but was still in contention. A double-bogey at No. 11 marred the American's round, but he tapped in for birdie at the final hole to cap a 73 that left him two strokes behind Norman.
Mediate is following up well on the U.S. Open, where the 45-year-old everyman gave Tiger Woods all he could handle until losing a 19-hole playoff. He doesn't have to worry about Woods this time -- the world's best player is sitting out the rest of the year recovering from knee surgery.
"It made me think I can do it again," Mediate said. "If I can get there again, I want to see what happens. I don't know what will happen, but I know I'll be more comfortable."
Jean Van de Velde, still remembered for his epic 72nd-hole collapse at Carnoustie nine years ago, briefly surged into contention, only to get slapped down by this links course along the Irish Sea. He made the turn with a 2-under 32, then fell back with a couple of double-bogeys on the back side.
Still, he finished with a solid 1-over 71, heading to the weekend just four off Norman's pace.
"I'm very happy," Van de Velde said. "I'm happy with my form, as well, even though I'm a bit inconsistent. I need to take out the tool box and try to find my way around. You can swing as well as you want, but sometimes it's not good enough."
McDowell was struggling along -- with four bogeys and no birdies -- until a brilliant 3-wood at No. 16 set up a short birdie putt. He finished with a 73 and was tied with Mediate at 142, as was Jim Furyk, who shot a solid 71.
Sergio Garcia, intent on bouncing back from a devastating playoff loss to Padraig Harrington at last year's Open, rolled in a 75-foot birdie at No. 4 but ran into trouble after the turn. He bogeyed the 10th and double-bogeyed the next hole to slip five shots behind Norman.
Garcia was one of the lucky ones Thursday. Most of the players who went off in the morning struggled mightily in horrible conditions, including Ernie Els -- rated as one of the favorites but left with an 80 on his scorecard, the highest score of his sterling Open career. Vijay Singh also shot 80 and Phil Mickelson struggled to a 79.