News
Trading One Pond For Another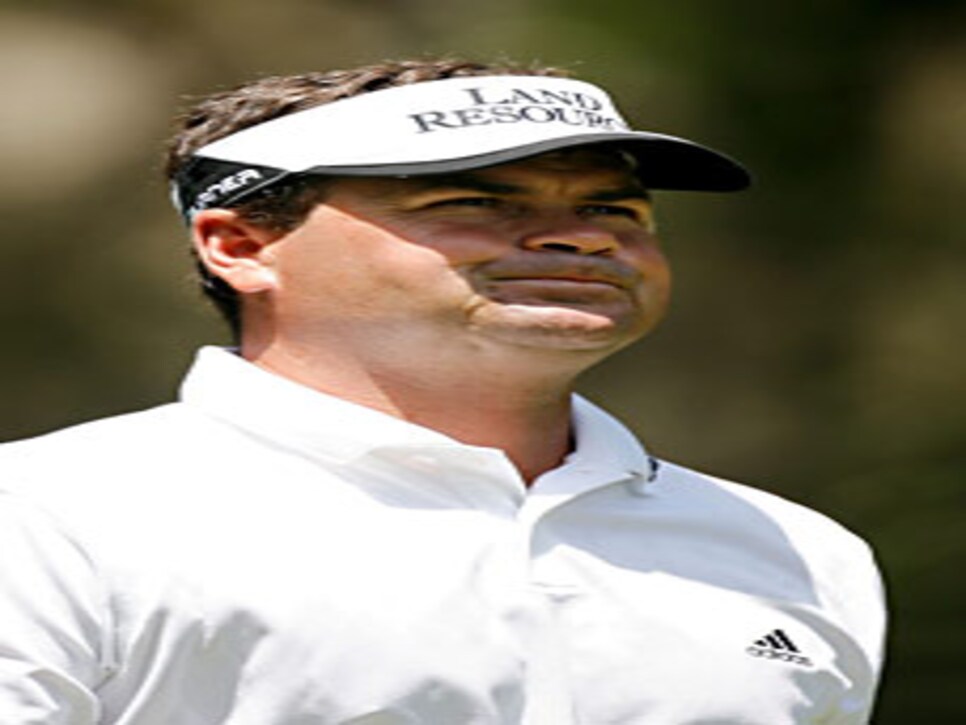 The Deere didn't end the way he wanted, but Williamson earned a trip to the British Open.
SOUTHPORT, England -- In Milwaukee on Tuesday, players, caddies and equipment reps were calling him "Kenny Woods." At the British Open, Kenny Perry's name wasn't quite being said in the same reverential tones, but if Wednesday's weather at the British Open venue is an indication of what the conditions are going to be like this week at Royal Birkdale, the game's newest whipping boy made the proper call in deciding to remain stateside. You won't see the caddies in stocking caps and hand warmers at Royal Brown Deer Park, site of this week's stop on the Kenny Perry Tour, the U.S. Bank One Championship.
One of the players who lost to Perry in Sunday's playoff at the John Deere Classic is here, though, and Jay Williamson is starting to believe his presence here was meant to be. Last week at this time he was sitting in the locker room, looking at the money list realizing there weren't too many names behind him. But last Saturday he shot 62 to shoot up 26 places on the leader board, and Sunday he outplayed Perry in their pairing, only to come up wet on the 73rd hole.
The ending wasn't what Williamson wanted; he tugged a 6-iron into a pond and ended up losing to Perry in what looked like a massive choke-fest on the 18th green at the TPC Deere Run. The third participant in sudden death, a 35-year-old rookie named Brad Adamonis, also rinsed his approach, but the Rhode Islander's attempted hero shot was from the right rough with a clump of rough behind his ball. Williamson was in the go-zone, as he was last summer in Hartford during extra holes against Hunter Mahan.
Williamson hit the shot that time -- he just missed his putt and Mahan had his first victory. Jay used the money to retain his card and lived to play another year on the PGA Tour. But so far 2008 had been like the other 12 years in Williamson's career -- undistinguished. Asked Wednesday how he came from nowhere to shoot that 62 and nearly win his first tournament, Williamson was brutally honest. "You do things sometimes out of desperation," he said.
There was no desperation in his voice, only gratefulness. His finish at Deere Run earned him a spot in the British Open. He arrived in England Monday morning on the John Deere charter from Moline, Ill., wearing the same clothes he had worn in the playoff. Adidas eventually suited him up. "I didn't pack anything with short-sleeves," he said, wearing three layers including a turtleneck.
When Williamson registered for the championship, he looked out at the 18th hole and imagined Brian Watts in the greenside bunker, about to hit a par-saving exploson that set up a playoff against Mark O'Meara in 1998. Then he went out and played nine holes with Scott McCarron, noting that they were rookies together in 1995.
There were the signs, some surreal, that had Williamson thinking there was more to this journey than it being just another stop on the journeyman's career. Waiting outside the Prince of Wales hotel in Southport as the bus pulled up transporting the players from the John Deere was Dave Musgrove. The 65-year-old English caddie with two Claret Jugs (and four majors) was looking for a bag. Williamson was looking for an experienced looper, along with a fresh set of clothes.
"I was just eating an ice cream cone and the bus pulled up," Musgrove said Wednesday as Williamson stroked putts with his belly putter a few feet away. While his man for the week is not Seve Ballesteros or Sandy Lyle (with whom he won the British Open), or Jose Maria Olazabal (Masters), or Lee Janzen (U.S. Open), at least Williamson represented the potential for a check.
"The winning caddie this week will make more than Ballesteros and Lyle combined," Musgrove said, launching into a story about how it took a few weeks before he could get the then 22-year-old Seve to write him a check after their win at Lytham in 1979. Eventually Musgrove got the standard 10 percent given to caddies for a victory -- more, actually, since Ballesteros wrote the check in dollars, not pounds.
Meanwhile, in this week's partnership, it is Williamson, the 13-year veteran, who is playing the part of the rookie.
It is his first Open Championship.
"I've made 160 cuts out here," he said. "But I've never played in this tournament."
There was one other little twist to the story that had Williamson thinking this was meant to be. He traveled from his home in St. Louis to the John Deere last week with his passport -- anticipating that he'd need it to get to the Canadian Open. Without that passport, it might not have been worth the hassle of having to return to his house in St. Louis after his playoff loss, then fly commercial to England.
The passport in his pocket. Musgrove waiting outside the hotel. McCarron looking for a game. Jay Williamson hopes all these signs mean something.
"I'm starting to believe this is fate," he said.