News
Creamer's Start To Finish Win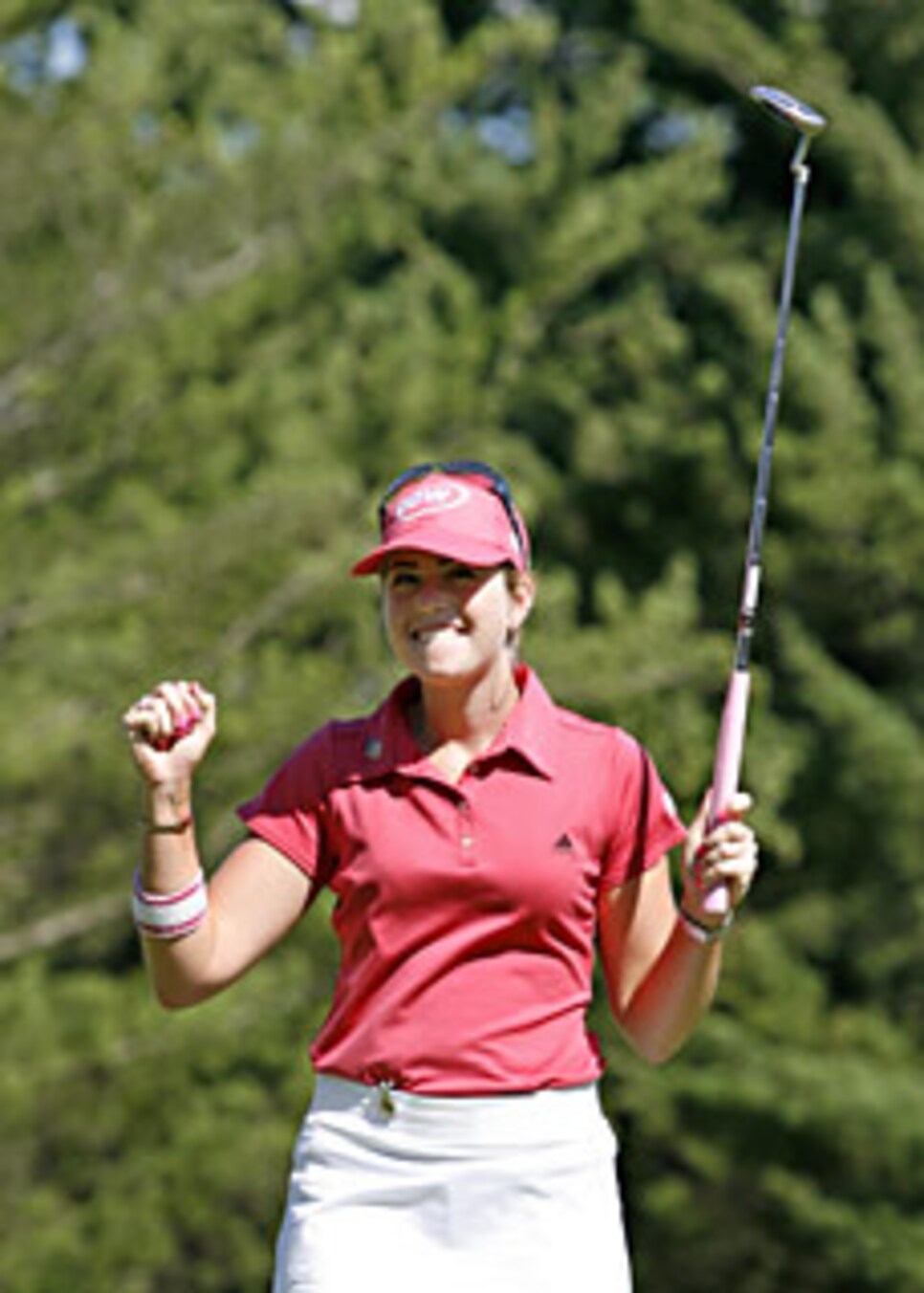 After Paula's sizzling play earlier in the tournament, a two-over par closing 73 was good enough to win.
SYLVANIA, Ohio (AP) -- Paula Creamer shot a 2-over 73 Sunday and did just enough to make a big lead stand, going wire-to-wire to win the Jamie Farr Owens Corning Classic by two strokes.
Creamer, who captured her seventh career win and her third this season, had worse scores every day after breaking the tournament record with an 11-under 60 in the first round. She followed that with a 65 and a 70 to finish at 16-under 268, two shots better than Nicole Castrale who closed fast with a 64.
The 21-year-old Californian saw her lead drop to a shot when rookie Shanshan Feng -- the first exempt player from China to play on the LPGA Tour -- pushed her with five birdies through the first 11 holes. But Feng fell back with three straight bogeys down the stretch.
South Korea's Eun-Hee Ji, second to Creamer after each of the first three rounds, shot a 72 and was third at 271. Feng had a 69 for a total of 272, followed by Karrie Webb who shot a 70 and was at 273.
After the lead fell to one stroke, Creamer recovered with her only birdie of the round at the 13th hole -- around the time Feng began her string of bogeys. After Creamer missed a 3-foot par putt at the 16th hole, she had safe, two-putt pars on the final two holes to clinch the victory.
Creamer, with earlier wins in Hawaii and Tulsa this season, had 21 birdies and three bogeys the first 54 holes -- and one birdie and the same number of bogeys in the final round.
She made a lot of friends on the course despite not playing well. She waved to little kids behind the ropes, chatted with tournament officials between holes and even made a point to walk over to get a close look at some ducks splashing in the creek near the eighth green.
On top of that, she also represents the tournament's principal sponsor, which features a pink panther in its advertising. Creamer is well known for her pink clothing ensembles, not to mention using pink golf balls, pink grips on her clubs and a pink golf bag. She wore a pink hat and shirt on Sunday.
Ahead by four shots to start the round, Creamer made the best of a bad situation on the first hole. Her drive on the short par-4 hole was in heavy, sodden rough near a trap. Rather than try to muscle a long iron to the green and run the risk of hitting into a wide creek, she punched out a few feet into the fairway. From there, she spun her approach off the front of the green and down the middle of a large hill. Her third shot barely stayed on the front edge -- almost spinning back down to where she hit it. But then she made an uphill 15-foot putt to save bogey.
She had seven pars in a row until reaching the par-4 ninth, where her approach flew over the green. After getting a free drop, she hit a flop shot that stopped about 10 feet away. She pumped her right fist -- just as she had on the long bogey putt at No. 1 -- after rolling in the par-saving putt.
Although a decorated amateur player in China, the 18-year-old Feng was an unlikely candidate to contend this week against Creamer, who is No. 3 on the tour money list and leads the U.S. Solheim Cup points race.
In her 16 starts this year, Feng had missed the cut 10 times and withdrew once. Her earnings of $20,662 put her 146th in tour earnings. She had broken 70 just three times in her 35 rounds before coming to suburban Toledo.
Castrale was 1 under on the day through 10 holes but had birdies at 11, 12, 13, 15, 16 and 17 in a 6-under 31 back nine.
Creamer had vowed to get back at the course after missing the cut a year ago. She did that in style, breaking the Highland Meadows record in the opening round with an 11-under 60 before shooting a 65 in the second round. She had a 70 in the third round, yet still maintained a four-stroke lead heading into Sunday.
The ineffective final round was nothing new for her. Two weeks ago, she sagged to a 78 in the U.S. Women's Open to fall out of contention and finish in a tie for sixth. A week ago at the tour stop in Arkansas she had a 74 to fall back.
But this time she had enough of a lead to hang on.