News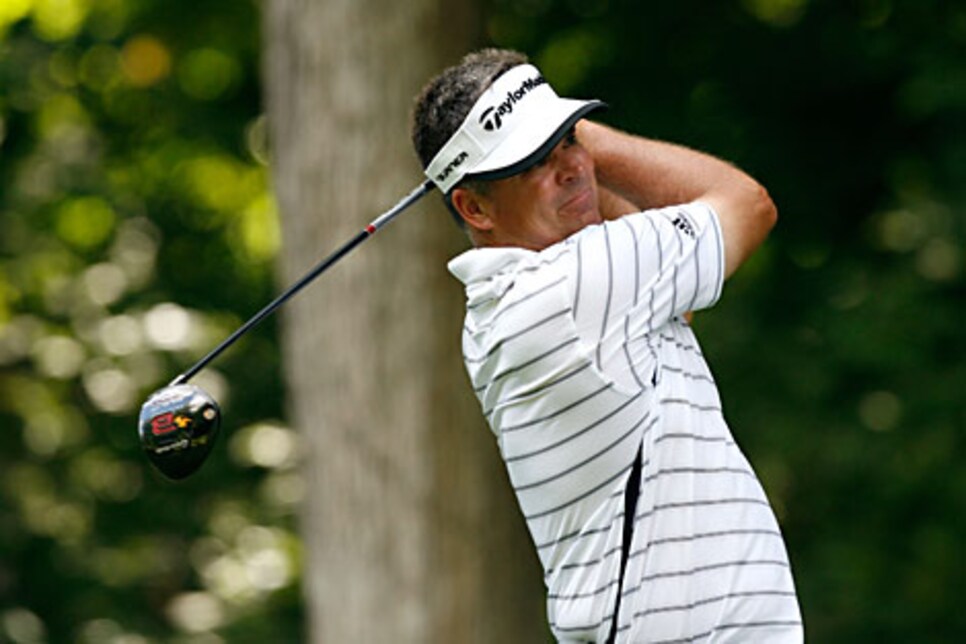 With the win, Perry moved into second place behind Tiger in the FedEx Cup standings.
SILVIS, Ill. (AP) -- Kenny Perry beat Brad Adamonis and Jay Williamson in a playoff to win the John Deere Classic and escape with his third victory in five starts after bogeying the 18th hole on Sunday.
Perry had a one-stroke lead at 17-under through 17 only to lose it thanks to some poor shots from the fringe on the final hole of regulation. He and Williamson then watched as Adamonis, the PGA Tour's oldest rookie at 35, missed an 18-foot putt for birdie that would have won it in regulation and given him his first victory.
The ball stopped three feet short and Adamonis was at 16-under 268 with the others.
While Adamonis and Williamson both hit approach shots into the pond on No. 18, Perry tapped in from 1 feet, 4 inches for par and the victory after his 24-footer stopped just short.
He picked the ball out of the cup and raised both arms, an ear-to-ear grin crossing his face.
He's enjoying the best stretch of his career and collected $756,000 with his 12th victory. Perry (1-under 70), Adamonis (70) and Williamson (69) were one stroke ahead of Charlie Wi (69), Will MacKenzie (70) and Eric Axley (69) after 72 holes.
Williamson earned an invitation to the British Open and, unlike Perry, accepted it.
Now second behind Tiger Woods in the FedEx Cup standings, Perry might have been a threat there had he not decided to honor a commitment to play in the U.S. Bank Championship in Milwaukee instead. He's focusing on the Ryder Cup and on playing courses he thinks suit his game.
Perry pulled ahead at 17-under with a birdie on the par-4 14th, and stayed ahead with a putt to save par on the par-3 16th after a terrible chip from the fringe. After his tee shot settled about 19 feet from the hole, Perry overshot the cup by 16 feet.
Instead of a bogey, he knocked in the putt to maintain a one-shot lead over MacKenzie, but he wasn't as fortunate when a similar scenario unfolded on 18.
His approach settled on the fringe along the right side, 34 feet from the cup, and his chip shot went across the green to the fringe on the left side. Another chip shot for par went about 6 feet, and Perry hit a 6-foot putt for the bogey that opened the door for Adamonis and Williamson.
On a balmy, breezy day, Perry was erratic at times off the tee but his good fortune continued.
Perry lost a playoff at the AT&T Classic in May and won the Memorial two weeks later. He tied for sixth at the Travelers Championship and closed out June with another win at the Buick Open, giving him four top-six finishes in six starts.
Other players have been touching him and asking what he's been eating lately, hoping to capture some of his magic. The galleries have been a little larger lately, too, and the PGA Tour even assigned him a security guard at the course.
It's all new for Perry, who has played more than two decades on the Tour.
Why now? Perry isn't sure.
His mechanics were off following knee surgery two years ago, and a new putter has helped his short game, but he has never played this well for this long. If ever there was a time for him to win a major, this would seem to be it given his form and Tiger Woods' knee injury.
Of course, he's skipping the British Open, and he's doing that after passing on the 36-hole U.S. Open qualifying the day after his win at the Memorial.
Not that he wouldn't love to win a major, but his major goal at the moment is helping the U.S. team win the Ryder Cup at Valhalla in Louisville, about 40 miles from his birthplace.
Zach Johnson (71) finished at 1-under 283 for the tournament, another disappointing showing at what he considers his home event.
"I'm going to keep fighting," said Johnson, who's grew up just over an hour away in Cedar Rapids, Iowa.
He'll take that fight to Royal Birkdale, where he hopes to boost his chances for the U.S. Ryder Cup team with a strong showing at the British Open.s
"I play I hard, I play good, things will take care of themselves," he said.