News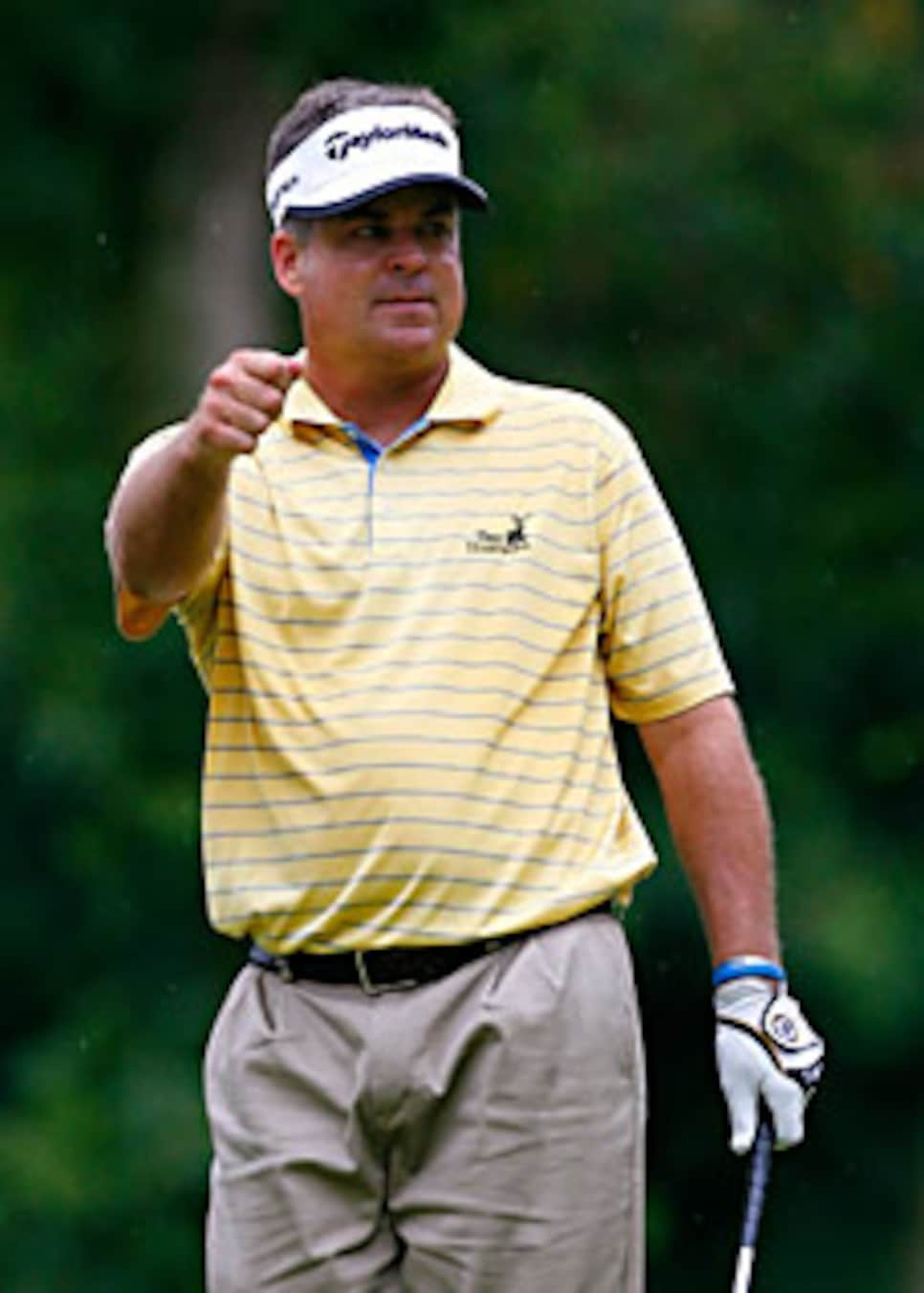 Perry fell out of the lead with a bogey on 15, but birdied 18 to secure his spot as co-leader.
SILVIS, Ill. (AP) -- Kenny Perry can't figure it out, either.
The new putter? That seems to be helping. His surgically repaired knee? It feels fine, after he rushed back two years ago.
New equipment and better health aside, he can't explain why he's playing this well.
"If I knew the answer, I'd have done this 20 years ago," Perry said. "It's just going my way right now."
Perry finished with a flourish to move into a three-way tie for the lead through three rounds at the John Deere Classic on Saturday.
Perry, seeking his third victory in five starts, birdied the 18th hole to finish at 4-under 67 for the day and 15-under 198 for the tournament. That tied him with Eric Axley (67) and Brad Adamonis (66), who at 35 is the PGA Tour's oldest rookie.
Jay Williamson (62) and second-round leader Will MacKenzie (70) were one stroke back.
Perry was at 15-under after sinking a nine-foot birdie putt on the par-4 14th before finding trouble on the 15th, hitting rough off the tee and two-putting from nine feet for a bogey. But he made up for it on the 18th, when his approach nearly hit the pin before settling a bit less than 6 feet to its left.
That drew oohs and aahs from the crowd and even a "You the man!" from one spectator. Perry then buried the putt to complete the birdie on the par-4 hole and pull even with Axley and Adamonis.
"They may have some anxiety," Perry said. "I'm not. I'm very relaxed. I'm enjoying the ride, I'm enjoying the walk. If it goes my way, great. If it doesn't, I really don't worry too much about it. It's been awesome how I've played this year. It's been so much fun."
Axley won the Valero Texas Open in 2006, while Adamonis is seeking his first victory. Now, they're at the top of a jammed leaderboard with Perry.
"I'm just not really going to pay attention to it," Adamonis said.
Axley said: "I think it's going to take a lot of birdies tomorrow. ... If somebody makes more than me, then I did the best I can do."
The 41-year-old Williamson converted eight plus an eagle while making the biggest move with a 9-under round.
Five strokes off the lead when the day began, he jumped into contention for his first PGA Tour win with a strong start and an astounding 29 (7 under) on the back nine.
He started his big move on the par-5 10th hole, when his 112-yard approach dropped into the cup. He birdied four of the next five holes to go 13-under, and ended the round with a 26-foot birdie putt.
Williamson pumped his fist and left the course tied for first. Although the lead didn't last, he certainly is in a better mood than when he was after he arrived on Tuesday. He saw that he is 158th in the FedEx Cup standings and cringed.
"It frustrated me, and it also was a kick in the pants," he said. "Again, I haven't done anything yet. ... The fact of the matter is I've got to go out tomorrow and perform."
Which is exactly what Perry's been doing lately.
His best run in more than two decades on the Tour began with a playoff loss at the AT&T Classic in May and continued with victories at the Memorial and Buick Open last month, giving him four top-six finishes in six starts. After a week off, he's in position for his 12th win.
"I feel comfortable, let me put it that way," Perry said. "I'm not nervous. I'm very relaxed. I'm staying in the present better than I ever have. I'm not looking ahead, thinking I can win the golf tournament. If I stay in the zone ... the wins will come."
Perry has raised eyebrows in recent weeks by deciding not to try to qualify for the U.S. Open and honoring a commitment to play in Milwaukee next week rather than go to the British Open. The Kentucky native is focusing on a different major accomplishment: Helping the U.S. win the Ryder Cup at Valhalla in Louisville.
"He's made a commitment to this Tour because he knows that this Tour has put him where he is, and I think other guys need to take a look at what he's doing because he's taken a lot of heat for that," Williamson said. "He's a guy that really values what the Tour means to him."
While Williamson made a big leap toward the top, 2007 Masters champion Zach Johnson made a big move the other way.
He shot 4-over 75 for the day and was at 1 under for the tournament after bogeying four holes and double-bogeying the par-4 ninth.
"Very disappointing," said Johnson, who grew up just over an hour away in Cedar Rapids, Iowa.
He insisted his left wrist was fine after missing three weeks with tendinitis but was at a loss to explain another tough round at what he considers his home tournament.
"I don't know what it was," said Johnson, who has never finished higher than 20th here.