News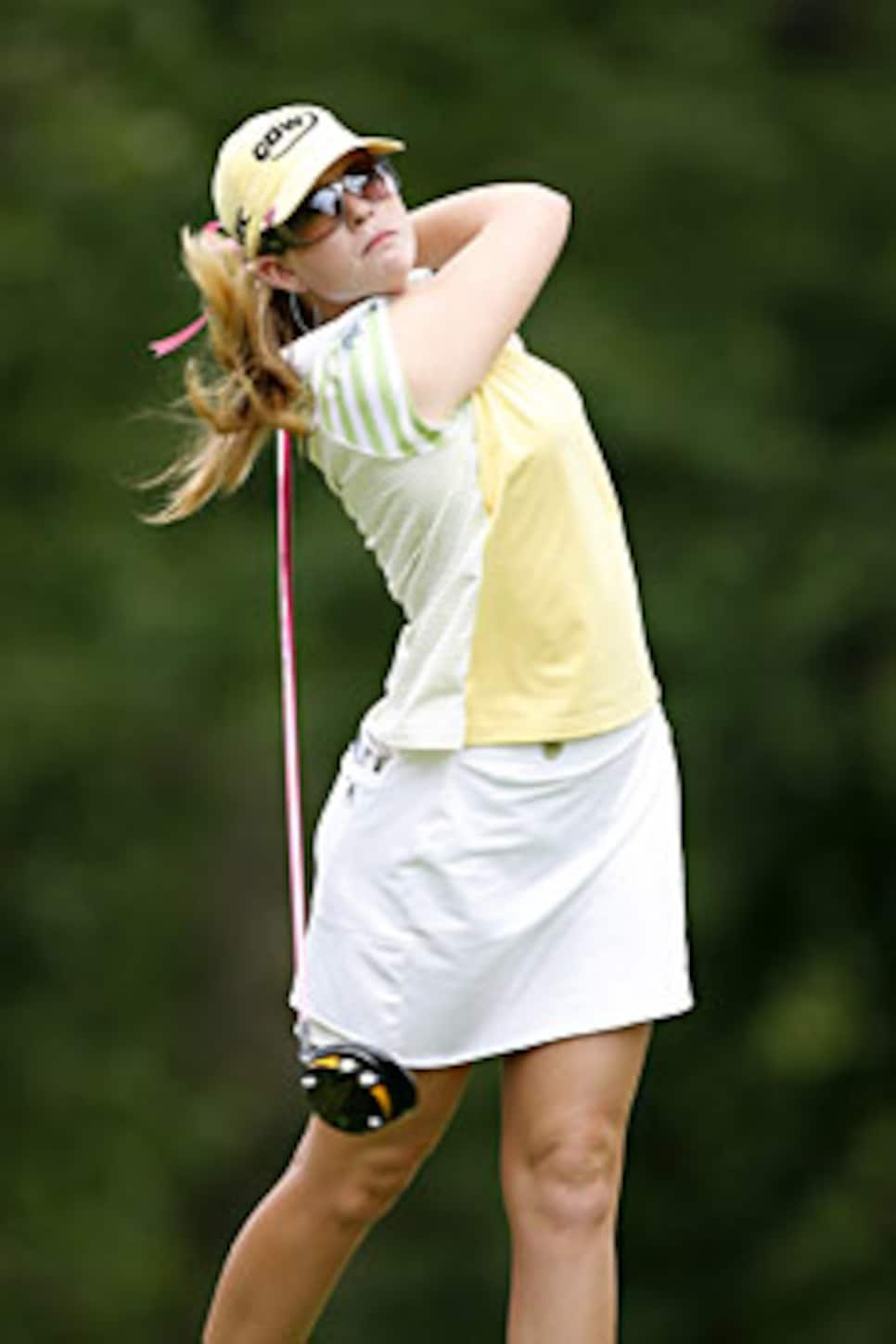 Revenge is sweet: Paula misssed the cut here last year.
SYLVANIA, Ohio (AP) -- In the quiet of the locker room after missing the cut a year ago, a disgusted Paula Creamer swore she'd get even with Highland Meadows Golf Club.
Making good on that vow, she followed a course-record 60 with a 6-under 65 Friday to build a six-stroke lead through two rounds of the Jamie Farr Owens Corning Classic.
"That Friday I was sitting in the locker room packing up my things to go home," Creamer said after shattering the tournament's 36-hole record by six shots. "That was not a good feeling."
She promised her sponsors -- also the tournament's title sponsor -- that she'd get payback.
"I was telling them, 'I'm coming back. I'm going to come back and play this golf course well,'" said Creamer, who stands at 17-under 125 -- the lowest 36-hole total on the LPGA Tour this year by five strokes.
First, she flirted with a magical 59 -- the lowest competitive round ever on the PGA or LPGA tours -- in the first round. Then the 21-year-old needed a birdie on one of the two closing par-5 holes on Friday to tie the tour record for fewest shots taken through two rounds. Instead, she parred both holes, missing a short birdie putt and then saving a par on the 18th after missing the green with her approach.
"She has been incredible and her score is unbelievable," said Eun-Hee Ji, the only player within 10 shots of her. Ji has rounds of 65 and 66 and still trails by a half dozen strokes.
Creamer had seven birdies and her only bogey of the tournament a day after she birdied nine of the final 11 holes and totaled 11 birdies. The 60 eclipsed by a shot the course record of defending champion Se Ri Pak.
The tournament may be half over, but as far as most of the players are concerned it's completely over.
"She's so far ahead, you're almost playing for second," said Stacy Lewis, who shot a 66 and lost ground after starting the day 10 shots back.
Pak, trying to become the first LPGA player to win the same event six times, shot a 69 and was 12 shots behind. She went 63-68 a year ago in the first two rounds to match Kelly Robbins' tournament record, set in 1997.
Rachel Hetherington, who won the 2002 Farr, shot a 67 and was tied for third with H.J. Choi (68) at 135.
The scary part is that Creamer used the word "terrible" to describe three shots -- and still matched the lowest round of the day with her 65.
"It was probably one of the hardest rounds that I've had," she said. "You come out and shoot 60, and anything above 60 feels like you'rer not playing that great. ... I don't think I hit one solid iron shot out there."
Creamer, leading the U.S. Solheim Cup standings and third on the money list, started the day with a five-shot lead on Ji. She maintained that until hitting one of those terrible shots, a 6 iron from the middle of the fairway at No. 12, that ended up 40 feet from the pin. Then she holed the birdie putt.
She hit a 4 iron to 6 feet for another birdie at No. 14 and made a 35-footer for another birdie at 16 and seemed poised to tie or even surpass the LPGA's raw-score record through 36 holes of 124 strokes, shared by Annika Sorenstam and Meg Mallon. But she missed a 5-footer for birdie at 17 and then salvaged par after missing the green and chipping 8 feet past the hole at the closing hole.
Apprised of how close she came to the tour mark, she smiled and said, "Don't tell me that! I had a 5-footer on 17 that I missed. Gosh, if somebody would have told me par was 71 yesterday, maybe I could have shot 59. Who knows?"
Creamer's 17-under score in relation to par matches the third-best ever on tour.
The Californian is in ideal position to capture her seventh career victory -- and erasing some recent bad memories.
She won the second tournament of 2008 in Hawaii and then won again at the Tulsa stop. But she faded to a 78 in the final round of the U.S. Women's Open two weeks ago to finish in a tie for sixth and then shot a closing 74 last week at the NW Arkansas tournament.
Creamer said she was motivated to play well by those two failures, not to mention that early trip home from the Farr a year ago.
"I wasn't going to miss the cut this time," she said.
No, she made it by 17 shots.