News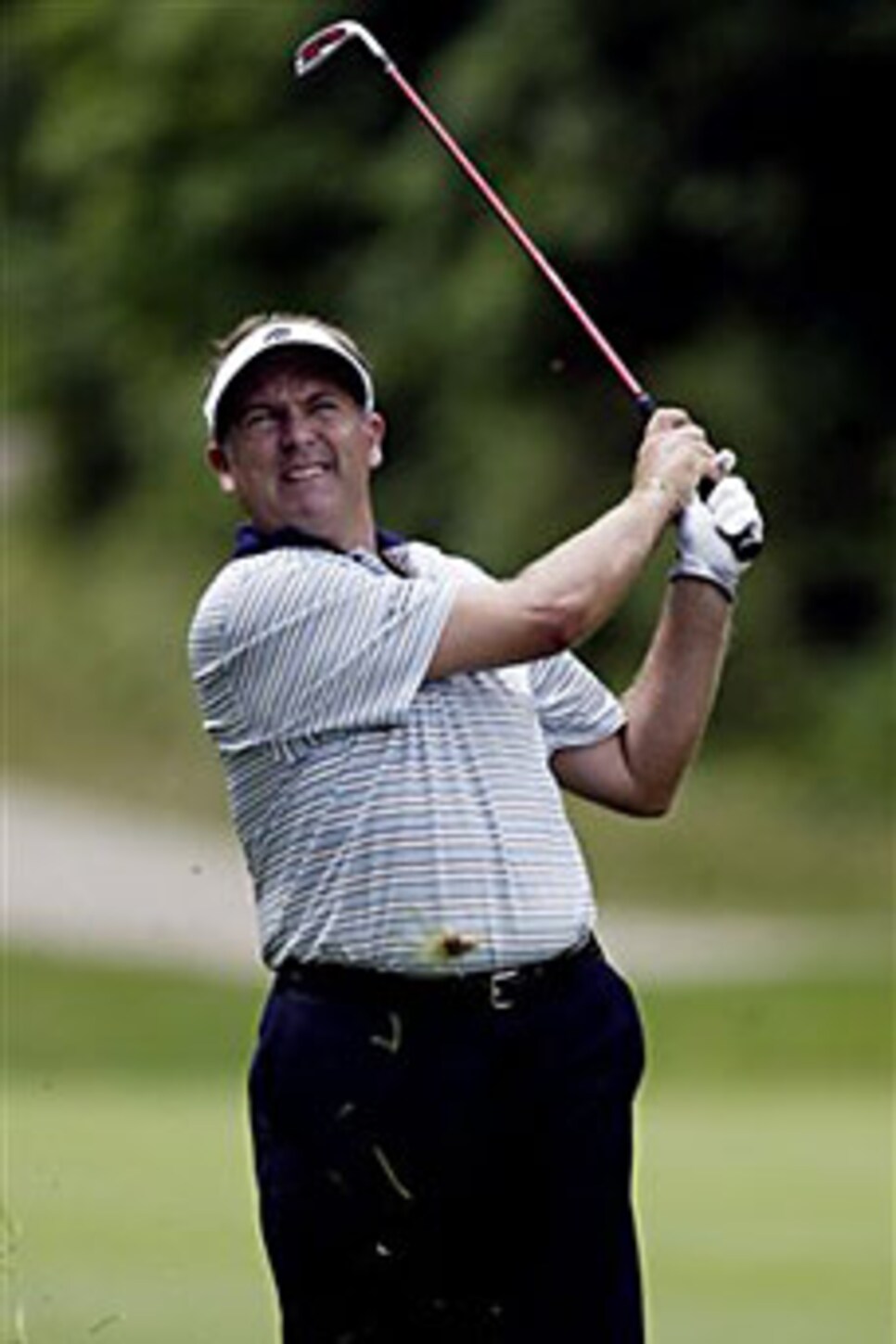 Three years after graduating from the Nationwide Tour, Duke is looking for his first PGA Tour win.
SILVIS, Ill. (AP) -- Kenny Perry continued his best run in more than two decades on the PGA Tour, firing a 6-under 65 Thursday in the first round of the John Deere Classic that put him one stroke off the lead.
The 47-year-old Perry is right behind Ken Duke and Charlie Wi in a tie for third after winning two events last month. Woody Austin was in a group at 5-under, with 2007 Masters champion Zach Johnson five strokes behind the leaders.
Play was delayed briefly in the morning due to lightning in the area and again for 1 hour, 55 minutes in the afternoon. Perry was gone by then and, maybe, back in bed.
Unable to fall asleep after his hotel fire alarm went off at 3:30 a.m., a bleary-eyed Perry had enough energy to birdie his first three holes at TPC Deere Run. He started on the par-5 No. 10 and drove a sand wedge to 18 feet, then hit a 9-iron within 11 feet on the par-4 11th before driving a 5-iron to 10 feet on the par-3 12th.
"I just feel very comfortable here," he said. "It's kind of in my element here, in my wheelhouse."
He missed a 15-foot birdie putt on his final hole that would have put him in a tie for first. Even so, it was another good round, one of many in recent weeks.
"Well, I've had runs," Perry said.
Perry had a memorable four-tournament run in 2003, when he won the Colonial and Memorial on back-to-back weeks and tied for third at the U.S. Open before taking first at the Greater Milwaukee Open a month later. This one is approaching the two-month mark. It started when he lost a playoff to Ryuji Imada at the AT&T Classic in May and continued with victories at the Memorial and Buick Open last month. He usually plays well on those courses, and he'll be at another favorite stop next week when he returns to Brown Deer Park Golf Course in Milwaukee next week.
"They're all lined up one after another, and I think that's the reason why," Perry said when asked to explain this run.
Yet for all the shots he's made lately, Perry has also absorbed his share for passing on majors.
Ineligible for the Masters, he decided not to go through 36-hole qualifying for the U.S. Open the day after winning the Memorial because he was tired. Then, he raised a few more eyebrows by choosing to honor his commitment at Milwaukee rather than go to the British Open, even though this seems like his best shot at a major.
After all, he's playing well and Tiger Woods is out with a knee injury.
"I've been getting hammered for it," Perry said. "I'm proud of myself to be able to push that aside and go out there and shoot good scores."
The Kentucky native is more consumed with helping the U.S. win the Ryder Cup at Valhalla in Louisville, so he set a schedule that he thought would land him on the team.
"That's the only goal I've got," Perry said. "I'm not really focusing toward the majors or nothing. I'll get to play the PGA here in a few weeks and I'm looking forward to that."
While Perry kept his momentum going, Johnson hopes to build some this weekend.
He finished with a birdie on 18 and, more importantly, made it through the round pain-free after missing three weeks because of tendinitis in his left wrist. He also put himself in position to survive the cut after missing it last year.
"I'm hitting it pretty good," said Johnson, who grew up just over an hour away in Cedar Rapids, Iowa. "My driver's coming along; I switched drivers this week. I just have to start making more putts. It's not like I hit it to 6 feet every hole, but I gave myself chances. I just didn't make many."