News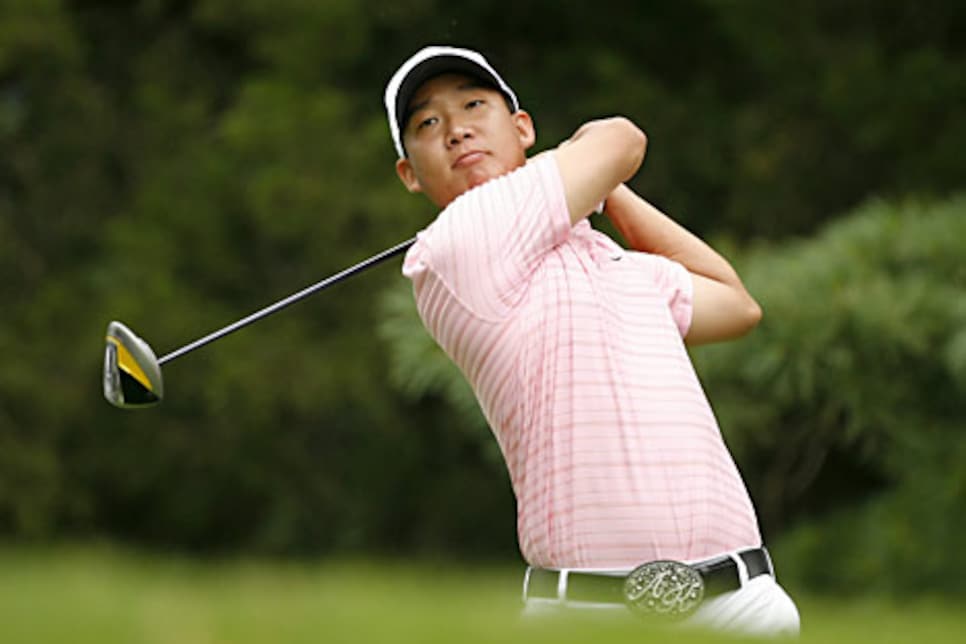 With his victory at the AT&T National, Anthony Kim became the first player under 25 to win twice in the same year since Tiger Woods did it.
BETHESDA, Md. (AP) -- Anthony Kim saved his diamond-studded "AK" belt buckle for the final round, then turned in a gem Sunday in the AT&T National to affirm his status as a rising star.
Three shots behind going into the final round, the 23-year-old Kim emerged from the pack with consecutive birdies around the turn at Congressional and closed with a 5-under 65 for a two-shot victory over Fredrik Jacobson.
Kim became the first American under 25 to win twice in one year on the PGA Tour since Tiger Woods.
Woods, the tournament host who is recovering from season-ending knee surgery, wasn't around to see a game that he might have recognized. Kim is an explosive talent who wasn't getting much out of his game until he dedicated himself more to practice than partying.
He eliminated the mistakes on a soft, cloudy morning at Congressional and fired at flags when it made sense. Kim stretched his lead to four shots on the back nine before Jacobson made a charge that came too late.
Kim, who won earlier this year at the Wachovia Championship, finished at 12-under 268 and earned $1.08 million, moving him to No. 6 in the Ryder Cup standings and closer to the top 10 in the world ranking.
That his second victory came at Woods' event held special meaning for Kim, who idolized the world's No. 1 player as a junior golfer.
"I would watch everything he did, every move he made, when I was growing up," Kim said. "So to win his tournament is a true honor. I'm very excited."
Jacobson, taken out of the mix early with a double bogey, ran off four straight birdies until he ran into trouble off the tee and in the bunker on the 18th hole, scrambling for a par and a 65.
The consolation prize was a trip to the British Open as the highest finisher among the top five at the AT&T National who were not already eligible. U.S. Open runner-up Rocco Mediate also secured a spot at Royal Birkdale from a special money list.
Tommy Armour III closed with a 69 and was among six players who tied for third at 271. Armour finished with six straight pars, when one birdie would have earned him a spot in the British Open over Mediate.
Kim has a certain swagger about him and still loves to style, promising all week to break out another of his garish belt buckles, suggesting that he might wait until he got into the final group. But there was no time to wait.
"Obviously, it's my new lucky belt buckle," Kim said.
His game is more than just bling.
Woods first took notice of Kim last year during a practice round at the PGA Championship. During a delay on the sixth tee, he walked over and asked, "What do you think of Anthony Kim?" He clearly was aware the 23-year-old had some ability.
Dean Wilson, whose 67 put him in the group tied for third, played with Kim in the final round and saw a bright future.
"Awesome," Wilson said. "He has all the tools. Very confident, very aggressive the way he plays. He's always shooting at the pins, and it's pretty good."
Five players had at least a share of the lead on the front nine, but it wasn't long before Kim had the stage to himself.
The last time Tom Pernice Jr. had the lead going into the final round was last year at the Buick Open, where he closed with a 75 and slipped all the way into a tie for 20th. This wasn't much better.
He led by two shots after opening with a birdie, and was tied for the lead after a short birdie on the fifth. But he made double bogey when his approach from 236 yards on the par-4 sixth came up short and into the water, and Pernice made another double bogey with a tee shot into the water on the par-3 10th. He needed three straight birdies to close with a 72 and tie for ninth.
Hunter Mahan, who went out in 31 to tie for the lead, dropped three shots in two holes and shot 68 to finish five shots behind.
Steve Stricker also was among the leaders. He had been concerned about his driving, but his most reliable club -- the putter -- was giving him fits. He missed three chances inside 15 feet early on, and when he snatched the cap off his pen to mark a new golf ball, the frustration was clear. Consecutive bogeys left him too far back to make a run, and he closed with a 73.
While this was shaping up as a shootout, Kim quickly turned it into a runaway.
He joined the leaders with a 6-foot birdie on the par-3 seventh to reach 9 under, then hit a wedge from the first cut of rough that settled 8 feet above the cup for a birdie at No. 9 to take the outright lead.
Kim surprised the locker room attendants when he ducked inside on the way to the 10th tee.
"Nine more holes," he told them on his way to the bathroom.
But it was over much sooner than that. His tee shot on the 194-yard 10th covered the flag and stopped 15 feet behind the hole for his third birdie in a pivotal four-hole stretch, and he widened his lead to four shots when he spun back a wedge to 5 feet for birdie on the 16th.