News
Rainy Day Fun For Pernice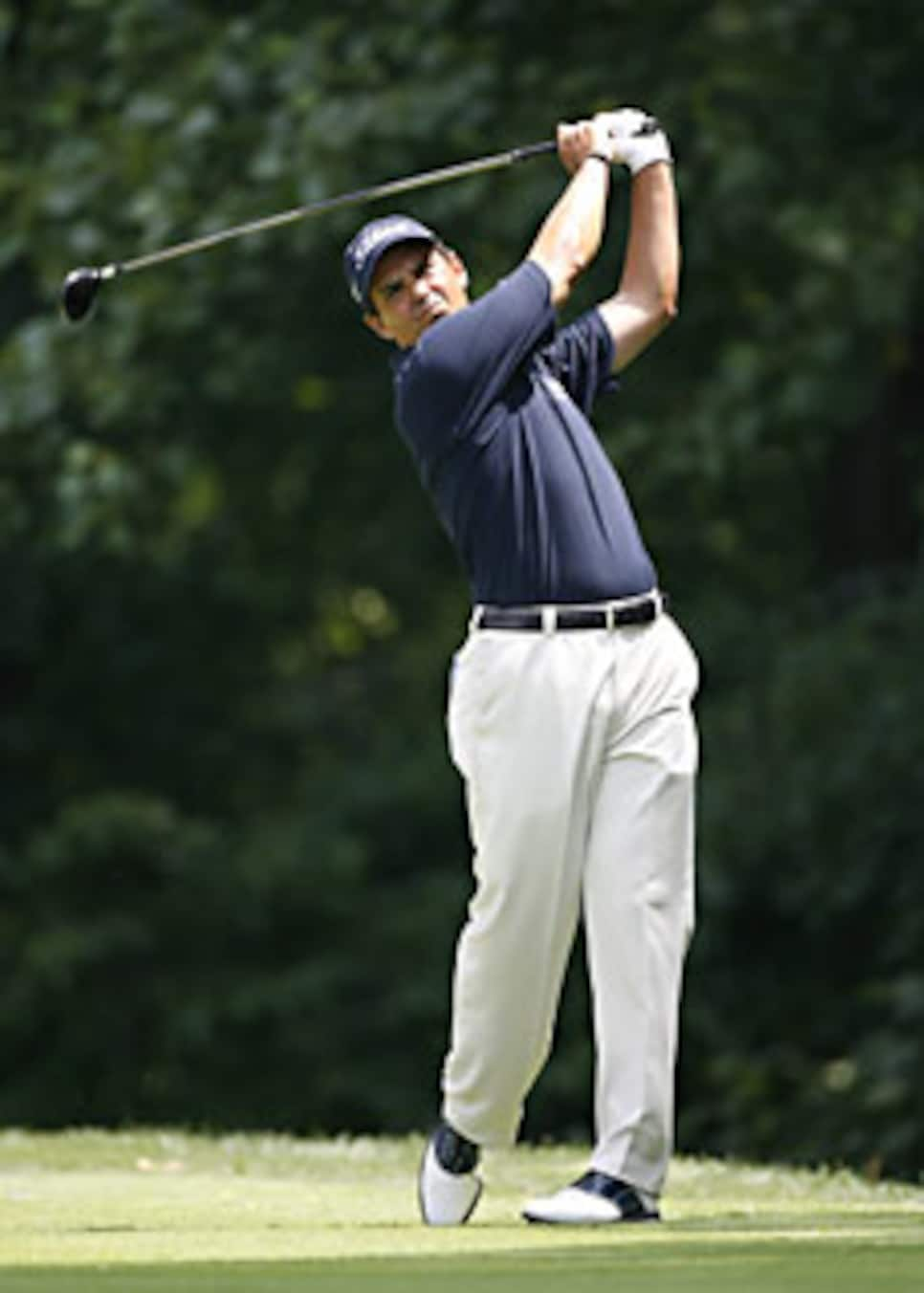 Pernice's 63 tied the Congressional course record.
BETHESDA, Md. -- Tom Pernice Jr. set the bar for his season, while Jeff Overton turned everything around.
Funny how seeing the ball go in the hole changes everything.
Overton, who hadn't made it to the weekend on the PGA Tour over the last two months, continued his one-week resurgence Friday with a 5-under 65, giving him a share of the 36-hole lead with Pernice in the AT&T National before storms rained on the Fourth of July atmosphere at Congressional and interrupted the second round.
Anthony Kim, living up to his billing as the next young threat in golf, was two shots behind with four holes remaining.
Pernice, who matched the course record on a soft, still day at Congressional with a 63, was at 9-under 131 with Overton.
Pernice did most of his damage around the turn, running off four straight birdies, starting with a 20-footer on the tough par-4 sixth hole that played 494 yards.
"I've been playing well, and you never know when a round like this is going to jump up," Pernice said.
Perhaps even more surprising is that his left hip has been sore all week. He has spent much of his time with trainer Joey Diovisalvi and the tour therapists, trying to simply get around the golf course. Walking and setting up over the ball is causing the most pain, although he appears to be doing fine swinging the club.
And consider how quickly Overton's prospects have changed.
He hasn't finished in the top 20 all year. He had not broken par since the last week in April. He missed the cut at the Buick Open last week, his sixth weekend off in his last seven tournaments.
He stuck around Detroit for a British Open qualifier -- Overton has never played in any major -- and was 9-under par over two rounds to finish first in his field and earn a ticket to Royal Birkdale.
He showed up at Congressional and hasn't stopped.
"I've hit a lot of great shots the last few weeks. It's been frustrating lipping out a lot of putts," Overton said. "And on Monday, made a bunch of putts and saw the ball go in the hole a few times, and it opens the flood gates mentally."
Congressional also brought much-needed relief for Steve Stricker, who conceded earlier this week he had hit a mental wall. He opened with a 71, and started his second round with a 4-iron over the par-3 10th green and into the bunker.
Then he holed out for birdie, ran in a putt from 50 feet on the next hole for birdie, rammed in a 60-footer on No. 2 and before he knew it was in the trailer signing for a 64.
"I needed a good round," Stricker said.
Stricker was headed for his first trip to the White House with 13 other players for President Bush's holiday birthday bash.
Steve Marino, who grew up in northern Virginia and had a vocal cheering section that stuck with him when the rain arrived, was even par for the day as he finished off his round.
But the name getting the most attention was Kim, a 23-year-old from Los Angeles who finally lived up to some of his potential earlier this year with a runaway victory at the Wachovia Championship. Even without tournament host Tiger Woods in the field, it says plenty of Kim to play his best golf on two of the top PGA Tour courses this year -- Quail Hollow and Congressional.
He was playing with Joe Ogilvie and J.B. Holmes, and Ogilvie walked off the fifth green after making his third straight birdie to give himself a chance at making in the cut. Even so, he looked over at Kim, raised his eyebrows and said, "The guy is pretty good."
Kim will have the rest of the weekend to show how good.
The cut was bouncing between 2 and 3 over, leaving a few players wondering if they would come back on Saturday. Davis Love III shot a 73 and was at 3 over, along with Sean O'Hair.