News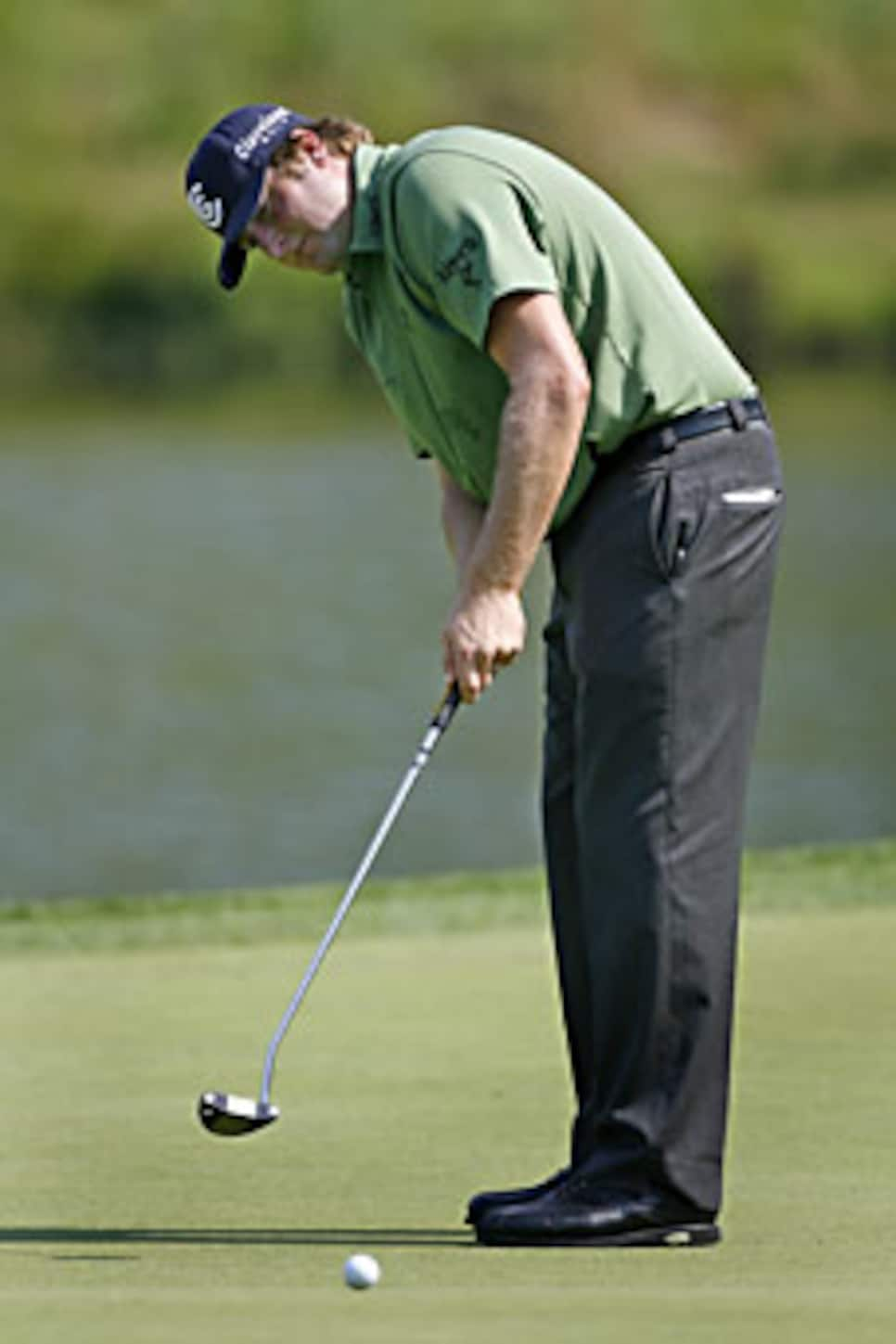 Marino has the lead for only the second time in his PGA Tour career.
BETHESDA, Md. (AP) -- Steve Marino used to consider it a treat the few times he played Congressional as a teenager. It was a thrill on Thursday to play bogey-free in the first round of the AT&T National and shoot 5-under 65 for a one-shot lead.
Marino, who grew up a half-hour away in Fairfax, Va., birdied three of his opening four holes, never had a par putt longer than 5 feet and finished off his round with an 8-foot birdie to be in the lead after any round for only the second time in his career.
"I played a bunch of junior golf growing up here, all over the D.C. area, so it feels great to get off to this good start," Marino said. "And I'm looking forward to the rest of the week."
It's already been a big week for Jeff Overton and Frank Lickliter, who were among those at 66.
Overton had missed six of his last seven cuts, working harder than ever with nothing to show for it, until the 36-hole qualifier Monday outside Detroit for the British Open. He was the medalist, earning his first trip to a major.
"It just carried over from there," he said.
Lickliter, whose wife gave birth to twin sons in January, took them to Christ Church in Georgetown to have Storm and Steel christened.
"It was fantastic," he said. "We celebrated all day, so there went practice on Wednesday."
But it must have been inspirational for Lickliter, who had not made a cut in his last six tournaments dating to the EDS Byron Nelson Championship. After four birdies on his front nine, he recovered from a pair of bogeys with consecutive birdies, including a 5-iron that was among the best he ever hit.
He hit a big drive on the 522-yard sixth hole, converted to a par 4 for this tournament, then hit a 5-iron from 210 yards over the water to about 12 feet from the flag.
"Best shot I've hit in the last four years," he said.
Rod Pampling and Bob Estes also were at 66, while the large group at 67 including Anthony Kim and Notah Begay III, a teammate of Tiger Woods at Stanford who received one of the sponsor's exemptions.
Woods, the tournament host and star attraction on the PGA Tour, is out for the rest of the year recovering from knee surgery. Thursday's attendance in gorgeous weather was 17,000, which was 1,345 fewer than last year when the AT&T National made its debut.
It didn't look that big, perhaps because the fans were scattered among various groups.
Among the most vocal were following Marino, which doesn't happen to him anywhere else on the PGA Tour.
"I got some crazy friends that came out to watch me this week," he said. "And today, I think it's safe to say it was probably going to be the mildest day, especially if I keep playing well. I know tomorrow is July 4th, and I'm teeing off in the afternoon. So that gives them plenty of time for to get looped up.
"They're rowdy, but it definitely feels good to have them out there supporting me."
Even better was the Blue Course, which was a real monster when this tournament was held for the first time last year. Congressional will host the U.S. Open for the third time in 2011, and the rough was U.S. Open quality a year ago.
This year, it was significantly less severe, but still punishing.
"The rough is probably half as tall as it was last year," Marino said.
Among the six birdies Pampling had was the 14th hole, where he drove into the rough and hit his approach to 4 feet. He was asked what would have happened a year ago from the same spot.
"I would have been trying to hit it short of the bunkers and then chip on," Pampling said. "It's fantastic. It gives you a chance. But you can get a flier lie and go long, and then you're in trouble. Ryuji Imada was about where I was in the rough and he went over the bunker. He did well to make bogey."
Defending champion K.J. Choi was among 34 players who shot in the 60s. Choi had a 68, while the group at 69 included Hunter Mahan.
Fred Couples, who took over Woods' duties as host on Wednesday during opening ceremonies, shot a 71.
Another big improvement were the greens, which were criticized last year as too bumpy. They became crusty in the late afternoon, when temperatures climbed into the lower 90s, but there were few complaints.
"If the greens stay this smooth, I think everyone is going to enjoy the course," Kim said.