News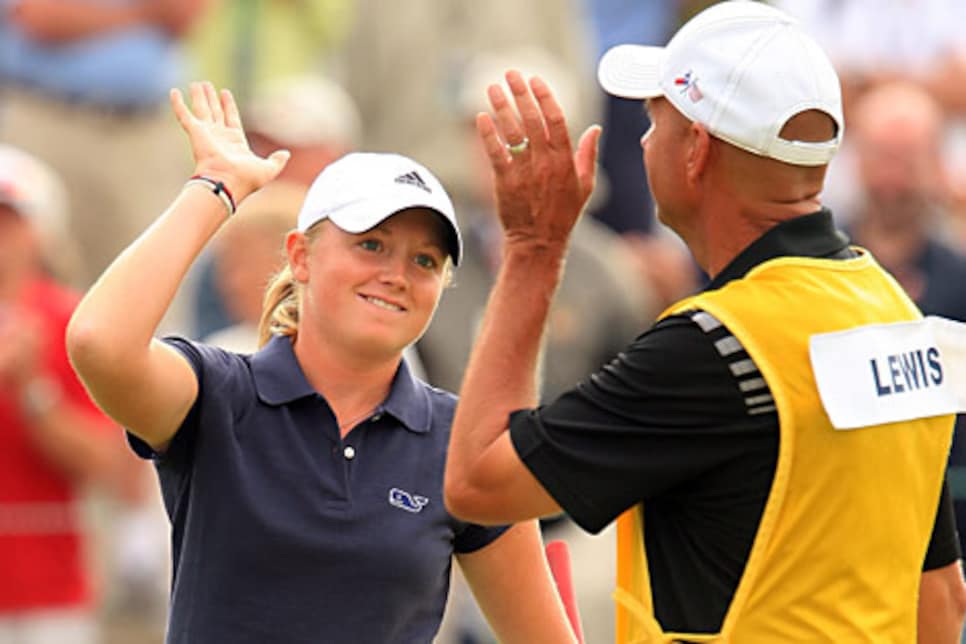 Stacy Lewis, with her father on the bag and making her first pro start, is proving she belongs in the big leagues.
EDINA, Minn. (AP) -- Stacy Lewis is making her professional debut one to remember.
Nineteen days after she turned pro, Lewis showed the poise of a veteran Saturday at Interlachen with no bogeys and a 6-under 67 that gave her a one-shot lead over Paula Creamer going into the final round of the U.S. Women's Open.
Lewis, a former NCAA champion at Arkansas, might have been the only one not surprised to see her name atop the leaderboard.
"I've accomplished my goal for the week," Lewis said. "It was just to put myself in contention. And whatever happens tomorrow, it happens. I hope I win. I want to win ... probably more than anybody here. But I have to hit a lot of good golf shots before I win this golf tournament."
And she will have to hold off a half-dozen players within four shots of the lead, starting with Creamer.
Creamer is two years younger but already in her fourth season on the LPGA Tour with six victories, enough for some to already anoint the 21-year-old product of a golf academy as the best player without a major.
She had a chance to share the 54-hole lead with Lewis until missing a 6-foot birdie putt on the 18th for a 69.
Lewis was at 9-under 210, setting up an All-American final group at the U.S. Women's Open for the first time in five years.
Helen Alfredsson of Sweden, 15 years removed from her Women's Open heartache, stayed close to the lead throughout an afternoon of scattered clouds at Interlachen and came in at 71 to finish two shots out of the lead at 7-under 212, along with Inbee Park (71).
In-Kyung Kim had a 69 and was another shot behind, while eight-time LPGA Tour winner Mi Hyun Kim had a 70 and was at 214.
Lewis already has had a month to remember.
It began on the Old Course at St. Andrews on June 1, where she became the first player in Curtis Cup history to go 5-0 in leading the Americans to another victory. She turned pro on June 9, and won her Women's Open qualifier that day by four shots.
"I only play in golf tournaments to win," she said with quiet conviction, not bravado. "I'm not here to make the cut or finish top 10 or do any of that. I'm here to win. People might see that as arrogant, but I think if you're not here to win, you're never going to be successful."
In many respects, she's already a huge success.
Lewis was 11 when doctors diagnosed her with scoliosis. She was supposed to wear a brace for two years, but that turned into seven years when she kept growing. Right after graduating high school, she had surgery on her back to install a rod and five screws.
"I thought I was done playing golf forever," said Lewis, who signed with Arkansas before she realized she faced surgery. "I just wanted to play golf. I just wanted to qualify for my team. I didn't think I'd win my tournaments. I didn't think about any of that. I just wanted to get back out there and play again."
Nearly a year after surgery, she tried qualifying for a tournament at Arkansas and won by 20 shots.
On the bag this week is her father, Dale, who paced for six hours in the waiting room the day of the surgery, then was amazed as his daughter won 12 times in college, the highlight an NCAA title a year ago.
"Every day, my wife and I just kind of pinch ourselves," he said. "We never dreamed anything like this would happen. We just wanted her to be normal and not have to wear a brace."
The final group presents quite the contrast.
Creamer's family moved her from northern California to Florida to attend a golf academy, and she won her first tournament shortly before going through high school graduation.
She has never finished in the top 10 at the U.S. Women's Open, and has never contended on the back nine of any major. But she might be due, especially in a year where she has won twice, including a victory in Tulsa when she ended Lorena Ochoa's winning streak.
Creamer made only one bogey and avoided another with a 15-foot par save on the 15th.
"I'm obviously very excited," Creamer said. "I love where I'm at, where I'm sitting. And I guess we'll see. Ask me tomorrow how I feel. I think it will be all right, though."
Lewis graduated with a degree in finance, and she is hardly an unknown at this U.S. Women's Open. She tied for fifth at the Kraft Nabisco Championship last year as an amateur, and she was the first-round leader at the Northwest Arkansas Championship last year with a 65. Just her luck, the rest of the tournament was rained out and the scores were wiped from the record books.
"I was in the middle of a big controversy and my name got out there," Lewis said. "I can say I beat 143 of the best players in the world in one day, so there's nothing wrong with that."
Lorena Ochoa was desperate for a quick start to get back in the game, but this isn't what she had in mind. She played the first four holes in 4 over and wound up with a 76, her highest score of the week, to end her chances. She was at 4-over 223.
"It's sad to see the tournament go, and now I have to wait one more year," she said.
Annika Sorenstam probably doesn't have that luxury. The three-time Open champion is retiring at the end of the year, and she wasted another day filled with birdie opportunities by converting only two of them in a round of 72 that left her seven shots behind.
"I'm about to cry," she said. "When you do everything you can and then it just doesn't happen ... I cannot hit the ball any better. I cannot put myself in a better position. And I rally don't know what to do.
"I'm not giving up. I'm going to tell you that."