News
Chopra's Lethal From The Trees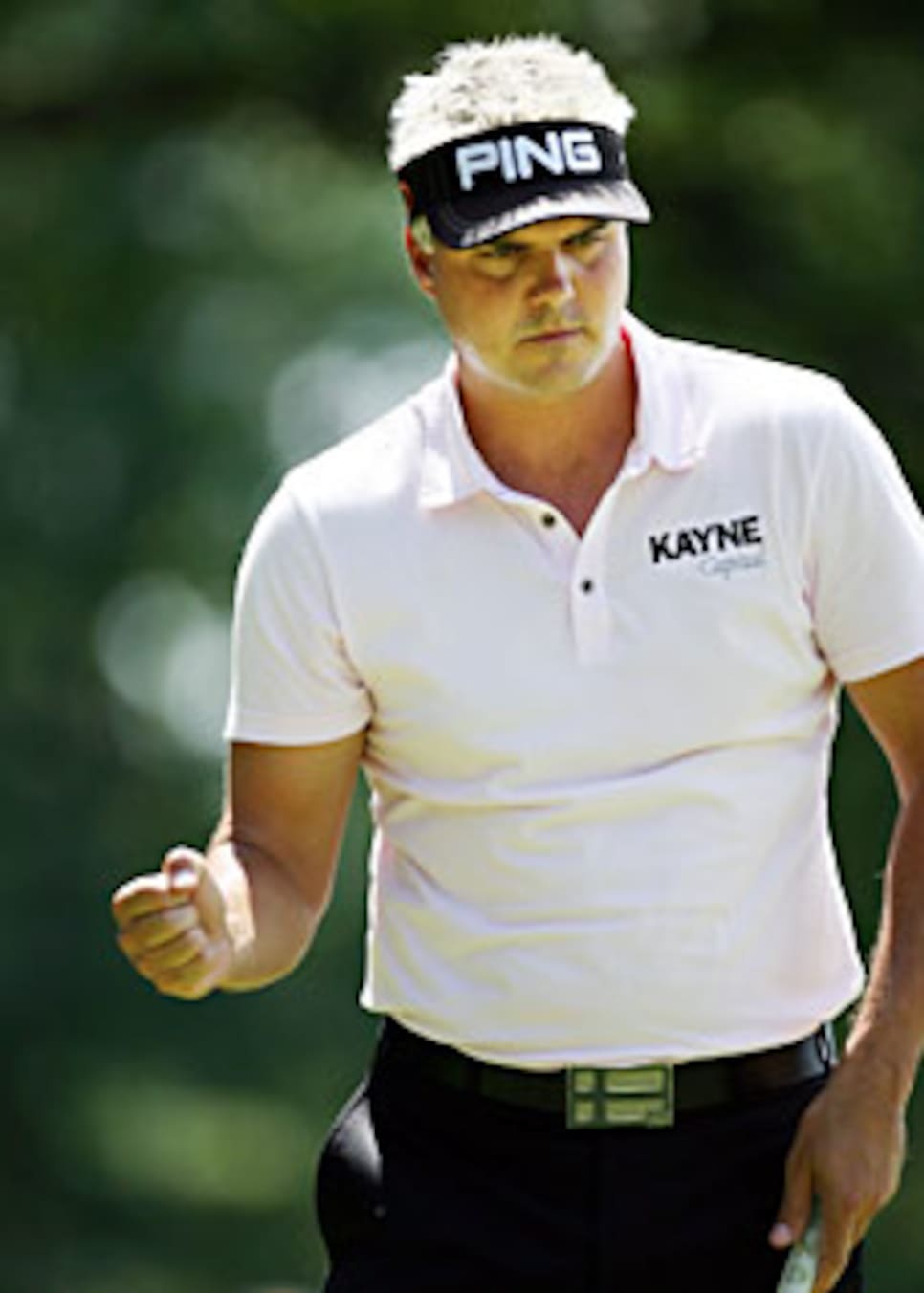 A victory at the Buick could put Chopra on the Euro's Ryder Cup team.
GRAND BLANC, Mich. (AP) -- Daniel Chopra's tendency to be wild off the tee and accurate from the rough led Todd Hamilton's caddie to give him a nickname at the Buick Open.
"Yeah, you're lethal from the trees" Chopra recalled the caddie saying.
Now, he has another moniker: Buick Open third-round leader.
Chopra shot a 4-under 68 on Saturday to reach 16 under at Warwick Hills and take a two-shot lead into the final round. He made a 15-foot putt for birdie on the last hole after Dudley Hart bogeyed it to earn a cushion.
"It makes my job a little easier, but not a lot," Chopra said.
Hart (70), Bubba Watson (68) and Woody Austin (69) were 14 under.
"Luckily, none of the leaders went low," Austin said. "So there wasn't a big separation."
Second-round leader Bo Van Pelt (73) was another shot back along with Kenny Perry (67), the highest-ranked player in a lackluster field that includes just three of the top 30 players in the world.
Chopra said any of the 10 players who are 12 under or better have a chance to win at Warwick Hills, one of the easier courses on the PGA Tour.
"It's going to be an absolute shootout," he predicted.
Defending champion Brian Bateman, who missed the cut, is the only 54-hole leader at the Buick Open who did not go on to win in the last seven years.
Since winning the PGA Tour's season-opening event and tying for 32nd the next week, Chopra hasn't fared better than a tie for 33rd and he's missed six cuts.
"Treading water," he explained.
If the 34-year-old Swede, who sports a belt buckle shaped like his country's flag, can hold off the wave of challengers Sunday he will move a step closer to playing in the Ryder Cup.
"I'm one of the players now that has a great opportunity to get in," he said.
Chopra was alone atop the leaderboard for the first time at the ninth hole when Hart had his first bogey of the tournament.
Hart pulled back into a tie with Chopra with a birdie at 16, where he got off to a good start with a 308-yard drive in the middle of the fairway. An errant drive set up trouble at 18, though, and he would've had to make a 31-foot putt just to stay within a stroke.
He has won twice on the PGA Tour, with the last victory coming in 2000 at the Honda Classic. His highlight this year was in February, when he had a third-place finish at Pebble Beach.
Hart missed the last seven months of the 2007 season after a softball-sized tumor was discovered in his wife's lung. She had the tumor and two-thirds of her lung removed last May, but it turned out to be a benign mass. He returned to the tour this year under a family medical exemption and has already made enough money to regain his card.
Watson's career-best finish is a tie for second at the 2007 Houston Open and he's coming off a season-best sixth at the Traveler's Championship.
Austin won his first of three titles at the 1995 Buick Open and his last was at the 2007 Stanford St. Jude Championship. He has been in the top 10 twice this season.
Chopra was wild off the tee Saturday -- hitting just three of 14 fairways -- but responded well enough to hit 13 of 18 greens.
"I have a good imagination and can hit trundlers and cuts and hooks and find ways to get it on the green," he said. "As long as you give me a swing and some kind of a gap, I'm pretty good at finding it.
"This golf course allows you to do that. It relaxes me a little bit off the tee so that I can go ahead and hit it. If I miss, I can use my skill to recover."
When he didn't land an approach, such as at No. 4 -- when his second shot rolled off the green and was almost buried under a camping chair -- his touch was sharp enough to help him scramble for par.
His creativity also helped him during the second round when he hit a shot from both knees off the lip of a greenside bunker, setting up a gimme for par and another nickname from caddies.
"They said, 'Well, maybe we should start calling you Dorf," Chopra recalled. "That was funny, too.
"I said, 'Well, I think I like Rambo better.'"