News
Angela Park Takes A One-Shot Lead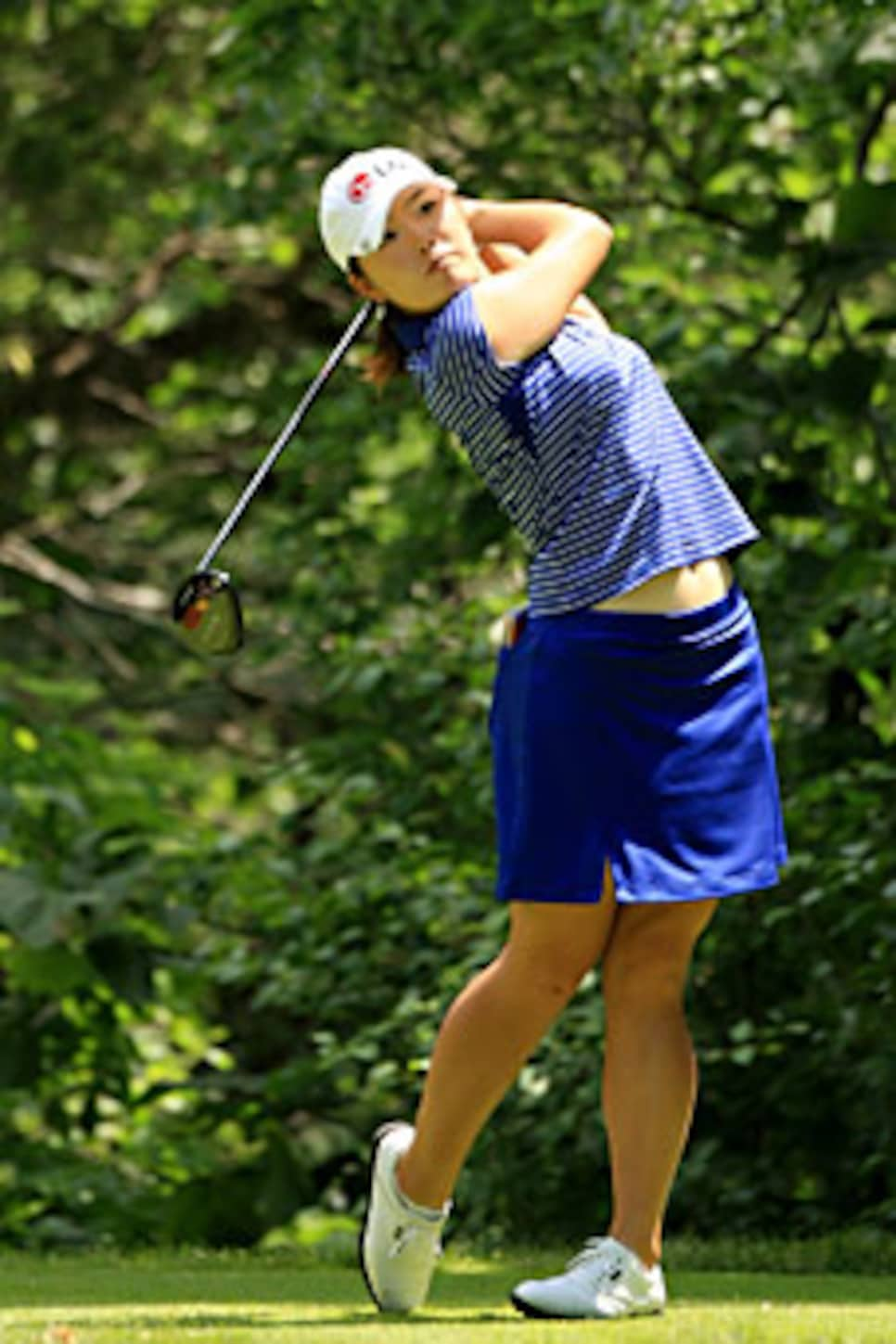 With only one bogey on Friday, Park was nearly flawless.
EDINA, Minn. (AP) -- All the elements were in place to bring back so many positive memories for Angela Park.
She was in the 36-hole lead at the U.S. Women's Open, just like last year. She looks comfortable on another Donald Ross design, Interlachen on Friday, Pine Needles a year ago. Rain brought yet another delay, just not quite as long or messy as last year.
Cristie Kerr can only hope the similarities last all the way until Sunday.
Park found a smooth putting stroke to go with her pretty swing, posting a 6-under 67 well before storms forced a 2½-hour delay.
No one could catch her when play resumed, but Kerr made quite a statement with her game and her words.
The defending champion was one shot out of the lead until a fly disturbed her routine on the final hole, where she hit her tee shot into the woods and made bogey for a 70 to finish two shots behind.
"I'm in position again, and I have that fire. I've got it," Kerr said. "This golf course and Pine Needles just turn my switch on."
Kerr won a year ago by overtaking Park in the third round, then holding off Lorena Ochoa on the back nine. There is still plenty of golf left, starting with the 36 players who had to return Saturday morning to complete the second round.
And there are still three other players between Kerr and the lead.
Helen Alfredsson bogeyed the 16th hole as the sun dipped behind the trees, settling for a 71 that left her one shot behind, along with Minea Blomqvist of Finland and In-Bee Park, who each had 69.
Kerr was asked if she could draw any parallels with last year at Pine Needles.
"The feeling I have inside me. The feeling I have inside my head and my heart," she said. "The ability like I have right now to get it done. It just a nice feeling to have."
Among those who didn't finish were Michelle Wie, who tried to rally from an 81 but made bogeys she couldn't afford after the rain delay. She was 2 over for the round, 10 over for the tournament, and had to return Saturday to play one hole.
The cut was assured of being 4-over 150 because of the 10-stroke rule at the U.S. Women's Open.
Angela Park made sure of that with burst of birdies early in her round, a 5-wood into 30 feet for an eagle on No. 2, and only one bogey on an otherwise flawless day. She was at 6-under 140.
"I told myself, 'Anything under par today would be good. Just get me back up in the tournament,'" she said. "I told myself yesterday, 'Go as low as possible,' and that's what I did."
Ochoa and Annika Sorenstam could not say the same.
Ochoa went 13 holes without a birdie in her first round of 73. Determined to get off to a good start, she went 12 holes Friday without a birdie and was closer to the cut than the lead when storm clouds gathered, lightning flashed and she was given time to cool off.
"It was a tough day for me today," Ochoa said. "I actually was very glad for the rain delayed because after No. 3, I was really frustrated and it seemed like nothing was going my way. I needed some time to relax and get away a little bit. I came back strong. I feel like I can continue the good momentum tomorrow."
Ochoa holed an 8-foot par putt on her final hole for a 74, leaving her seven shots behind. She missed three birdie putts on her final four holes, including a 6-footer on the seventh.
That was Sorenstam's story, too.
The three-time Open champion took 33 putts for the second straight day, and the final hole might have been the most aggravating. After a 3-wood over the water and a corner of the bunker that rolled to 5 feet, her eagle putt never touched the hole.
"I think I'm hitting the ball as good as I can," Sorenstam said. "I'm just going to work on a few things with my putter, and I'm really looking forward to the weekend. It has to do with tempo, it has to do with the length of my back swing. It just takes awhile to get that."
As confident as Kerr was about her chances, she was angry about an insect.
She stopped her swing on the ninth tee because of a fly, swatting at it with the driver. Even after starting her routine over, she hit into the woods, and after a lengthy discussion, chose to chip out to the fairway and try to save par. She didn't, missing a 10-footer.
"I've been known to pull off some pretty amazing shots, but you do that when you have to," Kerr said. "It wasn't a time that I needed to do something desperate."
Kerr was at 4-under 142 along with former Women's British Open champion Jeong Jang (69), Paula Creamer (72) and Candie Kung (72). Two emerging stars were another shot back, including the fiery Maria Jose Uribe of Colombia, the U.S. Women's Amateur champion who just finished her freshman year at UCLA. Playing with Ochoa and Kerr, getting the loudest cheers, Uribe shot 74.
Stacy Lewis, who went 5-0 at the Curtis Cup at St. Andrews and turned pro the day she qualified for the Open, made a birdie on her final hole for a 70 and also was only three shots behind.
Angela Park is rare in many ways. She has South Korean heritage, was born in Brazil and developed her game in California. When she won the points-based Louise Suggs Rookie of the Year award last season, she gave her acceptance speech in three languages. What also sets her apart is receiving strong praise from tell-it-like-it-is TV analyst Johnny Miller, who raved about her swing last year at Pine Needles.
"Everyone was coming up to me, and they were like, 'You've got the best swing on the LPGA Tour,'" Park said. "He was being very kind. I really appreciated his comment about my swing and hopefully, I'll keep it up this year."
She couldn't keep up with Kerr in the final round last year, and she might have to deal with the defending champion again.