News
Will The Torch Pass On Sunday?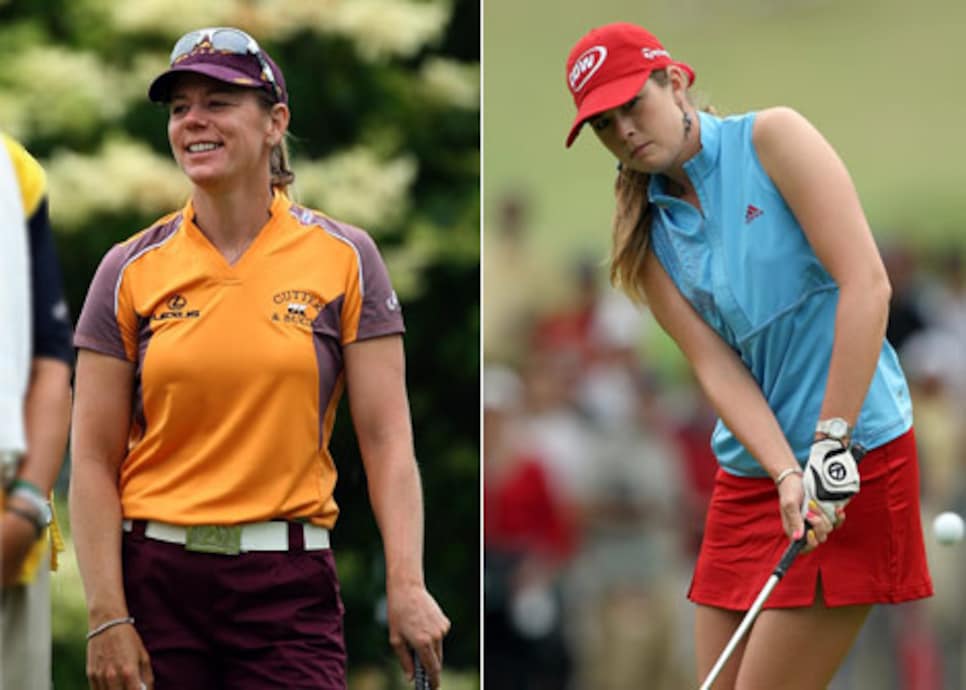 Annika kept her dream of exiting with a major alive on Friday, but she'll have to get past Paula Creamer to do it.
EDINA, Minn. -- One of the things Annika Sorenstam said when she announced she would retire from competition at the end of the year was she felt she was leaving the LPGA in good hands. By that she meant the wealth of young talent that now populates women's golf -- players such as Paula Creamer. And now the possibility exists the two of them could be headed toward a Sunday showdown for the U.S. Women's Open.
As Sorenstam approached the 18th green the massive gallery jammed into the bleachers to the left of the finishing hole at Interlachen CC rose to their feet in a long, emotional ovation. The outpouring of affection was an acknowledgment of one of the most remarkable careers in the history of golf -- 72 LPGA victories and 10 major championships.
But the cheers also signified the fact that Friday Sorenstam had played her way back into this U.S. Women's Open, keeping alive her dream of stepping from the stage with a record-tying fourth victory in the championship, the title she has often said means more to her than any other. Overpowering the course -- she reached three of Interlachen's five par-5s in two -- Sorenstam turned in a three-under-par 70 and was one under at the halfway mark, positioned perfectly to make a move in Saturday's third round.
The six-foot eagle putt she missed on the final hole likely will only serve as further motivation for the weekend. "I think I'm hitting the ball as good as I can," she said. "I'm just going to work on a few things with the putter and I'm really looking forward to the weekend." A putting lesson two weeks ago with Dave Stockton has not fully kicked in yet and she is still hesitant about releasing her hands through the ball, the perfect example being the jab at the putt on No. 18 that pushed the ball well right of the hole. But Sorenstam is a streak putter, and a hot streak always looms just one made putt away.
Creamer, meanwhile, was even closer to the lead, backing up an opening-round 70 with a 72 to finish 36 holes at four-under-par 142. There probably never has been another 21-year-old player already bearing the burden of being labeled the best player in the world without a major championship at such a tender age, but that's what happens when you already have notched six LPGA victories, plus two more overseas.
"I'm really just going out and trying to play my game," Creamer said when asked if she felt pressured by expectations. "I think what's always been the problem is the pressure and the amount of emphasis I've put on a major."
If Creamer is successful, she will take a giant step toward achieving something no American woman has managed in nearly a decade and a half -- become the best player in the world. Not since Beth Daniel in 1994 has the LPGA Player of the Year award gone to a golfer born in the U.S.
That run of domination by non-Americans began in 1995, when Sorenstam made her first LPGA victory the U.S. Women's Open. Since then the Player of the Year award has passed among Sorenstam, Karrie Webb, Se Ri Pak and Lorena Ochoa.
It would be a deliciously fitting finale if Sorenstam and Creamer are paired together again on Sunday, playing for all the marbles. A victory here would give Sorenstam her fourth U.S. Open title, tying her with Mickey Wright and Betsy Rawls for the record. For Creamer, it would be a statement she is ready, willing and able to challenge Ochoa for the top spot on tour.
The history that swirls around Sorenstam has not escaped Creamer. "You're walking out there and you hear everybody saying [to Sorenstam], 'Thanks for the memories, thanks for what you've done,' and it's true," Creamer said. "She has definitely raised the bar for women's golf and she has had such a big impact on where we are at today."
Creamer, who was not yet nine years old when Sorenstam won her first U.S. Women's Open, now has a chance to have a major impact on where the women's game goes next. If she can continue her development and move beyond star to superstar she just might take the LPGA with her to a new level of popularity and prosperity.
Sorenstam was absolutely correct: In players like Creamer, she is leaving the LPGA in good hands. But at the same time, Sorenstam is not ready quite yet to take her hands off the U.S. Open trophy. That could lead to a very interesting tug-of-war come Sunday.