News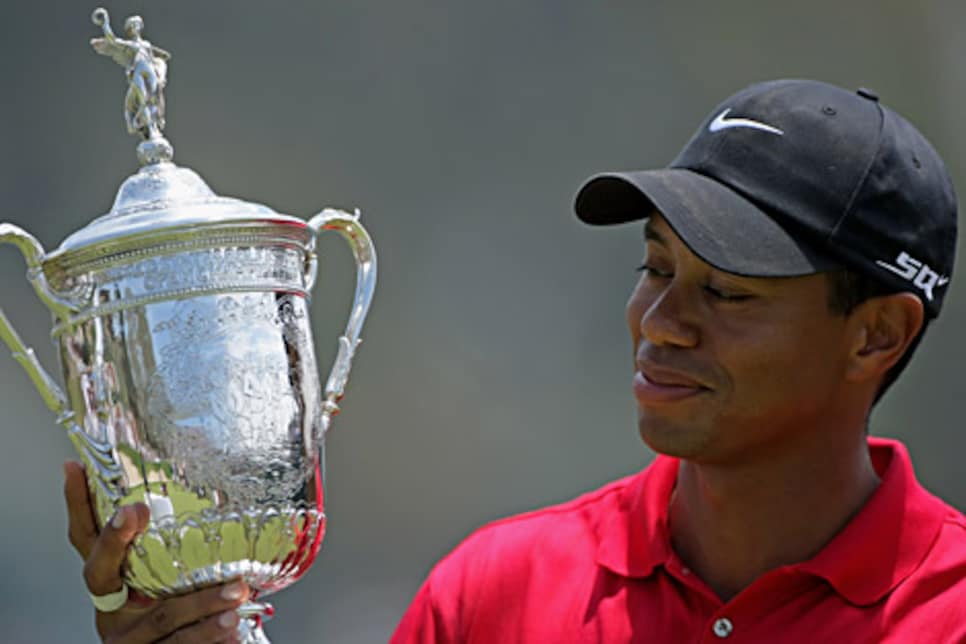 According to Steve Williams, Torrey Pines was the only place Tiger could have pulled this off
Off he went with the big Buick golf bag, oblivious to the buzz, his route back to the Lodge at Torrey Pines no more than 200 yards long but full of adventure -- like a third round just completed and unlikely to be repeated.
Through a labyrinth of back doors and hallways, stairwells and security, Steve Williams was good enough to provide details and on-site insight on perhaps the most memorable back nine of Tiger Woods' career.
The bomb for eagle at the 13th. The excuse-me birdie chip that hopped in the hole at the 17th. The 40-foot bender for another eagle at the last. You think it's hard chasing Woods on a leader board? Try taking notes while keeping up with his caddie on the walk to the hotel.
As our on-the-fly interview neared an end, I asked Williams his thoughts on Tiger playing in such conspicuous pain. That Saturday evening, for all anyone had been told, his knee was still tender but on the mend. "Ah, mate, I can't even tell you how amazing this is," Stevie replied. "Come see me tomorrow. I'll be able to talk more then."
Now we know, of course. Tiger is out for the rest of the year, maybe longer, with the future offering no guarantees. Still, as immortality settles in on the recent past, Woods' third U.S. Open championship/14th major title serves as the new-and-improved benchmark to his bulletproof will. At no point over the 91 holes was his health even a five-second topic of discussion, Williams told me last weekend. There was no talk of potential long-term damage, and though it may sound silly in retrospect, withdrawing really wasn't an option.
The two men had been talking about this Open for six years. "When they announced 2008 would be at Torrey Pines, Tiger was more excited about it than I've ever seen him about a tournament," Williams said. "We had numerous conversations [during Buick Invitationals] about how certain holes would play when the greens were hard and fast. He was more into this one than any other. He was going to do whatever it took."
It took all he had, not only because of the double stress fracture and torn ACL, but the four double bogeys and four three-putts. Both are poison in Woods' major-title formula, harped on by swing coach Hank Haney and tracked by Williams, whose statistics show Tiger wins 80 percent of events he completes without wasting a stroke on the greens.
In walking with the Woods group at Torrey Pines, I'll admit to wondering early on whether his post-shot body language was serving as a competitive device, especially since he was playing with Phil Mickelson, his most formidable foe. To think Tiger was engineering reactions for sympathy is ludicrous, but with Mickelson eschewing his driver and Woods half-limping, I sensed the possibility of a message being sent.
If I can beat you on one leg -- and you're foolish enough to take the longest club out of your bag on the longest course we've ever played -- the reverberations will last 10 years. We're talking about the 2000 U.S. Open all over again.
Williams said his man couldn't have done this anywhere else, saying, "He can play that course almost on memory and rely totally on his instincts." None of Woods' major victories featured looser ball-striking or more remarkable clutch putting -- Tiger holed a million 12-footers at Pebble Beach in '00, but when you win by 15, the final must-make of the week is on Thursday afternoon.
"I can't even fathom him winning the way he did," concluded Williams, whose threshold for brilliance is fairly high. "Not only not swinging his best, but struggling to get out of trouble. A week later, I'm still having a hard time realizing he won."
European Ryder Cup captain Nick Faldo has suggested the Americans might actually be better off in September without Woods, which, as statements go, is a little like taking the driver out of your bag. Not that I needed a reason to call Paul Azinger. "I've heard that from people," the U.S. skipper said. "I'll tell you what losing Tiger means -- four points. It's at least a four-point loss that we'll have to make up somewhere else."
At some point this summer, Azinger will basically offer Woods a job as assistant captain, knowing he may turn down the invitation because Tiger would perceive his presence as a distraction. "He can sit in the cart next to me," Azinger said, as if a man can ever have too much good company.
Heroes fight wars. Heroes rescue kids from burning houses or teach them to become responsible adults. Every once in a long while, heroes win golf tournaments and inspire 12 others to do the same.
Maybe Azinger should sit in the passenger seat.