News
Hurst Grabs A Piece Of The Lead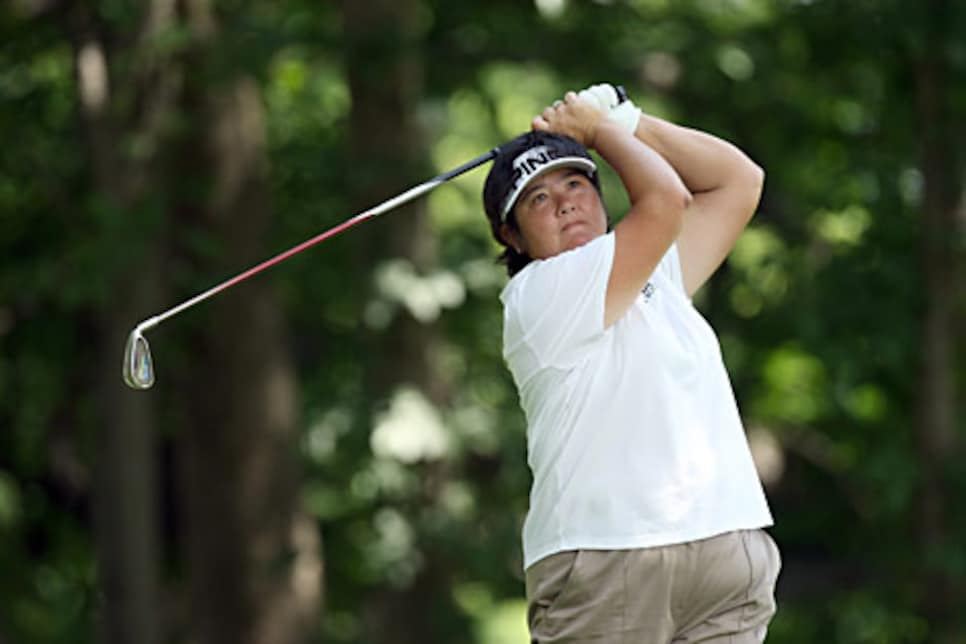 A balky putter early in the going put Pat Hurst behind the eight-ball, but she got the flatstick on target as the day went on.
EDINA, Minn. (AP) -- The gallery around the ninth green at Interlachen grew quickly late Thursday afternoon as the fans anticipated the arrival of Annika Sorenstam in her final U.S. Women's Open. They arrived in time to see Pat Hurst finish off quite a turnaround.
Down in the dumps after missing yet another short putt, Hurst played her next seven holes in 6-under par and finished off her round of 6-under 67 with an 8-iron that rolled off the fringe to 3 feet for a share of the lead with Ji Young Oh.
Sorenstam played in the group behind Hurst, before the largest galleries of a sunshine-filled afternoon, but she didn't give them much to cheer. The three-time Open champion, retiring at the end of the year, made four bogeys in a six-hole stretch and staggered to a 75, her highest opening round at this major since she played in 1992 as an amateur.
Sorenstam wasn't alone in her struggles.
Lorena Ochoa, the No. 1 player in women's golf who has won two of the last three majors, didn't make a birdie until the 14th hole in the morning, when the conditions were soft. She rallied with three birdies on her last five holes for a 73.
Michelle Wie, hoping to build on recent momentum, butchered the ninth hole on her way to a quintuple-bogey 9 and shot 81.
Hurst figured she was headed in a similar direction until one putt changed everything.
She had missed the cut in her last two events, including the McDonald's LPGA Championship, which she chalked up to her putting. On greens that became firmer in the afternoon sun, she stubbed a chip on the 13th for bogey and followed that by missing a 4-foot par putt.
That's when Hurst started moaning to her caddie about a vicious cycle she couldn't shake.
"I was whining," she said. "I was being a golfer."
Then came a 35-foot birdie putt down the hill that disappeared into the cup, and Hurst looked up at her caddie in mock disgust.
"It just turned it all around right there," she said.
She birdied the 16th hole, reached the par-5 18th in two with a 3-wood for a two-putt birdie, then took advantage on the consecutive par 5s on the front nine. Hurst hit a slight fade with her 7-wood up the hill to a right hole location on the par-5 second and made a 15-foot eagle, then capped off her big run with a sand wedge to another elevated green that stopped 10 feet away.
Song-Hee Kim was another shot back after a 68, while Louise Friberg and U.S. Women's Amateur champion Maria Jose Uribe of Colombia were at 69. Laura Davies, who won the Open in 1987 and needs one more major to get into the World Golf Hall of Fame, was among those at 70.
With several players still on the course, it was shaping up as one of the easiest days for scoring in a decade. Nearly three dozen players broke par at Interlachen, the most since 43 shot under par in the first round of the 1999 Women's Open at Old Waverly in Mississippi.
The Donald Ross design has five par 5s, which helps. The greens received a good dose of water overnight, and the overcast skies made them even more receptive to approach shots.
Oh was in the morning group and didn't have to work terribly hard on the greens. All seven of her birdies were inside 10 feet, and four of them were inside 2 feet.
"I love hitting my drivers and short irons," Oh said. "And for that, I think this golf course suits my game pretty well."
Ochoa noticed the low scores on the leaderboards, and was asked if she was surprised.
"I was just disappointed that it was not me," she said. "Because it was playing fairly easy in the morning. For sure, I could have finished 2- or 3-under par and been in a better position. But I think it will come back. The U.S. Open is always tough, and I'm OK where I am."
Sorenstam has work to do.
She was 2 under through seven holes, and putting cost her again. She had a 10-foot birdie putt on the 18th that she ran by the cup, and was stunned when her par putt swirled around the cup. She made back-to-back bogeys on the front nine, and thought she could at least end her day on a positive note with a beautiful approach to 6 feet on the ninth.
She missed that one, too, and now finds herself eight shots out of the lead.
"A few putts go in, it would have been a different story," she said. "I've just got to be patient and get off to a good start tomorrow morning and keep it. I know I've got the game and I love the golf course. Long ways to go."
Hurst, 39, has been around long enough to know that her name atop the leaderboard on Thursday doesn't mean much. She was thrilled to see her name at all after the start she had, but now is considering this week as a good omen. It was two years ago when she missed the cut a week before the Women's Open, and she wound up losing an 18-hole playoff to Sorenstam at Newport.
"I wasn't expecting much, and I guess this week I wasn't expecting much," she said. "I just want to go out and play the best I can. I've been hitting the ball really well, just not scoring. If I can keep that flat stick going, it's going to be good."