News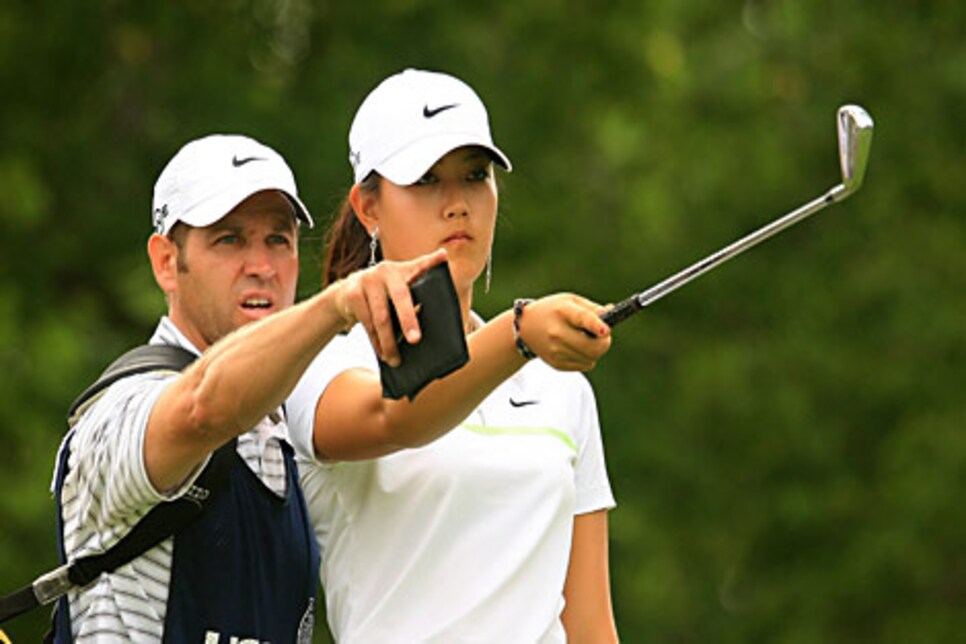 Michele Wie has the help of a good caddie, but that isn't a substitue for experience and judgment that can only come from tournament experience.
EDINA, Minn. -- If there is one thing Michelle Wie needs at this stage of her roller-coaster career it is simply more rounds. She needs to play in tournaments, even if it means entering Duramed Futures Tour events or playing more often on the Ladies European Tour. That was the inescapable conclusion from her opening round 81 at the U.S. Women's Open -- even if she doesn't see it that way.
While evidence of Wie's considerable talent flashed across Interlachen CC, so did a lack of competitive toughness and poise. A stunning 9 on the par-4 ninth hole that resulted more from poor decisions than poor shots capped off a 42 on the front side and made it much more likely that she would miss the cut Friday afternoon than be in contention come Sunday afternoon.
The talk coming into the Open was that Wie was on her way back. And that conversation was appropriately fueled by a sixth-place finish in an LET event in Germany, a strong performance in the U.S. Women's Open qualifier and a T-24 last week at the Wegmans LPGA in Rochester, N.Y. But the U.S. Open is the fullest examination of a player's game, and if there is a weakness in your game an Open course will find it and punish it.
That's exactly what happened on No. 9, a 413-yard par-4 with a green Wie described as looking like "a Pringles chip." Basically, the first 35 feet of the green is a false front and the last 15 feet is a sliding board that propels the ball back toward the false front. The only island of sanity is a 10-foot-wide ledge -- at most -- between the two that affords what few pin positions are available.
Trust me on this: The ninth green will become a bigger story as the week goes on. Its only saving grace is that it is not the 18th green for the championship -- as it is for the members -- and won't directly determine the outcome of the Sunday. It may, however, have ended Wie's U.S. Open a lot earlier than she had planned.
Wie made a series of mistakes on No. 9, the first being that she elected to hit driver off the elevated tee instead of 3-wood. Wie has struggled with the driver for nearly two years now -- missing shots low and left as well as high and right -- and she blocked this one into the right rough.
She compounded the mistake off the tee by being too aggressive with her second shot, trying to advance it too close to the green instead of opting to pitch out sideways. The second shot ran through the fairway and into the rough at the base of the steep hill leading up to the ninth green.
Playing from the rough she hit a shot that came out low, skidded across the green and ended up in the rough about two yards over the green. That's not a good place to be: It's virtually impossible to keep the ball on the green from there, without some luck or trickiness.
Trying to barely nudge the ball onto the fringe, Wie moved it only about 30 inches and left it still in the rough right on the edge of the fringe, now laying 4. At this point it was Julieta Granada's turn to play from the rough also behind the green. It was also at this point that Wie's brain shut down and she stared at her feet waiting for her turn to hit again.
What she missed while looking at her toes was that Granada played her shot sideways and it trickled down onto the safe shelf. Wie then took her putter and played her fifth shot straight down the sliding board, across the shelf and off the false front.
Her first chip from below the false front was not hit hard enough and rolled back to her feet. Her second pitch ended 5 feet from the hole, from where she two-putted for a 9.
Wie, who dropped out of last year's U.S. Women's Open because of a sore wrist while 17 over par through 27 holes, has now played her last 45 holes of U.S. Open golf 25 over par. She made only two birdies Thursday at Interlachen on what was likely going to be the easiest scoring day of the week -- no wind and a cloud cover most of the morning.
If this was a test of where Wie's game stands right now, even graded on a curve it came up well short of the high standard she established in 2006 when she finished in the top five in the first three majors of the year, including a T-3 in the U.S. Women's Open. The only way she is going to get back to that level is to play more, and compete more.
The problem is that she has only three more LPGA sponsor's exemptions available to her this year. That means she has to take this show out of the big cities and into the small towns.
She shouldn't let pride get in the way. She should play the Futures Tour. All she needs to do is write a letter asking for permission. Do you think they'd ever turn her down? It's all about getting some rounds under her belt. That's how you learn how to win. That's how you learn to avoid mental mistakes like those she made on No. 9.