News
Tiger to Undergo Reconstructive Knee Surgery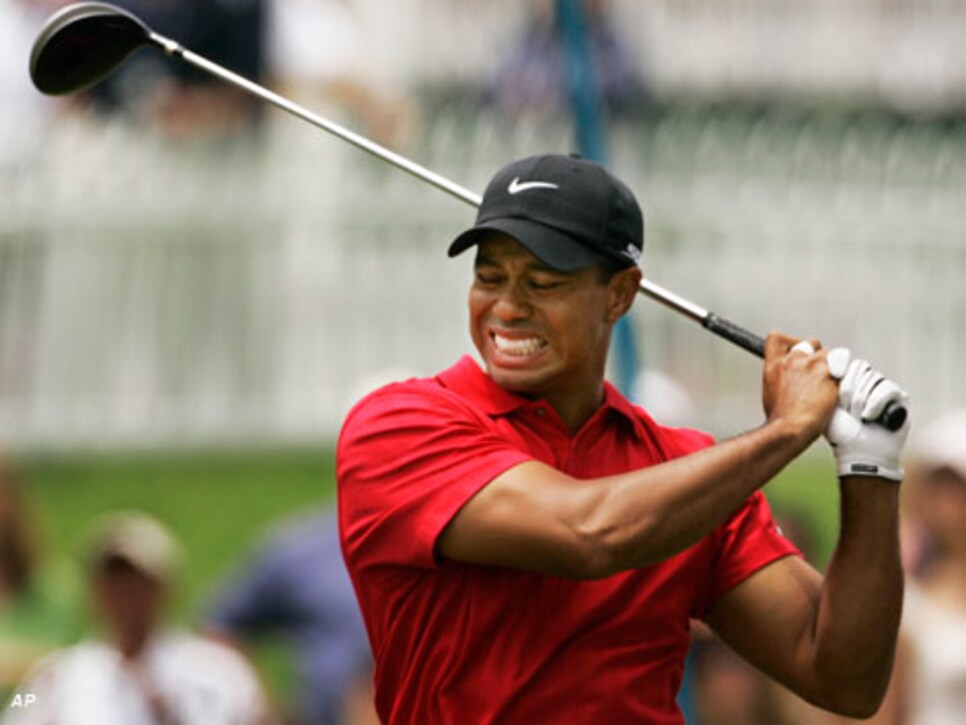 Tiger is asssured by his Doctors that proper post-surgical rehab and training will result in no long-term negative effects.
Tiger Woods' 2008 season is finished.
Fresh off a dramatic sudden-death playoff victory against Rocco Mediate in the U.S. Open at Torrey Pines on Monday, the world's top-ranked golfer has elected to undergo reconstructive Anterior Cruciate Ligament (ACL) surgery on his ailing left knee, he announced today.
No date for the surgery has been determined.
Woods, 32, will also need time to rehabilitate a double stress fracture of his left tibia that was discovered the week before the Memorial Tournament. The stress fractures were attributed to his intense rehabilitation and preparation for the U.S. Open.
Following a second-place finish at the Masters, Woods underwent arthroscopic surgery on April 15, performed by Dr. Thomas D. Rosenberg at the Healthsouth Surgical Center in Park City, Utah, to clean out cartilage damage. Rosenberg previously had performed a one-hour surgery on Woods' left knee in Dec. 2002 to remove fluid inside and outside the anterior cruciate ligament, and removed benign cysts. In 1994, Woods had a benign tumor removed.
After his post-Masters knee surgery, Woods spent eight weeks rehabbing and was less than 100 percent at Torrey Pines last week, frequently grimacing, bending over in pain after tee shots and limping. Before the first round last Thursday, Woods had not played more than nine holes in a day since the Masters. Still, he battled through the discomfort and played 91 holes, including a 19-hole playoff with Mediate, to win his third U.S. Open and 14th major championship.
"I know much was made of my knee throughout last week, and it was important to me that I disclose my condition publicly at an appropriate time," said Woods. "I wanted to be very respectful of the USGA and their incredibly hard work, and make sure the focus was on the U.S. Open. Now, it is clear the right thing to do is to listen to my doctors, follow through with this surgery, and focus my attention on rehabilitating my knee."
Woods expect to be fully recovered for the 2009 PGA Tour season.
"While I am obviously disappointed to have to miss the remainder of the season, I have to do the right thing for long-term health and look forward to returning to competitive golf when my doctors agree that my knee is sufficiently healthy," Woods said. "My doctors assure me with the proper rehabilitation and training, the knee will be strong and there will be no long-term effects."
Woods said he originally ruptured the ACL while running at his home in Orlando shortly after the 2007 British Open last July. He decided not to have surgery and play with pain. Woods won five of the six events he played during the rest of 2007, including the WGC-Bridgestone Invitational, PGA Championship, BMW Championship, TOUR Championship and Target World Challenge, and finished second at the Deutsche Bank Championship. Then he won his first four tournaments of 2008--the Buick Invitational, Dubai Desert Classic, WGC-Accenture Match Play and Arnold Palmer Invitational.
"For an athlete as talented and competitive as Tiger Woods, taking the rest of the season off must have been an incredibly difficult, yet necessary decision, one that we understand and support completely," said PGA Tour commissioner Tim Finchem. "The fact that he needs additional surgery only makes his performance and victory at last week's U.S. Open all the more impressive. First and foremost, our concern--as it would be for any of our players facing surgery or illness--is for Tiger's health and overall well-being, both on and off the golf course. We wish him the best toward a speedy recovery."
Woods had hoped the arthroscopic surgery he underwent in April would get him through the year and allow him to delay the ACL surgery until after the season.
"My rehabilitation schedule after the arthroscopic surgery was designed with the goal of returning to play at the Memorial, but the stress fractures that were discovered just prior to the tournament unfortunately prevented me from participating and had a huge impact on the timing for my return," he said. "I was determined though, to do everything and anything in my power to play in the U.S. Open at Torrey Pines, which is a course that is close to where I grew up and holds many special memories for me. Although I will miss the rest of the 2008 season, I'm thrilled with the fact that last week was such a special tournament."
Last week was the 500th week that Woods has been the No. 1 player in golf's world ranking. He first attained that position on June 15, 1997. Only Ernie Els (one week in 1997), Greg Norman (19 weeks in 1997-'98), David Duval (15 weeks in 1999) and Vijay Singh (32 weeks in 2004-'05) have held the No. 1 spot since Woods first held the position.
"I would like to thank my fans and partners for their continual support and can assure everyone that I will be as dedicated to rehabilitating my knee as I am in all other aspects of my career," said Woods.
Mark Soltau is a contributing editor to Golf Digest and the editor of TigerWoods.com.