News
Hollywood Drama At Its Best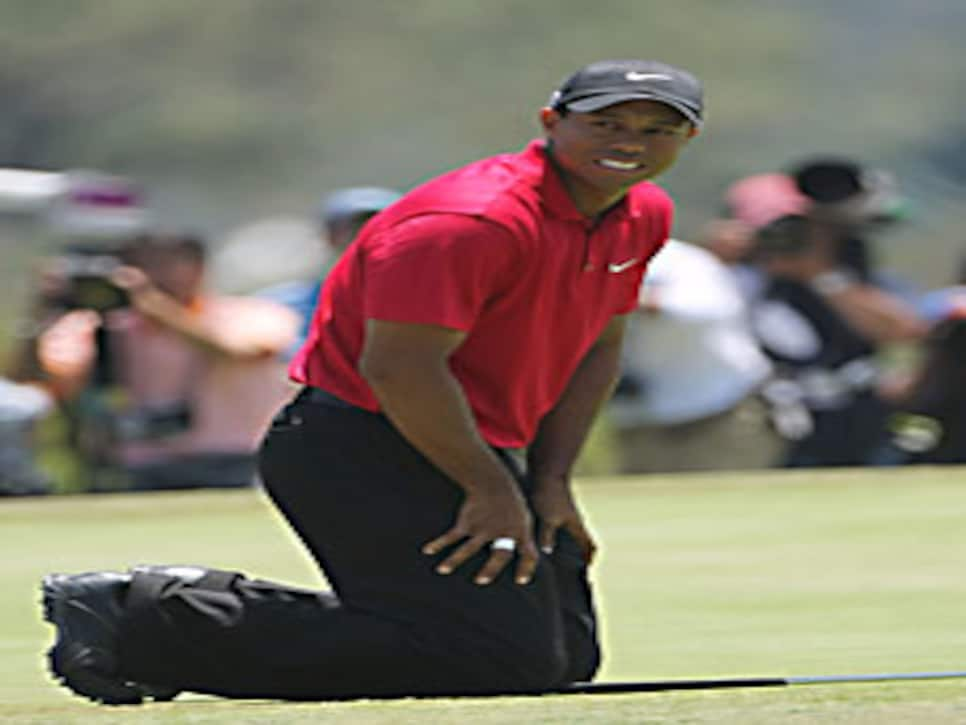 Tiger missed the putt that would have meant he didn't have to wait for Rocco to miss his.
LA JOLLA, Calif. -- Tiger Woods came to his personal playground, Torrey Pines, with the most celebrated joint in sports since Toots Shor's and drove away with his third U.S. Open championship in his own version of a Greyhound Bus. As they say in the movies, sometimes nothin' is a real cool hand.
Not since Newton installed gravity as a four-point favorite over fruit has there been a lock like gimpy Tiger Woods vs. gregarious Rocco Mediate. It was Tiger vs. Rocco. The son of a soldier against the son of a barber. A guy who'd already won a baker's dozen major championships against a guy who's as well known, of late, for playing in the World Series of Poker as he is for playing golf. A guy who had won four Masters against a guy who led it once before his back seized up on him on Sunday and he had to crawl around Amen Corner. It was the wince vs. the grin.
And it was a helluva tussle. Woods was three shots up on Mediate after the 10th, bogeyed two holes, then watched Rocco birdie three straight, forcing the world's No. 1 to come to the 18th hole needing a birdie to tie for the second straight day. Woods did what Woods does, earned another extra hole and won it in sudden death with a two-putt par on the par-4 seventh, which was used as the first hole of sudden death.
"He just said 'great fight' to me," Rocco said of their embrace when it ended on the seventh green, "and that means the world right there."
It was Woods who made the only shot of consequence on Sunday, a downhill, bouncing 12-footer that spent about as much time on the ground as the celebrated jumping frogs of Calaveras County on its way to curling in the right side of the hole for the birdie that brought everyone (Don't these people work?) back on Monday morning for the USGA's drunken Uncle Alfie of an 18-hole playoff.
It's time, by the way, for this antediluvian extra day to go the way of the mashie-niblick. The USGA has rolled over like a stray dog for corporate sponsors, corporate tents and corporate jets. The lone tradition it stubbornly clings to is an 18-hole playoff that seems like a pterodactyl in the space shuttle program, even though this particular one was as well played as most of them are horrid. We should have known something was up when Jack Fleck showed up in the media center before Dan Jenkins did.
One of the anomalies of He Who Is Without Peer is that his first-tee jitters are far worse than any pressure he feels on the 72nd hole. It's as if, starting out, Woods buckles under the weight of his own gravitas, as if he's a stranger unto himself, fearful that Tiger Woods might not show up that day. In the moments of consequence, however, Woods finds his greatest calm. It's his natural element. So it was at Torrey Pines. On the weekend, he began horribly both days and finished majestically. He did it again on Monday.
Let's not get carried away, however, confusing 2008 with 1950. An arthroscope doesn't weigh 10 tons. The knee only hurt Woods after impact. After his impact, Hogan hurt every moment of every day. Steve Williams didn't need to take the ball out of the cup for Tiger the way Hogan's caddie did for him. Rocco didn't need to mark the ball, as Cary Middlecoff had for Ben. Sure, trainer Keith Kleven deserves a championship ring as week's best cut man, but it's not like he had to stitch Woods back together again. And Woods didn't have to play Fazio and Mangrum in the playoff either. It was Rocco Mediate, regular guy, who tied Paul Goydos, loser of the Players Championship, for Best Runner-up, Character Division, in an event of consequence.
The Sesame Street words of the week were 'poa,' 'wince' and 'fair.' The players wailed like Frank Sinatra about Torrey Pines' greens. It should have been set to the tune of If You Knew Susie Like I Knew Susie:
If you knew poa like we know poa,
It's not that smoothie, it leaves us woozy,
Fast and bumpy, it makes us grumpy,
And, if it wasn't the poa annua, it was the wounded knee. Woods' thrice-repaired left knee was the subject of more speculation than the biography of Jay Gatsby. Is that a b-r-a-c-e under his trouser leg? Did he wince? I think I saw him wince, Brianna. Maybe it was a cringe. Well, on Thursday, he winced it 350 yards down the 18th fairway and cringed when he three-putted for par. Then he winced his way to a 30 on the front nine (his back) on Friday to grimace himself within a shot of Stuart Appleby's three-under-par lead. Drop a shot, he was a cripple. Make a birdie, he was 'playing within himself.'
The other word of the week was 'fair,' which meant Not The Oakmont, Not The Winged Foot, Not The Shinnecock. The usual I-Can't-Handle-the-Truth stare half the field wanders around with before your basic U.S. Open bloodletting begins was replaced by novenas to the USGA's set-up man, Mike Davis, who was about half an inch of graduated Kikuyu away from being nominated for sainthood by the poa-haters. Then, he started moving tees up and back the way Garry Kasparov moves rooks around and gave them all wince headaches in addition to maybe the most exciting Saturday the U.S. Open has ever seen.
Since short hitters always seem to win on long courses--enter Rocco, stage left--and Torrey Pines was the longest U.S. Open course in history, Phil 'Edsel' Mickelson decided to turn himself into a short hitter by leaving his driver in the cart barn. Asking O.J. to try on the gloves was a better idea. In fairness to Phil, his de-lofted 3-wood strategy never got a proper vetting since he couldn't hit a fairway with a marine layer (coastal fog to you and me), which is where the idea must have been concocted. Short and crooked is no way to go through any U.S. Open.
The only thing that kept Saturday off the Mount Rushmore of U.S. Open championship rounds was the day of the week. If it had been a Sunday it would have been carved up there with Hogan at Merion, Venturi at Congressional, Miller at Oakmont, Nicklaus at Baltusrol, Watson at Pebble Beach. Even Ouimet would have gotten carried away. Oh, that's right, he did. Anyway, all Woods did was wince his way to eagles on the 13th and 18th holes and grimace his way to a gouge-out pitch-in birdie on the 17th when the ball hit two feet up the flagstick and slid down the pin like a fire house drill. On the inward six holes he winced, he flinched, he cringed, he did everything but crawl. Hamlet didn't die that good. Then again, Hamlet didn't play the castle five under, either.
Bringing them back on Monday was not exactly on Tiger's to-do list, but here are a couple of things that are now: