News
A Monday Playoff For Tiger and Rocco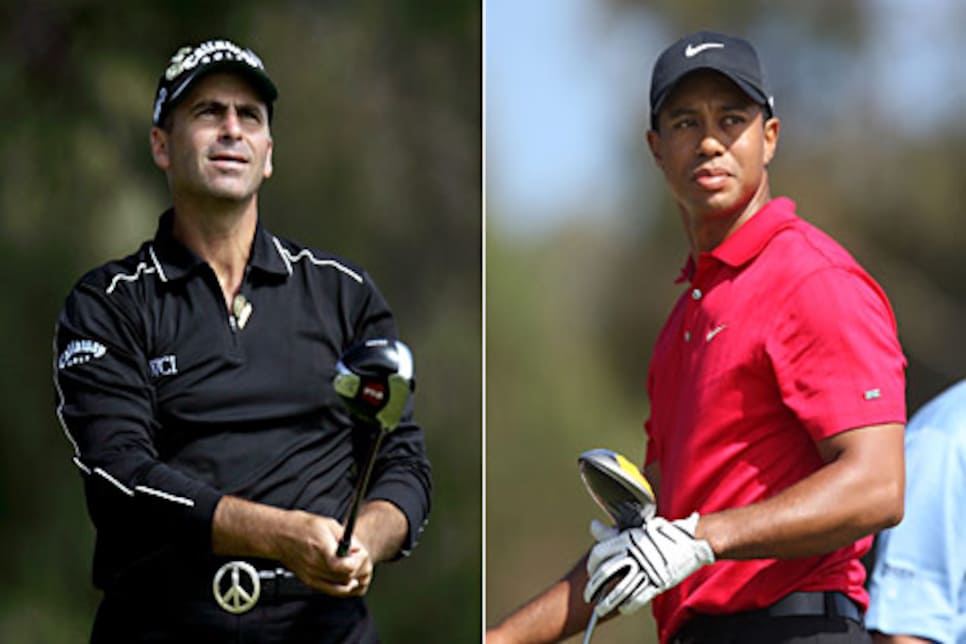 18 holes head-to-head with Tiger Woods is waiting for Rocco Mediate on Monday.
SAN DIEGO (AP) -- In a week of epic moments at the U.S. Open, Tiger Woods delivered the biggest one yet.
It didn't bring him another major, just another chance.
Down to his last stroke Sunday afternoon at Torrey Pines, Woods rapped a 12-foot birdie putt that bumped along toward the hole and swirled into the back corner of the cup without an inch to spare.
In a career filled with clutch putts, this one put Woods into an 18-hole playoff Monday against Rocco Mediate, who was in the scoring room watching the 18th hole theatrics unfold on TV.
"Unbelievable," Mediate said. "I knew he'd make it."
They finished at 1-under 283, the first time since 2004 that someone broke par in a U.S. Open.
Mediate closed with an even-par 71, missing a chance to eliminate Woods when his wedge to the 18th stayed atop the ridge and left him a 30-footer that he two-putted for par.
It looked like it might be good enough when Woods and Lee Westwood of England, both one shot behind, hit into the bunker on each side of the fairway on the 527-yard closing hole and had to lay up.
Westwood went first from 15 feet above the hole, but his putt lost speed and turned away. He shot 73.
Woods had such a clean lie in the bunker that he might have gone for the green in two if the U.S. Open wasn't on the line. Instead, he hit a terrible shot to the right and into the rough, and had to hope that his 60-degree wedge was the right choice. It settled 12 feet away, giving him yet another putt that he couldn't afford to miss.
"A little wobbly down there," he said of the poa greens, a grass that gets bumpier in the afternoon sun. "I played probably 2½ holes outside right. Just take it back and make a pure stroke, because once it starts slowing down there ... you don't know what's going to happen. All I could control is my stroke."
He started to backpedal as the putt neared the hole, paused to make sure it was in, then clenched and pumped both fists toward him in rapid-fire succession, screaming with joy with his face to the sky.
Woods wasn't sure he could make it 72 holes on a left knee that has progressively gotten worse since the opening round, his first since surgery to clean out cartilage on April 15. He was never more thrilled to get a chance for 18 more.
He shot 73 and will be in a playoff for the third time in a major, this one 18 holes of stroke play on Monday.
Can his knee take one more round of golf?
"It's going to have to," Woods replied.
The 50,000 fans at Torrey Pines, who thought they had seen it all during a most remarkable week, now get a little bit more.
It will be the first playoff at the U.S. Open -- the only major that goes 18 holes of overtime -- since Retief Goosen defeated Mark Brooks at Southern Hills in 2001.
"I'm playing against a monster tomorrow morning," Mediate said. "I get to play against the best player that ever played. Whatever happens, happens. I'm happy that I'm here and I will give it everything I have and see what we do."
The birdie concluded a week in which Woods played the first two rounds with Phil Mickelson, shot 30 on his back nine Friday to get into contention, took the 54-hole lead Saturday with two eagle putts totaling 100 feet, and wobbled on a knee that often turned a megawatt smile into a painful grimace.
The knee didn't seem to bother him as much Sunday -- certainly not when he launched into the wildest celebration of the week.
"I took some things to kind of relieve that," Woods said of the soreness.
"Uh, that helps, too," he said.
Mediate made only one bogey over the final 13 holes, seizing on his best -- and perhaps only -- chance to win a major. He is No. 157 in the world, and no one outside the top 100 has ever won the U.S. Open since the rankings began in 1986.
Monday will not be the first time they have tussled. Mediate played with a 23-year-old Woods in the final round of the Phoenix Open in 1999, where he led by six shots and held on to win by three. It was one of his five PGA Tour victories.
"Battle royale," Mediate said of what awaits. "The thing that is most amazing is the man I'm going to play tomorrow has won 13 of these. It's amazing how much it takes. I gave all I had today and I can't complain."
Woods has never lost a major when he had at least a share of the 54-hole lead, and he came close to throwing this one away on a series of questionable decisions and poor shots.
He tried to reach the 13th green in two from 291 yards when a birdie was not necessary, then pulled it into a hazard and walked off with bogey to slip one shot behind Mediate, who had birdied the 14th ahead of him.
Woods then laid up with an iron on the 14th, where the tees were moved up to make it play only 267 yards, hit a sand wedge 20 feet beyond the hole and made par. And two shots into the right rough on the 15th led to a bogey that put him one shot behind.
Standing over an all-or-nothing putt on the last hole, Woods again delivered.
It was reminiscent of the 2000 PGA Championship at Valhalla, where he made a six-foot birdie putt that broke both ways to get into a playoff against Bob May, the critical piece on his way to four straight majors.
"It feels very similar to what Valhalla felt like," Woods said. "If I didn't make that putt, I don't get to continue to keep playing. At best, I gave myself a chance to win the tournament tomorrow. And that's all I can ask for."
Westwood, trying to become the first European in 38 years to win the U.S. Open, fell just short. He had a one-shot lead at the turn and fought to stay in the game after consecutive bogeys early on the back nine.
"It's sickening not to be in the playoff tomorrow," he said. "But all in all, I played pretty good all week. And if somebody said, 'You're going to have a chance for a playoff on Monday,' then I would have probably taken that at the start of the week. I think I've proved to myself and a few others that I think there is a major championship in me."
Woods even being in contention on the back looked uncertain the way he started.
In the final group for the sixth time in the last eight majors, this one was packed with curiosity over the state of his knee, and it showed. Fans stood 25 rows deep behind the tee, and those in the top row of the bleachers on the 18th hole turned to watch. Among those in the crowd was his swing coach, Hank Haney, who pleaded as Woods settled over the tee shot, "C'mon, buddy."
He snap-hooked the tee shot over the gallery, and so began another journey to double bogey -- his second shot was left and hit a tree, his third shot clipped another tree and stayed in thick rough, his fourth didn't reach the green, and he got up-and-down for a 6.
That put him 7-over for the week on his opening hole, and was his third double bogey on No. 1. After a three-putt bogey -- his fourth of the week -- on No. 2, he didn't make another mistake until the 13th.
Woods is 14-1 in playoffs, compared with Mediate's 2-0 record.
But this will be the first 18-hole overtime for Woods, playing on a wounded knee against a 45-year-old with a back so creaky he once contemplated retirement. Now, Mediate feels as though he has nothing to lose.
"I don't know how you make odds on that," Mediate said. "Who knew I would be here playing against him tomorrow?"
Then he noticed Woods standing at the door of the interview room.
"And you better watch yourself tomorrow, pal," Mediate said playfully. "See, he's a little nervous right now."
Woods joined the laughter.
Nervous? Probably not. But definitely thrilled to still be playing.