News
Sirak Says: We Want Him to Be Perfect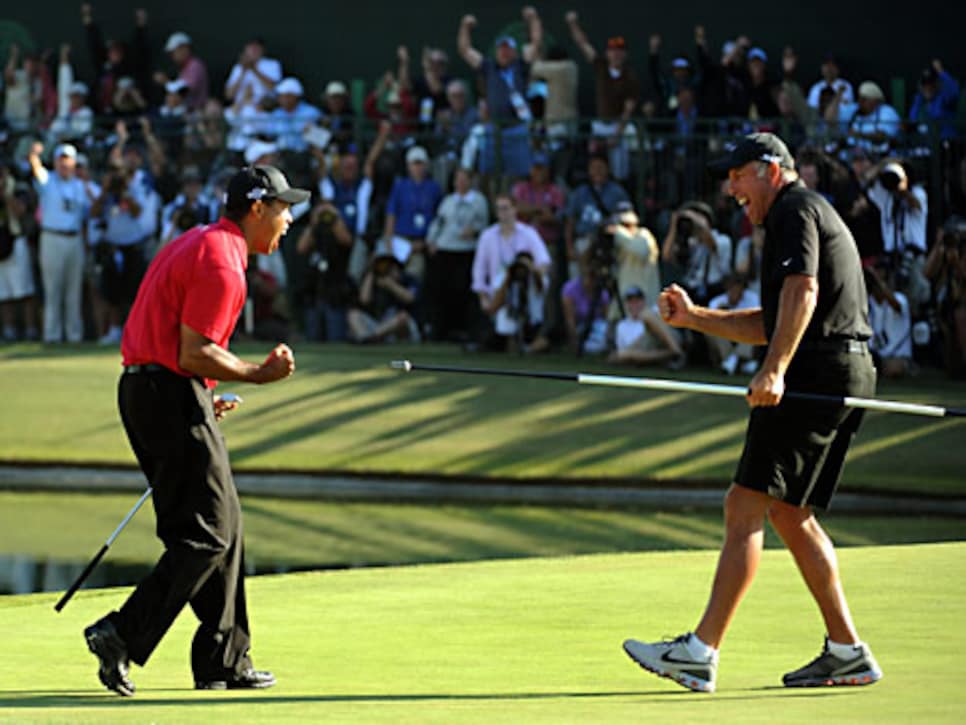 In a professional career that spans more than 10 years, time and again we have seen Woods do the undoable.
LA JOLLA, Calif. -- The lessons to be learned about Tiger Woods from his performance in the U.S. Open have less to do with him and more to do with us. When we mythologize the man we do him a grave disservice. Woods is not superhuman, which makes his accomplishments all the more impressive. Let's not underestimate what he accomplished at Torrey Pines by forcing an 18-hole Monday playoff with Rocco Mediate.
Fans, media and to a certain extent other players tend to think Woods, as a competitor, is infallible. No one is. Anyone who competes in any sport fights doubts and occasionally has to play in pain. Woods was up against those twin demons at Torrey Pines--and yet somehow he willed his way into a tie with Mediate. Yes, Tiger showed flaws in this final round and made uncharacteristic mistakes in a closing 73. But he got done what had to be done.
The birdie Woods made on the 72nd hole to send everyone scrambling to rebook their flight home was anything but a work of art: Drive into the left fairway bunker; second shot that squirted into the right rough (and prompted a rather entertaining club toss); gouged wedge to about 12 feet and then a putt that bumped as if rolling across a washboard before falling into the cup, prompting a series of classic Tiger fist pumps and shouts.
While the comparison is a bit of an exaggeration, what comes to mind is Ben Hogan's victory at the U.S. Open at Merion in 1950, 16 months after he shattered his legs in a car crash that nearly took his life. Exhausted and in pain, Hogan somehow held off Lloyd Mangrum and George Fazio in an 18-hole playoff--after a 36-hole final day--to win.
Time and again in his remarkable career, we have seen Woods hit the shot that can't be hit, and what he did at Torrey Pines should stand among his most memorable accomplishments, whether or not he wins the playoff. Returning to competition two months after knee surgery and with no tournament rounds under his belt, he nonetheless managed to let no one beat him in regulation despite play that was wildly erratic.
I'm guessing it has been a long time since anyone made double bogey on No. 1 three times in a U.S. Open--and still had a chance to win. In fact, Woods made four double bogeys in the tournament, endured an un-Tigerlike stretch in the middle of Sunday's back nine when he bogeyed the par-5 13th hole, failed to birdie the 272-yard par-4 14th and bogeyed again at the 15th and still found himself with a birdie putt on 18 to get into the playoff.
Yes, Woods pulled off a series of miracles in Saturday's memorable third round, making eagle putts of 66 feet and 45 feet and chipping in out of the rough on one hop for birdie over the closing six holes. Golf tournaments are never won in the third round, but that burst of brilliance--with a dash of luck thrown in since he likely would've bogeyed No. 17 if the ball didn't hop into the hole--knocked a lot of players out of contention.
And then there's the knee. Woods winced in pain after several swings on Saturday, twice almost collapsing to his knees. The ominous sign early in Sunday's round was that he displayed discomfort right from the get-go. In the first three rounds that balky left knee did not begin to bother him until late on the back nine.
After Woods started out the final round double bogey, bogey there existed the very real possibility that he might not be able to finish. It appeared as if he took every swing knowing the follow-through would be followed by a stabbing pain. It was a reprise of the way he started the tournament, opening with a double that had some wondering how long he could last on a left leg that was less than 100 percent.
But on the back nine Sunday, Woods remained upright--even with a bum knee. The exhaustion was evident on his face. He'll have to get through one more round Monday, and if he can beat Rocco Mediate, he'll have his 14th major championship victory.
Regardless of the outcome, we'll be left to wonder if we'll see Woods in a golf tournament before the British Open next month, if we see him even then? He was expected to play in the Buick Open (June 26-29) and the AT&T National, his own tournament (July 3-6), but that's likely not going to happen anymore. Has he done any further damage to the knee or was the pain more a case of tearing adhesions as part of the heeling process? And perhaps most intriguingly, will be play the Ryder Cup in September? Woods is not the biggest fan of team competitions and his knee affords him a graceful exit.
Woods is a perfect 13 for 13 closing out major championships when having at least a share of the lead entering the final round. For that reason alone--and the fact he was not exactly being challenged by Hogan, Byron Nelson and Jack Nicklaus on Sunday--it seemed a foregone conclusion by many that Woods would win in a walk. That may yet turn out to be true, just a day later.
What we saw at Torrey Pines is proof that Tiger Woods is not a mythical Superman--just an extremely super man. Don't sell him short by thinking any of this is easy. One reason Woods has won 13 professional major championships is because of how badly he wants it, and how hard he works at it. He didn't have to play in this U.S. Open, and he could have quit at any time and no one would have thought the worst of it. This was a remarkable effort. Savor it.