News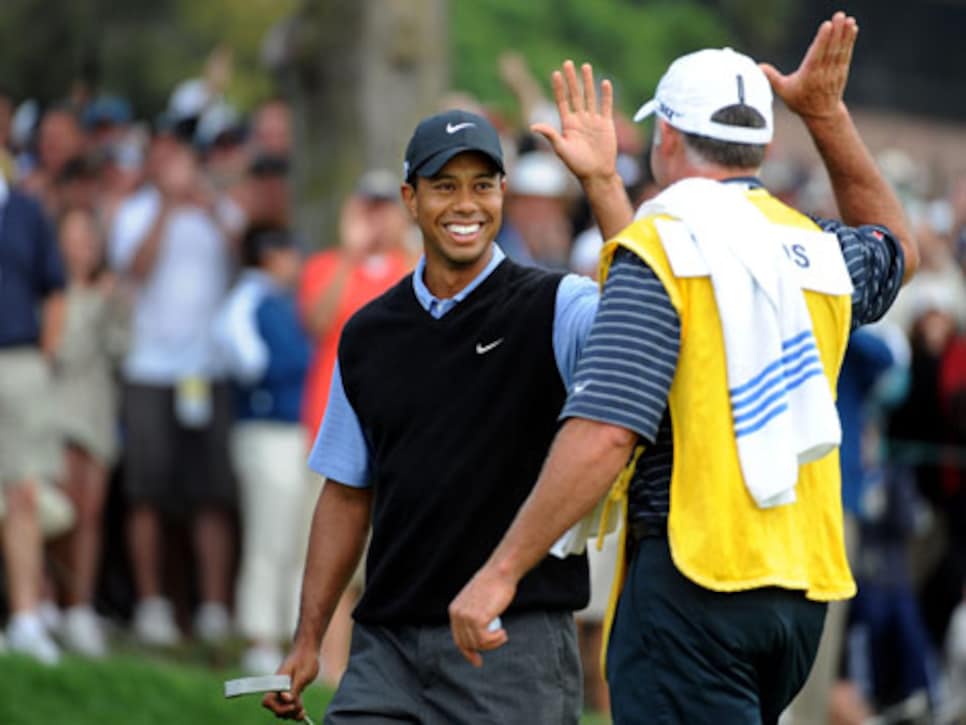 "...one of the greatest rounds I've ever seen," said Steveie Williams
LA JOLLA, Calif. -- Now we have seen it all. Not in our lifetime--or at least until the final round of the 108th U.S. Open--will we witness an ending to top those last six holes at Torrey Pines on Saturday evening, with Tiger Woods pulling another Tiger Woods in an unforgettable 18-hole performance that started with a double bogey, ended with an eagle, and was topped by two stupendous back-nine hole outs? This was Woods at his absolute jaw-dropping best, and to give it just a little drama in prime time, there were the tight shots of Tiger's face, writhing in pain, his left knee buckling, at times leaving us uncertain if Woods could go on. If golf did not make it on this night, it never will. It was all the USGA and NBC could ask for in a U.S. Open.
There were the fist-pump celebrations at 13 and 18, but the best shot of the evening was the sheepish look on Tiger's face after he holed a wedge from the deepest of greenside rough at the 17th, one hop and then climbing down the flagstick and into the cup for the second "Better Than Most" moment in a stretch of five holes where Woods' knee was giving out with almost every tee ball. At the 13th, where Phil Mickelson earlier in the day made quadruple-bogey 9, Woods holed a putt that took nine seconds from the time it left hisputter face until it dropped in the cup, a 66-footer with about 4 feet of break for an eagle-3 that produced a noise not unlike one of those F-16 fighters from the Naval Air station in Miramar that constantly scream overhead.
These were shots that only Woods could hole, and it was as if he was once again not only marching to another major championship, his 14th, but also taking the game of golf, putting it on his shoulders, and raising it to heights that we have never seen before; nor will we see again. Caddie Steve Williams literally pulled Woods out of the wall of that bunker at 17, by his forearm.
"He's produced a lot of amazing tournaments, a lot of amazing shots, but to shoot under par today, from where he was, might be one of the greatest rounds I've ever seen," said Williams, walking to the parking lot, with his new son on his left shoulder after carrying Tiger's bag on his right all day. "His knee got to the point where he couldn't hit it."
Williams talked of the 50-yard cut Woods had to put on his tee ball at 18, but it couldn't have landed in a better go-zone. Woods meditated behind his second shot and hit another high cut that arced in off the left side of the green, catching the downslope, just as Lee Westwod was coming into the media tent, the leader in the clubhouse.
There were two TV sets on either side of the interview stand, and both were on a few-seconds delay from what was erupting on the 18th green, the sound of Top Gun again. Sitting in the front row, Westwood's manager, Chubby Chandler, threw up his arms. Westwood never stopped his train of thought. He has looked dangerous all week.
Tiger started becoming dangerous when he put the full face on Phil Mickelson late Friday, ending that night with an birdie but showing for the first time a limp, especially after a shot up against a tree from the cart path on the 14th.
Woods is literally taking on the field with one leg, and yet he is one stroke up, on the bull terrier Westwood, one of the few who have taken out Tiger on a Sunday, with a 64 in the final round of the 2000 Deutsche Bank. While Westwood acknowledged he was not paired with Woods that day in Germany, he was at one time No. 4 in the world, and he is also mates with Darren Clarke, about the only player in the world who has not been psyched out by Tiger, and they've been talking all week--Darren, from his home in Portrush, Lee on site at the Open.
But Woods had that look on his face even after that opening double bogey. That look that he meant business, that he was out to prove to all those who doubted he'd be back, that no level of hurt was going to stop him. "It's only pain," he said in his post-round news conference.