News
Tiger Delivers A Primetime Performance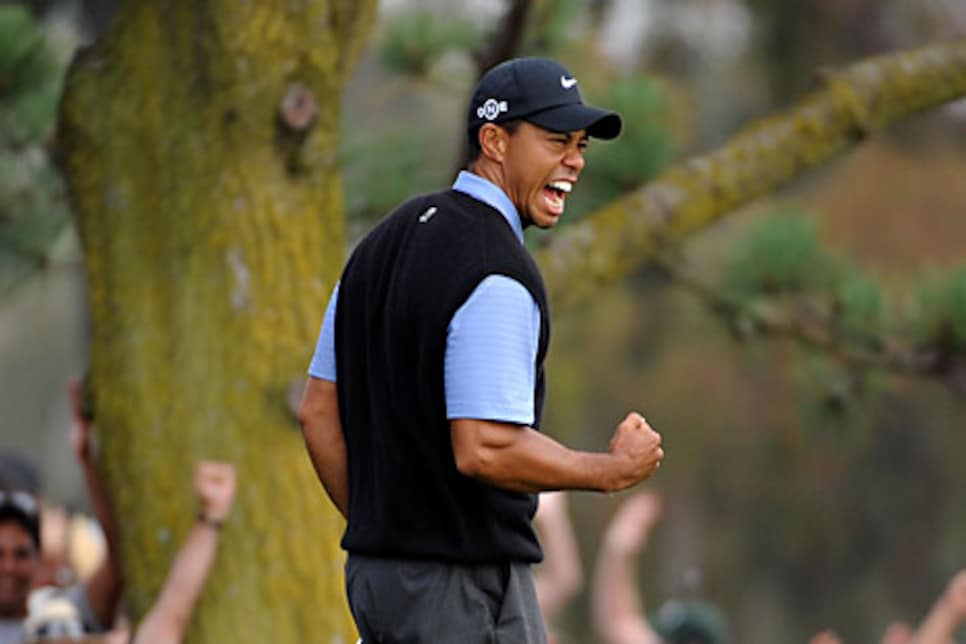 Tiger put on a sports show unlike anything primetime TV has seen before.
SAN DIEGO (AP) -- The U.S. Open went prime time, and so did Tiger Woods.
With unbearable pain and three unforgettable shots, Woods turned in one of his most memorable performances in a major Saturday by holing two long eagle putts, chipping in for birdie and somehow taking a one-shot lead over Lee Westwood.
Right when some 50,000 fans at Torrey Pines thought they had seen it all, Woods knocked in a 30-foot eagle on the 18th for a 1-under 70 and his first 54-hole lead in the U.S. Open since he won at Bethpage Black in 2002.
That he made it to the finish line was nearly as impressive as a magical array of shots.
His tender left knee first buckled on the 15th hole, and Woods used his club as a cane to get down the fairway, limping along while trying to stay in the hunt. He played the final six holes in 4 under -- and that included a bogey -- and will play in the final group for the sixth time in the last eight majors.
This time he has the lead, and he has never lost a major from the front.
But he has never won a major with a limp, either.
"Is it getting worse? Yes, it is," said Woods, playing for the first time since surgery April 15 to clean out cartilage in his left knee. "Certain shots, I'll feel it. I can't say it's a drive, can't say it's a wedge. I'm not sure what shot it's going to happen on."
Woods was at 3-under 210, one of only three players still under par.
As spectacular as Woods played, Westwood got it done with steady golf so often required at this major. He holed a short birdie putt on the par-5 13th and finished with five straight pars, missing a 4-foot birdie on the last hole for a 70. The 35-year-old from England has never had this good an opportunity in a major.
"It will be nice going out last tomorrow and having a chance," Westwood said.
Rocco Mediate, trying to become the oldest U.S. Open champion at age 45, looked as though he would leave everyone behind when he made an 8-foot birdie putt on No. 10 to reach 4-under and kept putting his shots in the fairway and on the green.
But a three-putt bogey on the 13th was the start of a four-hole stretch that he played 4-over par. That included a chip he bladed over the green and into a bunker for double bogey on the 15th. He had to settle for a 72 and was at 1-under 212.
Woods, grimacing with every step over the final hour in sunshine, lightly pumped his fist and smiled when his 30-foot eagle on the final hole broke sharply to the right down the hill and straightened in time to fall into the cup for his third eagle of the tournament.
There were other reasons to look so content.
"I'm done," Woods said. "It was nice that I could finish this round."
The U.S. Open was broadcast in prime time, and Woods played the leading role with a six-hole stretch that was equal part drama, comedy and even science fiction -- the last six holes were out of this world.
Woods was five shots behind standing at the back of the 13th green, facing a dangerously quick putt down the ridge from 70 feet. It was reminiscent of his putt on the 17th green at Sawgrass in 2001, minus the island. The line was perfect, speeding down the slope and bending sharply to the left in the final foot for an unlikely eagle.
Woods turned and pumped both fists, walking briskly.
But it was the tee shot two holes later where the pain could no longer be disguised. He took his hand off the driver immediately on the 15th and bent to the ground, balancing himself with his right finger twice. Two holes later, he again failed to get through the swing and sent his tee shot well to the right, again doubling over.
He braced each step with the club as he walked, putting drama into every shot.
Woods put his approach on the 17th into thick grass between a bunker and the green, giving him an awkward stance with his weight on the painful left side. The flop shot came out hot, and Woods looked concerned as he barked out instruction: "Bite!"
It took one hop and disappeared in the bottom of the cup, and Woods broke into embarrassing laughter as caddie Steve Williams held out his hand to help him onto the green. That put Woods within one shot going to the par-5 18th, and he manufactured a cut shot to hit a fairway for the first time since the 10th hole.
He followed that with another cut shot, this time with a 5-wood, and the pain returned. Even as the ball descended against blue skies, Woods winced and stared at the ground, never seeing that it finished in the middle of the green.
"It was just exciting all day," Mediate said. "It was cool to be a part of that."
The third round sure didn't shape up to contain that much excitement at the start.
Whatever momentum Woods carried from his back-nine 30 on Friday was gone when his opening tee shot settled into deep grass left of the first fairway. He was buried in the rough again, short of the green, hit a flop shot to the back collar, stubbed a chip and made double bogey for the second time in three days.
But he wasn't alone in his misery.
Stuart Appleby, who had a one-shot lead to start the third round, made bogey from the bunker on the opening hole by missing a 5-foot putt. That was one of his better efforts.
He stood over an 18-foot birdie putt on the fifth hole. Four putts later, he had a double bogey. Equally devastating was the par-5 ninth, when he turned a 3-foot birdie into a three-putt bogey. He finished with a 79 after his only birdie on the 18th.
D.J. Trahan three-putted for par on the 18th hole and threw his ball in the pond after a 73, leaving him at 1-over 214 along with former U.S. Open champion Geoff Ogilvy, who overcame a double bogey on the 14th for a 72.
Phil Mickelson finally put a driver in his bag, but it was the wedge that ended his dream of a U.S. Open victory in his hometown. In a "Tin Cup" moment without the water, Lefty watched three sand wedge shots from 80 yards roll back to his feet on the par-5 13th before the fourth stayed up, and then he three-putted for a quadruple-bogey 9 -- his highest score in 1,206 holes at the U.S. Open -- on his way to a 76. He was at 10-over 223.
At least he was able to relive some childhood moments.
"I've had a 9 on 13," Mickelson said. "I was 8 years old. I have had a 9 there."
Ogilvy could only rely on his own experience, when he won at Winged Foot two years ago as everyone collapsed at the end.
"You don't know what's going to happen in the last round at a U.S. Open," he said.
Such is the case at Torrey Pines, even with Woods atop the leaderboard.