News
Which Justin Hicks is Leading the Open?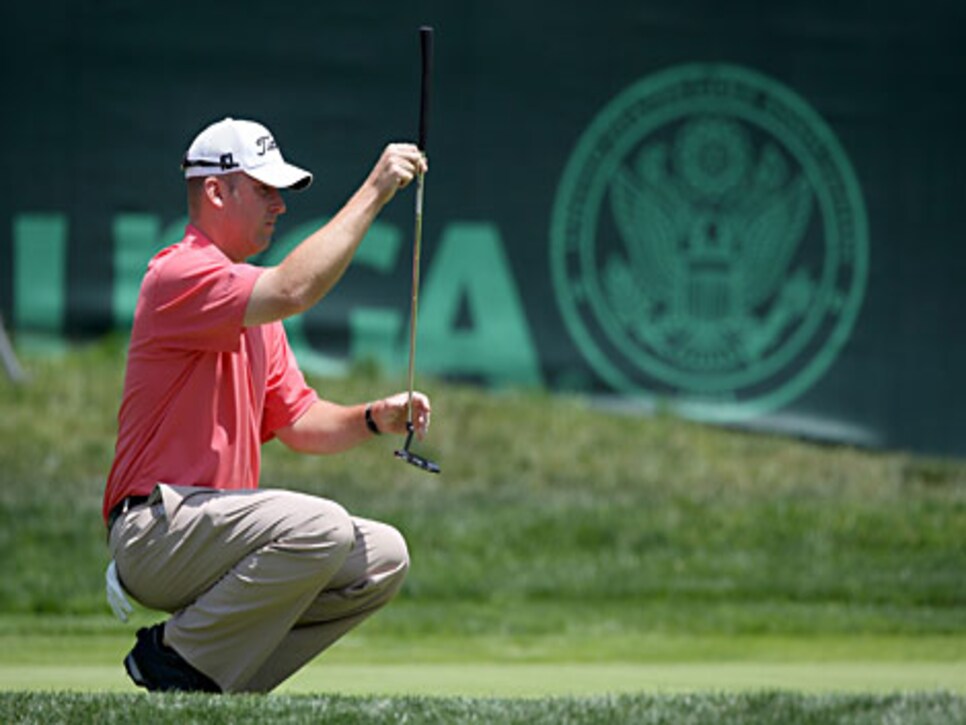 The 33-year-old Hicks has had mixed results so far in his pro career.
LA JOLLA, Calif. -- His might not be a familiar name, but neither is it an uncommon one, apparently. Imagine, for instance, Justin Hicks' surprise Thursday when he glanced outside the ropes and saw Justin Hicks with his wife.
There are two Justin Hicks in San Diego this week and each of them is a professional golfer. One of them found himself atop the U.S. Open leader board Thursday, by virtue of a first-round score of three-under-par 68 on the South Course at Torrey Pines. The other Justin Hicks is a teaching pro at the Stadium Golf Center in San Diego. A good player in his own right, that Justin Hicks actually played in the Buick Invitational at Torrey Pines in January (and missed the cut).
"That caused a lot of interesting things for both of us this year," said Hicks, the co-leader along with Kevin Streelman after the first round of the U.S. Open. "The tour got us mixed up. Companies got us mixed up. Checks were going to my place, checks were going to his place. (The tour) actually withdrew me out of a Nationwide Tour event. I called them up, and they said, 'you committed to the Buick and we figured you wouldn't want to go to Panama (Movistar Championship).' "
Hicks, the Open co-leader, invited the other Hicks out this week to pick his brain on playing Torrey Pines. He was there Thursday to watch a few holes. "I told my caddie, 'wow, that's kind of weird. The other Justin Hicks is here with my wife.' "
The Hicks leading the Open is not particularly well known beyond his namesake. He's 33, a University of Michigan graduate who lives in Palm Beach, Fla., and is a mini-tour player perpetually attempting to graduate to the next level. He has played the South Florida Golf Tour ("which collapsed," he said), the Golden Bear Tour, the Gateway Tour, the Maverick Tour ("the owner ran away with some money and never was heard from again," he said), the Montgomery Sports Tour and most recently the Nationwide Tour, on a limited basis.
Hicks has made three cuts in six Nationwide starts, earning $8,464. So how is it that a player struggling to pay his bills in the hinterlands of professional golf finds himself leading one of the game's preeminent tournaments? Seven birdies on Thursday is one explanation.
"Certainly I'm not shocked," he said. "I've always kind of felt like Opens set up best for me when it comes to major championships. I drive the ball pretty straight, typically."