News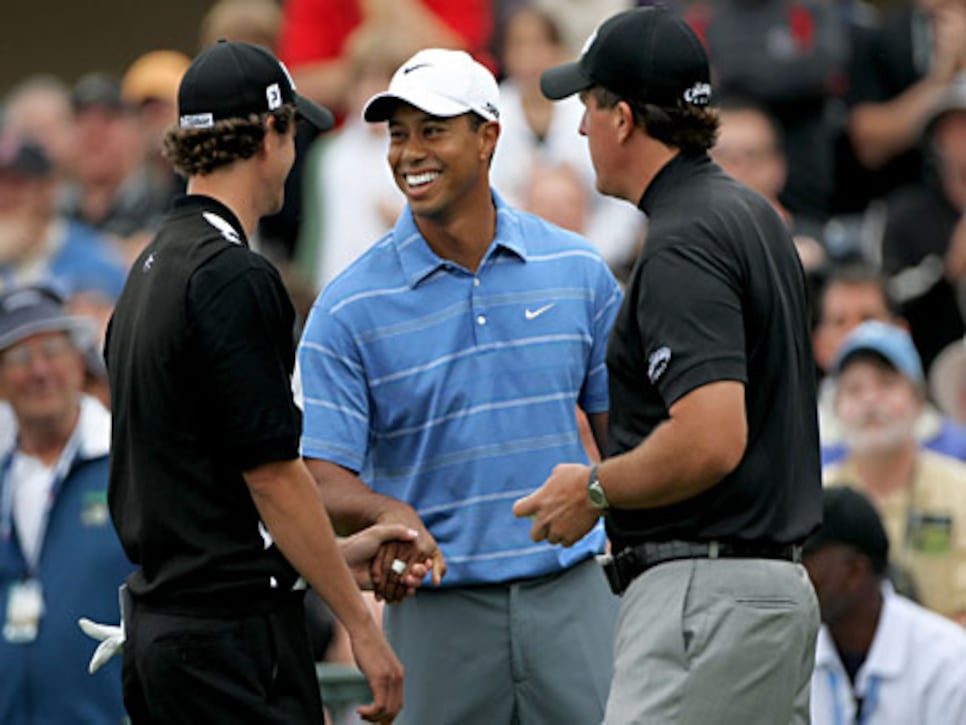 Following Tiger, Phil and Adam today? Massive galleries and being short is a tough mix to overcome
LA JOLLA, Calif. -- Want to know what it was like to be in the Tiger Woods, Phil Mickelson, Adam Scott gallery? Look for the nearest herd of thundering wildebeest and dive in the middle of it. At 8:06 under a blue-gray marine layer, Walks Without Cartilage, Local Boy and Swollen Pinky went for a five-hour constitutional along the cliffs above Black's Beach accompanied by helicopters for beauty shots, the occasional F-18E Super Hornet screaming overhead and about half the population of San Diego county.
Like climbing Mount Everest without oxygen, it seemed sporting to follow the crowd without benefit of modern viewing devices, cellular or otherwise. Like Civil War battle strategy, the idea was to seize the high ground and hold it. Elevation, in all its forms, was coveted ground. Curbs on cart paths. Tree roots. Milk cartons. Picnic tables. Roofs. A well-placed, climbable eucalyptus tree. One man obtained an orange Homer paint bucket from a member of the grounds crew. He turned down an offer of $25 for it.
As they say in the NBA, you can't coach height, which made 6-foot-5 Mickelson short game guru Dave Pelz a natural on this day. On the other hand, stranded in a massive clot of humanity behind the eighth green, one woman turned to her husband and said, "I don't think we should be here. I think we should be way over someplace else." Her husband scanned across the mass of unmoving humanity and said, "I'm trying, honey." To which she replied, "I'm telling you, it sucks to be short."
A gallery this massive was, honestly, just another day at the office for Woods. Mickelson received the vocal encouragement he was justly due as the hometown boy, while Scott seemed to attract an element that was mostly tall, mostly blonde and fashionably coiffed. It was a class of spectator that had not yet been apprised of the recent economic hard times for Christian Dior and Jimmy Choo.
Two guys, one from Eugene, Ore., and the other from San Francisco, had a pair of homemade periscopes to aid in their viewing pleasure. It was the sixth Open for the devices, made from green duct tape and mirrors for the '87 Open at Olympic. They put the carrying straps on them in '92 at Pebble Beach. At Olympia Fields in '03, one of them let Tiger's mom, Tida, use his. They scoff at Sport Scopes, the periscopes manufactured by Phil Mickelson's father. They snicker at the monocular vision of the tiny tubes and comically expound on Marx's Theory of Alienation as to why the entire crowd has failed to build their own.
In fact, seeing snippets of action, some even up close, was surprisingly possible. Walks Without Cartilage and Local Boy were accommodating about playing wide left and wide right, respectively, keeping close to the crowds. At the farthest part of the course, on the left of the 12th fairway, the head count was sparse and it was possible to stand 10 yards from Woods, in the second row of people, to watch him take a Woodsian lash with a 3-wood from the rough, betraying no signs of a wobbly left knee.
Not even those playing in the threesome in front of Nos. 1, 2 and 3 had much to complain about. It was so crowded that the usual scampering for position up ahead didn't occur. "There are just so many people here," said Joe Ogilvie, who was in the group in front, "It wasn't that big of a deal, surprisingly."