News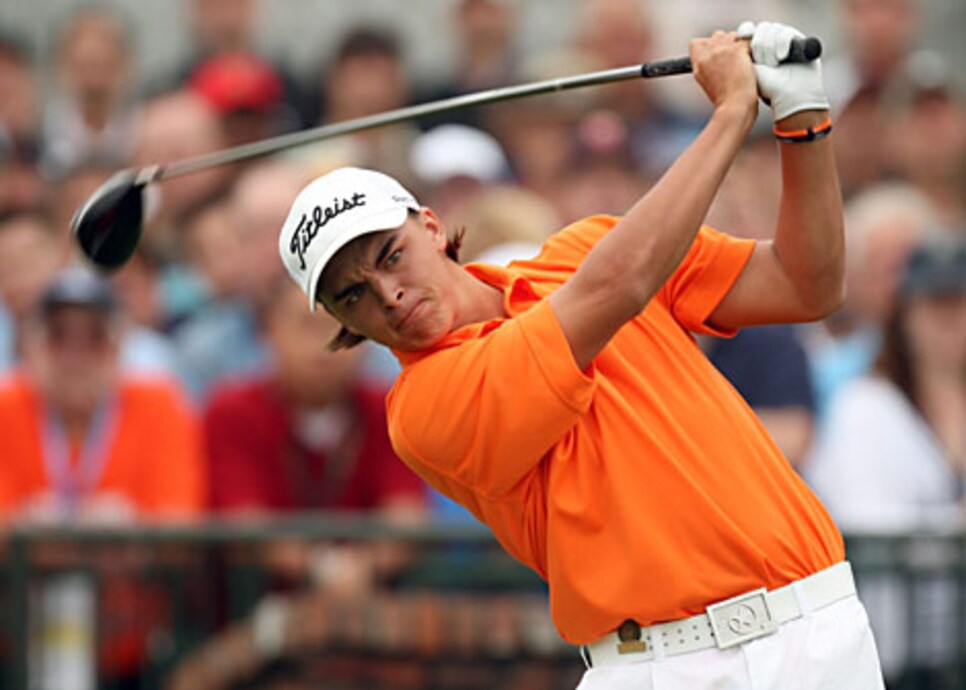 Amateur Fowler's name could still be on the leaderboard come the weekend.
LA JOLLA, Calif. -- His homemade swing isn't the prettiest in the world, and his teenage aggressiveness can burn him at times. But the raw talent and cool demeanor Rickie Fowler possesses make him not just an entertaining player but a dangerous competitor. As he worked his way around Torrey Pines GC in one-under 70 Thursday, two behind co-leaders JustinHicks and Kevin Streelman, you wouldn't have guessed the Oklahoma State All-American was teeing it up at first major championship.
"I just stayed patient," said the 19-year-old whose local ties (he grew up roughly 70 miles away from Torrey Pines in Murrieta, Calif.) made him a fan favorite. "I hit the ball pretty well. I hit the irons well, and I made a couple of putts for birdie. I only missed a couple of fairways with the driver, which is key out here."
It's his creativity on the course that helps set the standout from the victorious 2007 U.S. Walker Cup team apart from fellow collegians. Fowler is as comfortable pulling out a 4-iron to bump and run a short shot around the green as he is pulling out a 64-degree wedge and hitting a flop shot. It helps explain how he finished outside the top 10 just once in 12 starts during his freshman season for the Cowboys while posting a 71.11 average.
"Rickie's just so smart golf-wise," said Bob Tway, whose son Kevin roomed with Fowler this past year in Stillwater. "I told Kevin at the start of the year to go play golf with Rickie every day. Play for dinner or five bucks or whatever, and you'll get tired of getting your head beat in. [But] you'll get better, and he has."
"He's a very natural player, a feel player," added OSU coach Mike McGraw. "He's kind of a throwback in that sense. He doesn't have an instructor that he takes lessons from regularly. It's refreshing."
It's been 75 years since an amateur won the U.S. Open (Johnny Goodman at North Shore GC in 1933) and 37 years since one seriously contended for the title (Jim Simons led entering the final round at Merion GC in 1971 before finishing tied for fifth). There's still plenty of golf to be played between now and Sunday, but could Fowler's name remain on the leader board into the weekend?
"I'm running on low fuel right now," Fowler admitted, referring to the grueling couple of weeks preceding the U.S. Open. It began with six days in West Lafayette, Ind., playing in the NCAA Championship (he finished T-4), then driving to Columbus, Ohio for the sectional qualifier (where he lost a playoff but became the tournament's first alternate). From there he drove to Johnstown, Pa., where he learned he had gotten into the Open with Shaun Micheel's WD before successfully defending his title at the Sunnehanna Amateur. En route to California, he first had to make a stop back in Oklahoma.
Still, a mix of healthy confidence, youthful exuberance and home-state support might be just what Fowler needs to make for a few more memorable days.