News
Hicks & Streelman Lead U.S. Open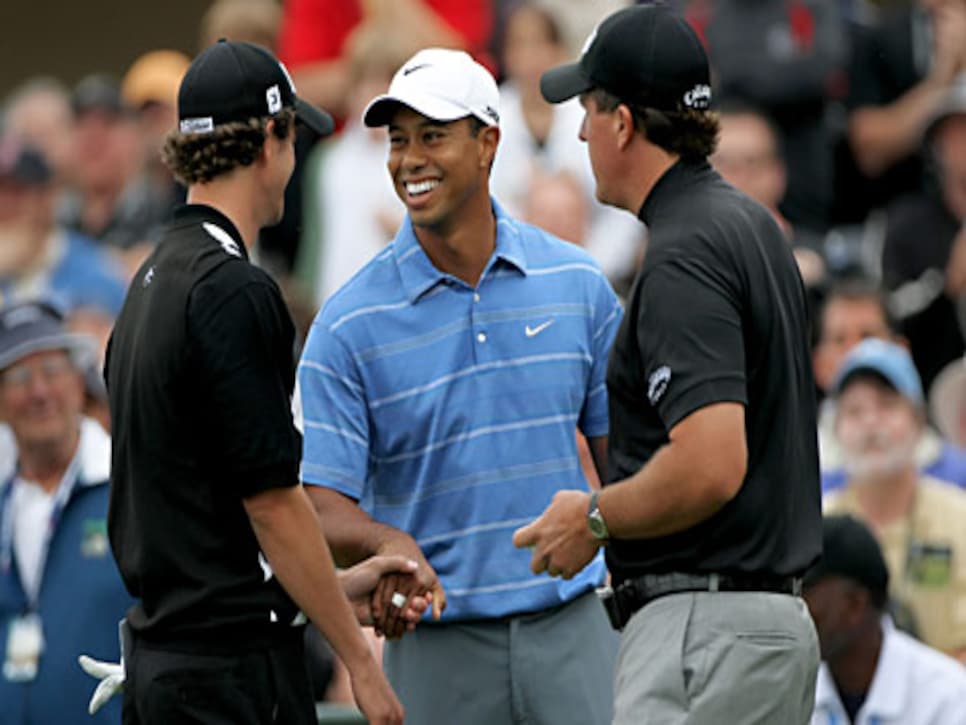 Hicks and Streelman shot the lowest rounds, but Tiger's knee and his pairing with Phil Mickelson and Adam Scott was a lot of Thursday's story.
SAN DIEGO (AP) -- Tiger Woods grimaced and pursed his lips, unable to disguise the pain Thursday in the U.S. Open.
No, it wasn't his left knee, though that was still tender from surgery.
It was more the three-putt to end his round at Torrey Pines and leave him four shots behind a pair of surprising leaders and one behind Phil Mickelson.
Nothing torments Woods more than that.
He expected soreness in his knee. He didn't expect his first double bogey in 416 holes.
What no one saw coming -- certainly not the gallery that stood a dozen deep to watch the All-Star pairing of Woods and Mickelson -- was Kevin Streelman and Justin Hicks tied for the lead at 3-under 68.
"To make two double bogeys and a three-putt and only be four back, that's a great position to be in," Woods said after his 1-over 72, "because I know I can clean that up tomorrow."
The leaders have some history at Torrey Pines that takes some explaining.
Streelman was an unknown rookie when he got into the Buick Invitational in January as the third alternate and wound up in the final group with Woods in the third round. His world ranking was No. 1,354, and he closed with rounds of 75-77 to slip back into oblivion until he emerged anew at Torrey Pines this week.
Hicks played at the Buick Invitational, too -- but it wasn't the same guy whose name was atop the leaderboard of the U.S. Open. Turns out there's another Justin Hicks, a club pro in San Diego, who qualified for the PGA Tour event. He showed up in the gallery to watch Justin Hicks, the Nationwide Tour player, fire off six birdies on his opening nine and hold it together.
"A lot of weird stuff going on out there today," Hicks said.
That includes the star pairing of Woods and Mickelson that brought enormous crowds outside the ropes and more than 100 media inside the ropes. Woods made his first double bogey since September, worked his way onto the leaderboard and then made another.
Mickelson, the guy who carried two drivers in his bag at the Masters when he won his first major, didn't have any in his bag for the U.S. Open. He still managed to reach both par 5s on the back in two, both times settling for birdie on his way to a 71.
"I felt like with the fairways being firm like they were today, all I needed was a 3-wood," Mickelson said.
Stranger still was the eclectic mix of players who managed to break par. Hicks is No. 722 in the world ranking, tied with Streelman, who is No. 608.
Right behind was Eric Axley (No. 503), who has bittersweet memories of this place. His caddie, Steve DuPlantis, was killed by a car while crossing the street at the Buick Invitational. He shot 69 and was tied with Stuart Appleby and Rocco Mediate.
Also 2 under as they finished their rounds were former U.S. Open champions Geoff Ogilvy and Ernie Els.
Even so, the focus was on Woods and Mickelson, playing together in a U.S. Open for the first time since 1999.
Rarely has there been so much speculation over Woods, who had surgery to clean out cartilage around his knee April 15, two days after the Masters. He had not played a competitive round since then, much less walked 18 holes.
But it didn't take him long to get back into the rhythm of major championship golf.
"Getting into the flow of the round, it helps when you hit six shots on the first hole," he said.
Woods hooked his opening tee shot into rough so deep he could only gouge a sand wedge back into the fairway. The eye-opener came on the flip wedge to the back pin, the ball landing just beyond the flag and hopping six feet high, not landing until it was in more cabbage behind the green. He chipped 6 feet by and missed the putt.
It was his first double bogey since the opening round of the BMW Championship last September.
"I figured you're going to make bogeys out here," Woods said. "I just happened to make two on the very first hole."
The plan was to get back to par, which is where everyone wants to be at a U.S. Open, and Woods got there with a 5-iron from a fairway bunker to two feet on the tough fourth hole along the bluffs, a tee shot that slowly rolled down the ridge to five feet on the par-3 eighth, and two powerful swings on the 612-yard ninth to the collar of a bunker, from where he chipped to three feet for birdie.
There was no question it was hurting, especially when he took a huge cut from the rough on No. 12 and went after his tee shot on the 18th hole, a drive so long and straight that he had only 7-iron for his second shot.
"It's a little sore" was about all Woods offered after his round, adding that he felt similar pain during his practice rounds.
But he was back to playing golf, continuing his pursuit of the 18 professional majors won by Jack Nicklaus, and what really made him sore was dropping shots with careless mistakes.
Woods saved par with a 15-foot putt on the 12th to stay 1 under and was poised to go lower when he found the fairway on the 13th hole, which played only 539 yards with the Pacific breeze at his back. But his 6-iron didn't carry like he imagined, coming up short of the elevated green and rolling back some 100 yards down the hill. He bladed a wedge over the green and had to make a 12-footer to save par.
Then came his second double bogey, going from a fairway bunker to short of the green, a stubby chip that didn't clear the collar of rough, and a chip seven feet past the hole.
"Those two 6s, I didn't take care of both par 5s on the back nine," Woods said. "As I said, plenty of holes to go. We're all going to make mistakes out here."
Mickelson made his share, starting with a three-putt bogey on No. 5 for the first of three straight bogeys.
He was four behind Woods through 12 holes, tied with him two holes later after a two-putt birdie on the 13th and a beautiful approach to three feet on the 14th. Each birdied revved up the gallery even more, the cheers evenly divided for Woods, a six-time winner of the Buick Invitational, and Mickelson, who grew up in San Diego.
"It was pretty interesting to tee off at 8 o'clock and have this many people out here," Mickelson said.
They saw just about everything but the guys leading the tournament.