News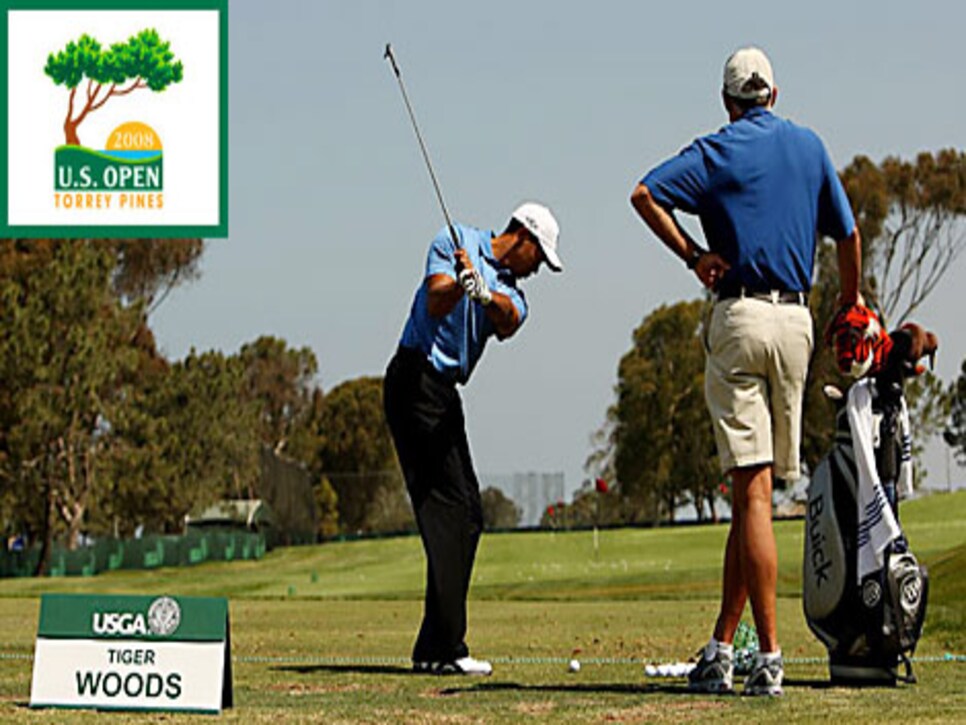 Tiger and Stevie finish their preparations on Wednesday.
SAN DIEGO (AP) -- The 108th U.S. Open gets under way at Torrey Pines this morning as golfers compete in the second major of the year. Players will tackle the 7,643-yard South course at the San Diego facility, the longest track in major championship history.
Top-ranked Tiger Woods is preparing for his first tournament since undergoing knee surgery following his runner-up finish at the Masters two months ago. He's paired with second-ranked Phil Mickelson and Number-3 Adam Scott for the opening two rounds.
The "June Gloom" so typical of summer in San Diego gave way to sunshine on the eve of the U.S. Open, filling the blue sky with fighter jets from Miramar that until Wednesday could only be heard in the fog. But that isn't the biggest buzz at Torrey Pines.
Rarely has there been so much enthusiasm for a U.S. Open, the major that tends to border on boring, where birdies are rare, bogeys are inevitable and par has been good enough to win the last three years.
"I think you're going to see some excitement that we haven't seen in several years," Senior Open champion Brad Bryant said.
Such excitement comes in so many packages.
Tiger Woods, racing toward history with every major he plays, has not walked 18 holes of golf since he had surgery on his left knee two days after the Masters. There is so much speculation over his knee that three dozen cameras followed him to and from the range Wednesday to capture him hit everything from wedges to a 5-wood out of the thick rough.
"I'm good to go," Woods said. "I plan on playing competitive. Come game time on Thursday, I'll be ready."
But he will not have the spotlight to himself.
For the first time, the USGA purposely rigged the draw to put the top three players in the same group -- Woods and Phil Mickelson, with Adam Scott along for the ride while nursing a broken pinkie on his right hand.
Woods and Mickelson are the two most popular players in golf, especially in these parts. Mickelson grew up in San Diego and played high school matches at Torrey. Woods won a Junior World Championship at 15 and has owned Torrey Pines as a pro, winning the Buick Invitational six times. His most recent victory was five months ago by a record eight shots.
The U.S. Open has sold 42,500 tickets. One might guess 42,000 will be trying to watch Tiger and Phil.
"Not a chance in the world would I ever go out there and fight that gallery, not even for two holes," Jim Furyk said.
The last time Woods and Mickelson played together at Torrey Pines was in the final round of the 2003 Buick Invitational, when Woods was playing for the first time since surgery on his left knee -- just like now -- and he wound up winning by four shots.
"I just don't see how it's going to have a negative effect on him," Mickelson said.
Both say they like the idea, but it might be better to check with the players behind or in front of them, who have to deal with the bustling gallery and massive media movement.
"It's perfect for me," said Mark Calcavecchia, playing in the group ahead along with Duke alum Joe Ogilvie. "I get to turn around and watch the show, then get caught up on all the latest Duke news."
The USGA has hired 10 extra police officers to cope with the security and traffic, typical in these parts on freeways, not golf courses.
"It's obviously going to be a lot of people out there watching them," USGA vice president Jim Hyler said. "But I think that's a positive. It adds excitement to it. At the end of the day, we think it's very special."
Beyond the circus, the real show could be Torrey Pines.
The city-owned golf course along the bluffs of the Pacific Ocean has been set up to encourage players to use as much brain as brawn. Even though it is the longest course in major championship history at 7,643 yards, the USGA has so many options on the tee boxes that it will not play that long.
The third hole could be either a 5-iron from 195 yards or a wedge from 142 yards. The 14th hole could play all the way back at 435 yards, or all the way forward at 277 yards, so close that players might be tempted to try to drive the green.
Even the 13th hole -- about the only one getting any complaints, another U.S. Open rarity -- features three tee boxes that will force players to lay up or allow them to take on an elevated green with a fairway metal.
And then there's the 18th.
Mike Davis, the senior director of rules and competition, persuaded the brass to leave it as a par 5 instead of changing it to a par 4. The hole is 573 yards, reachable in two shots for those who dare, but there is a pond guarding the left half of the green, and the bank in front of the green has been shaved, much like the ponds at Augusta National.
"It really makes you think," Masters champion Trevor Immelman said. "You've got to decide if you're going to for it or lay up. If you hit it over the back and get a bad lie, you can chip it in the water easily. It's going to be a fantastic finishing hole."
Imagine a U.S. Open being won with a birdie instead of a par or bogey, as was the case the last five years.
Not since Bobby Jones at Scioto in 1926 has a U.S. Open champion birdied the final hole to win by a shot. Of course, there's always a chance someone could make double bogey to lose by the same margin (think Mickelson and Winged Foot).
"We wanted to keep it the hardest championship in golf," Davis said. "But we wanted to introduce risk and reward, and widen the scoring opportunities. You'll have a chance to make birdies, but if you don't execute the shot, you can make bogeys or worse. We just want to get them thinking more."
They already are thinking, which has replaced the U.S. Open tradition of griping.
All anyone has heard this week is praise.
"I like the golf course -- really like it," British Open champion Padraig Harrington said. "It's a good, stern test, but it seems very, very fair. From what I've heard, everybody is very pleased with the course, which may be a little disappointing. It's always nice when about half the field gives out about it. It looks like it's going to be a good tournament."