News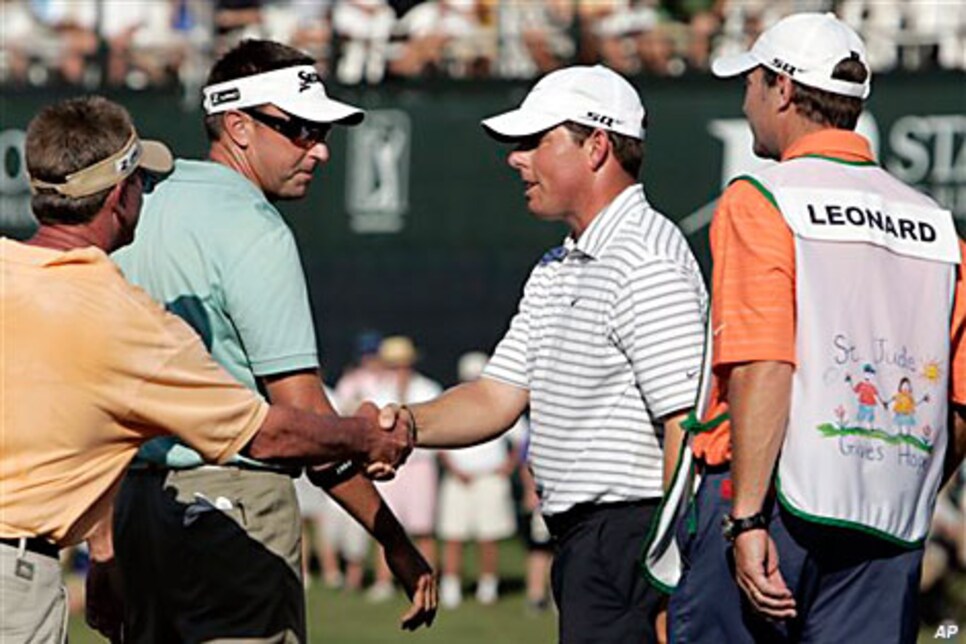 Allenby congratulates Leonard after the winning putt dropped.
MEMPHIS, Tenn. (AP) -- Justin Leonard thought he won on the final hole of regulation only to see his ball go left of the cup. Then he was a foot away from victory on the first playoff hole.
Luckily, his ball rolled one last turn into the cup on the next hole.
Leonard won the Stanford St. Jude Championship in a playoff Sunday, holing a 19-foot birdie putt on the second extra hole to beat Masters champion Trevor Immelman and Robert Allenby.
Leonard blew a one-stroke lead with two holes left to drop into the playoff, but won on the 150-yard, par-3 11th when Immelman pushed his birdie attempt past the hole.
"I don't think that ball would've rolled another half-inch," Leonard said. "It just barely got there the greens are so dry and fast."
It's Leonard's 12th PGA Tour title, his second at TPC Southwind and his first since the 2007 Valero Texas Open -- also in a playoff. He closed with a 4-under 68 to match Allenby (65) and Immelman (69) at 4-under 276, the highest 72-hole total since this event moved to the TPC at Southwind course in 1989.
Leonard earned $1.08 million and now is fifth in the Ryder Cup standings with five Top 10s this year. He hasn't played in the Ryder Cup since 1999, when his 45-foot putt on the 17th hole at Brookline clinched the largest comeback in history.
Strangers still ask him most about that putt, not his 1997 British Open victory, and he even heard about it a couple times Sunday. It's why he is so eager to play his way back onto the Ryder Cup team.
"I don't know how much of a lock I am, but I feel pretty good about making it. I'm looking forward to being on that team, and I'm looking forward to us winning again soon," Leonard said.
It was almost a perfect day for the Texan who spent last week practicing in the Dallas heat, albeit wearing shorts and riding a cart. He started Sunday tied for seventh and was one of 10 who had a share of the lead at some point in the final round with the temperature feeling hotter than 100 degrees.
Leonard was the closest to a birdie on the first hole of the playoff on the par-4 18th only to come up a foot short. All three parred, sending the playoff to the island green at No. 11, where each had good shots.
Allenby, who came in undefeated worldwide in 10 playoffs, went first from 20 feet and missed a foot to the right. Leonard stroked in his putt next, the ball slowing near the cup to show off the Nike logo before falling in.
Immelman, who birdied the last three holes of regulation to join the playoff, had the shortest putt at 11 feet to push the playoff to a third hole in search of his second win in eight weeks. But he just missed, giving the title to Leonard.
"I was comfortable with my lie," Immelman said. "I felt like it was just left edge. I thought I hit a pretty good putt. It just didn't turn at all, finished right behind the hole unfortunately. But Justin made a great putt. Birdie to win is pretty nice."
Allenby said he thought his streak in playoffs had to come to an end sometime.
"I lost to a good putt. There's no bad thoughts about that," he said.
Sergio Garcia (66), Padraig Harrington (68), Boo Weekley (68) and Alex Cejka (70) tied for fourth at 3 under.
Leonard's victory kept him from wondering what happened after he had the lead to himself with a birdie on No. 15.
He missed a chance to pad that margin on the par-5 16th when his approach went over the green, and he had to salvage par. His tee shot on No. 17 went into the right rough, and Leonard chipped out into the fairway and pushed a par putt from 15 feet 3 feet past the hole.
On No. 18, Leonard still had a chance to win without a playoff. He stuck an iron from 176 yards to 13 feet and rolled a nice putt that missed just left of the hole.
Gavin Coles, the Australian whose only win this year was on the Nationwide Tour at the Louisiana Open, was the last player with a chance to win in 72 holes if he birdied the 18th. He sent his tee shot into the right rough, his second into a greenside bunker and blasted out over the green into the rough. He couldn't hole his chip to get into the playoff, then double bogeyed for a 71 and a 278 total that left him tied for eighth with Tom Pernice, who carded the tourney's best round at 63, and Scott Verplank (68).
"It was like a train wreck," Coles said.
Allenby walked over to the range to warm up, while Leonard grabbed a cool drink in the shade behind the 18th green before walking over to the range himself while the final two groups finished. Immelman, in the last group, two of the last three holes and had a 23-footer for birdie on No. 18 to make it a three-man playoff. He did, celebrating with a fist pump.
Only 12 players finished under par. Tim Clark started with a two-stroke lead before opening with a triple-bogey and finished with a 78 and tied for 18th.
Divots:@ Leonard is the fifth multiple winner in Memphis, joining Dave Hill (four), Lee Trevino (three), Nick Price (two) and David Toms (two). ... Leonard is 2-4 in playoffs, while Immelman is 0-2. ... Garcia had the only bogey-free round Sunday. ... Pernice's finish kept him waiting around to see if he made a playoff, and he missed seeing his 13-year-old daughter Brooke, who suffers from a rare congenital disease that has left her blind, sing the national anthem before the Cubs-Dodgers game Sunday night.