News
Catch Up Time For Lorena And Annika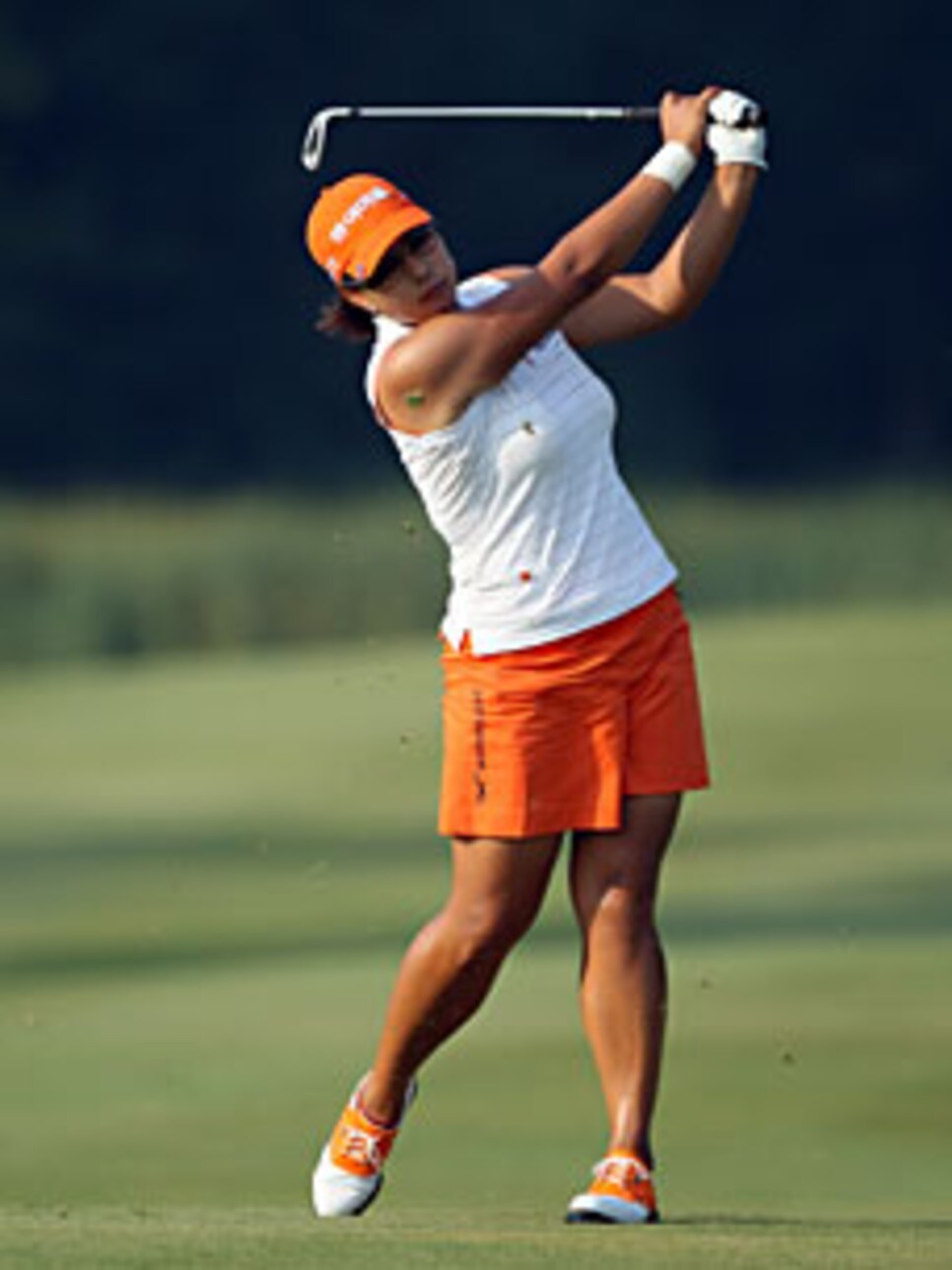 Lee closed strong with four biridies on her last four holes.
HAVRE DE GRACE, Md. (AP) -- Stifling heat that turned Bulle Rock into an oven cooked up quite a surprise Saturday in the McDonald's LPGA Championship -- a rare stumble by Lorena Ochoa, Annika Sorenstam in the hunt and a one-shot lead for Jee Young Lee.
Lee, one of the longest hitters on the LPGA Tour, played her final four holes in 4-under par and surged into the lead with a 7-under 65. She was a shot ahead of Maria Hjorth of Sweden, another big hitter, who did most of her work early and also shot 65.
What looked like smooth sailing for Ochoa and her bid for a third straight major took a detour when she nearly whiffed on a wedge in the rough, went eight holes before making a birdie and had to rally for an even-par 72.
Even so, she was only two shots behind and tied for third with Sorenstam, who shot a 68.
It could have been a dream scenario at Bulle Rock with Sorenstam and Ochoa playing together in the second-to-last group. But LPGA officials, fearful of more fog that delayed the start of the third round by three hours, decided on threesomes for the final round.
That puts Sorenstam in the final group with Lee and Hjorth, her best chance to win a major since she won the U.S. Women's Open at Newport two years ago. Sorenstam could tie the record with a fourth LPGA Championship, which would be even more meaningful because she has announced that she will retire at the end of the year.
Ochoa has won the last two majors with a comfortable lead going into the last day, and now faces a free-for-all at Bulle Rock. Ten players were within five shots of the lead.
Lee won an LPGA Tour event in her native South Korea three years ago when she was 19.
"I've been waiting to win the tournament ever since I came to the United States," she said through a translator. "And to win the major tournament here would be really exciting for me. And I'm really looking forward to winning this tournament."
"Everybody is looking forward to tomorrow and everybody wants it badly," Sorenstam said. "The one that wins is the one that stays cool, stays patient and makes less mistakes. So that's going to be my plan."
Ochoa put a happy face on a hard-working day, where she fell behind with a double bogey on the par-3 seventh and played the par 5s in even par. She said at the start of the week she would take being within two shots of the lead going into the final round, and here she is.
At stake is a chance for the 26-year-old from Mexico to become only the fourth woman to win three straight majors.
Next to her on the leaderboard is Sorenstam, who has won 10 majors, and is trying to summon some magic in her last season. Ahead of them are two players who have never played in the final group at a major.
"It's still a golf ball you're going to hit. It's still a golf course you're going to play," Hjorth said. "As long as I don't occupy my mind with thinking, 'Oh, this is the last group in a major,' hopefully I can handle it well. And I'm looking forward to it."
Ochoa had gone 30 holes without a bogey at Bulle Rock until a three-putt on the opening hole.
The big blow came at the par-3 seventh. She pulled her tee shot left of the green into a mangled lie. She tried a flop shot over the bunker, but it was more like a foul tip. The ball squirted a few inches, Ochoa made double bogey and suddenly was three shots behind.
A half-dozen players had at least a share of the lead at one point, with Sorenstam generating as much excitement as the gallery could muster. With temperatures climbing past 100, it felt like a sauna with no help from wind. Even the tops of 60-foot oak trees didn't move.
But it was loud enough, especially as Ochoa was walking up the fifth fairway and heard a cheer through the trees on the sixth green, where Sorenstam had stuck another close for birdie.
That gave her a share of the lead, but only briefly, for Hjorth soon pulled ahead with an 8-iron to 8 feet for birdie at the 12th.
Sorenstam slowed with pars. Brittany Lang, tied for the lead at 10 under, fell back on the 13th when she went from one nasty lie in the rough to another and took double bogey.
Lang finished with a 71 and was in the group at 8-under 208 that included Laura Diaz (69) and Yani Tseng of Taiwan (65). Also in that group was Lindsey Wright, the first play to reach 11 under with a birdie at No. 8, who faulted on the back and shot 73.
The third round was played in threesomes because of fog so thick it delayed the start by three hours. Most players probably wished the fog had stayed, for the blistering sunshine that broke through the haze led nearly everyone to carry an umbrella to shield the rays.
"Just as long as you try to drink and not think about it too much, it worked for me," Hjorth said.
More high temperatures are expected for the final round, and Sorenstam already was thinking ahead.
"I'm not going to wear a brown top tomorrow," she said.