News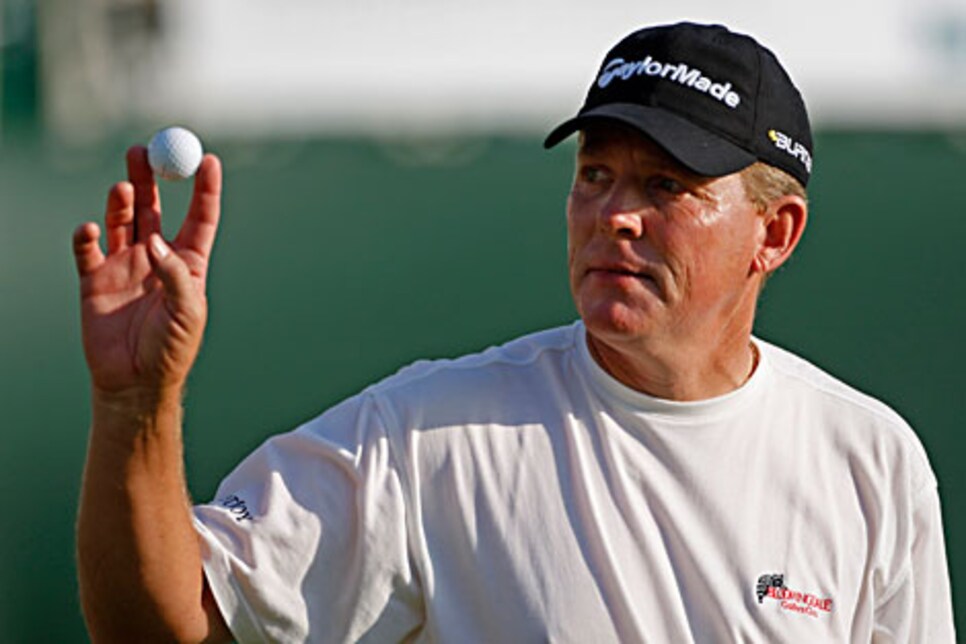 Michael Bradley, who's best '07 finish was T-46 and hasn't won in 10 years, has a share of the lead.
MEMPHIS, Tenn. (AP) -- Everyone at the TPC Southwind wanted a nice warmup for the U.S. Open. They got as good a simulation as possible Friday thanks to gusting wind and firm greens that made par an attractive score.
Tommy Armour III double-bogeyed No. 18 and fell into a six-way tie atop the leaderboard after two rounds at the Stanford St. Jude Championship on a day where only 13 players were under par. It was the most players tied for lead at the halfway point on the PGA Tour since a six-way tie last year at the Shell Houston Open.
Armour finished with a 71. He was tied with Gavin Coles, whose 64 was the low round through the first two days, Dean Wilson (68), Jason Dufner (68), Michael Bradley (68) and Marc Turnesa (69) at 3-under 137 -- the highest 36-hole total on the PGA Tour since Angel Cabrera at the Open last year when he was at even par-140.
"Thirty-six holes left, I make bogeys and doubles. It's the way it happens," Armour said.
Coles credited patience for his six-birdie, bogey-free round in an event where the cut came at 5 over.
"It's pretty slow out there really. So you can sort of back off and have another look and sort of take a bit of time, sort of wait for the gusts to go by," he said. "It was difficult, but you now I think if you putted well today you would have had a pretty decent score. ... When I did get in trouble, my putter sort of got me out of it a little."
Vijay Singh started the day in third, two strokes back of the lead at 3 under. He finished with a 71 and was tied for seventh with Alex Cejka (69), Michael Letzig (68) and Davis Love III (70) at 138.
"I'm glad to get in under par," Love said.
So even though the TPC at Southwind never will be mistaken for what they will face at the U.S. Open, Singh called it a good test for those tuning up for Torrey Pines with the gusting winds making club selection difficult.
"It gets you in the game, keeps you very focused. You can lose your focus out there. Once you do that, you're going to shoot a number," Singh said.
Armour started the day a stroke off the lead. He missed a chance to keep the lead to himself on the par-4 18th when he hit his tee shot into the lake that runs along the fairway and fronts the green. He missed a 16-foot putt to salvage bogey that would have given him a one-shot lead, but he wasn't worried with 36 holes left.
"You got to hit good shots, quality shots, and (I) hit a lot of them today and I played as good as I did yesterday. So looking forward to tomorrow," Armour said.
Boo Weekley was the first-round leader, and his one-stroke margin held up until midway through the afternoon before he fell apart.
He was tied with Armour at 5 under, then had a three-way tie with Wilson at 4 under before Weekley's lone birdie put him back atop the leaderboard at 5 under. Then Weekley made the turn onto the front nine where he carded three bogeys and a double bogey to finish with a 75 for a 140 total.
Bradley is working his way back into form on a major medical exemption after breaking his right ankle playing softball last year and in only his fourth event of the year.
"It's imperative you drive it in the fairway this week due to the wind conditions and the firmness of the greens. It allows you to control the flight and the spin of the ball. If you hit it out of the rough, you can't control either. ... That's one thing I've done pretty good this week is driven the ball in play," Bradley said.
The biggest problems came after balls had been hit.
"There's a ton of water on some holes," said Jason Dufner, who was at 137 after a 68. "You know you just catch a gust, and it's almost like you feel helpless sometimes."
Bob Estes, who won here in 2001, had a 65 that was the day's best round and finished in a three-way tie for 11th at 139. He started in the morning but said the wind was really howling.
"It was hard to even step up to the shot and hit it, it was blowing so hard," Estes said. "I'm thinking in particular about the second shot at No. 5. We're playing dead into the south wind and just ripped a 4-iron. I was trying to carry the ball maybe 185 yards. I normally hit a 4-iron 205."
Divots:@ David Toms, a two-time champ here, extended his streak of cuts at this event to 13 straight. ... John Daly, who started the day 2 over, broke his putter and wound up using a wedge for a bit before getting a replacement as he made the turn. It didn't help as he finished with an 81 and missed the cut at 13 over. ... Carlos Franco and Brent Geiberger each withdrew before the second round. Franco was sick, while Geiberger was injured. Both had opened with 77s Thursday. ... Lucas Wald was disqualified after carding an 85 Friday.