News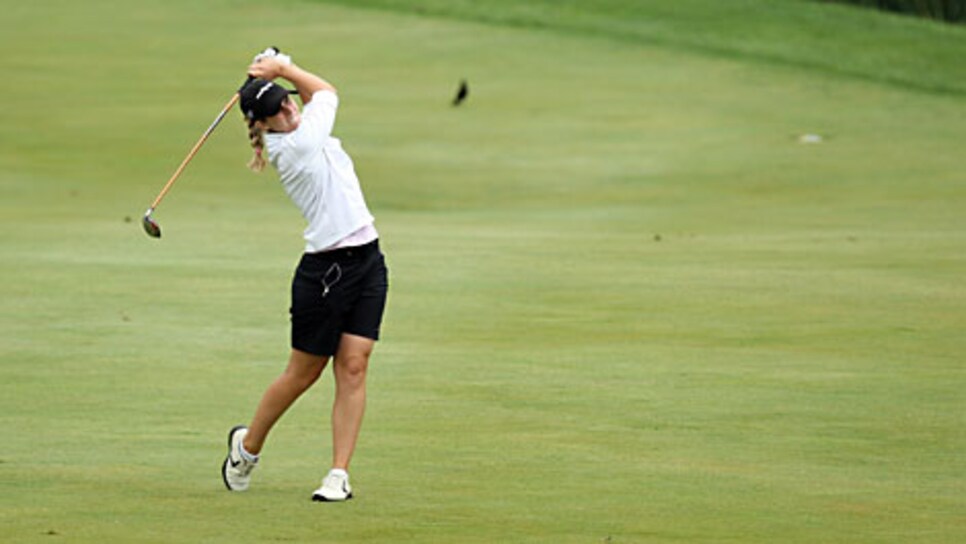 Fresh off the Futures Tour and their '07 money title, Emily Bastel turned in her best performance so far this year.
HAVRE DE GRACE, Md. (AP) -- Even in grass up to her knees, Lorena Ochoa never panicked.
Trying to become the fourth woman to win three straight majors, Ochoa wanted to get off to a strong start Thursday in the McDonald's LPGA Championship, and instead had nowhere to go in the rough left of the 13th fairway. She eventually had to walk 50 yards back to play her next shot and took double bogey.
Four holes into her round, she was eight shots behind.
"For sure I had to fight hard and catch up," Ochoa said. "And I did it."
She didn't make it all the way back, but she followed her plan on a soggy Bulle Rock course. Even par by the turn, three birdies on her back nine, a 3-under 69 that left her three shots behind Lorie Kane of Canada and Emily Bastel.
And she was one shot ahead of Annika Sorenstam, who has six months left to catch Ochoa before she retires.
"Today was important just not to get away too far from the leaders, and that's why I'm so happy that I did," Ochoa said. "Three under for the first day of a major is good, even though I had the double bogey. And hopefully, tomorrow I'll have a great round."
Neither of the leaders have had a top 10 all year, and Kane has struggled to make cuts. But they found their way across a long and soggy golf course, with took on so much rain overnight that fairways felt like carpet in a home that had been flooded.
"Am I surprised by a low round? I knew it was in me, and I know I have a lot more of those," Kane said. "I know it's a long way to Sunday, but I am encouraged by what's been happening the last few weeks."
Bastel finished her bogey-free 66 with a hybrid into 12 feet for birdie on the 18th hole, one of two holes where the tees were moved up some 30 yards to accommodate the wet conditions.
She won the Futures Tour money title a year ago, and is slowly making progress.
"It's exciting to have this happen," said Bastel, playing in only her sixth major. "Early in the week, just try to enjoy it and keep it going."
Lindsey Wright had a 67 and was one shot behind, followed by a group at 68 that included Nicole Castrale.
Ochoa seems to always know the score, and she didn't stop with her question about Sorenstam.
She gazed at an electronic board behind the seventh green, her 16th of the day, to size up the competition and make sure they were not getting too far away. A year ago, Ochoa plodded along around par until she was too far back to make a move.
Perhaps she inquired about Sorenstam because she never saw the Swede's name on the board. Sorenstam certainly had her chances, but couldn't convert several birdie putts inside 12 feet.
"Hit the ball beautifully today," said Sorenstam, a three-time LPGA champion in her final year on tour. "Just didn't make some putts today, unfortunately. But I'm very, very happy with my game."
Ochoa went wire-to-wire to win at St. Andrews to win her first major at the Women's British Open, and she was atop the leaderboard the final three rounds of the Kraft Nabisco for her second in a row.
But she was on the ropes early at Bulle Rock.
Ochoa hooked her tee shot into waist-high native grasses on the 13th, so deep in the rough that even taking two club lengths for an unplayable lie did not give her a shot. After conferring with a rules official, she walked some 50 yards back in a line with the green, dropping in the rough near the 11th fairway.
"It happened early in the round, and I knew I had a lot of holes left," Ochoa said. "I was feeling good. I didn't get too stressed. I just thought, 'Make a couple of birdies on the front and finish even, and then 3 under on the back.' So I did that."
She got back to even par with a 40-foot birdie on the 18th, then birdied the third and fourth holes from 12 feet.
By then, Ochoa was in a rhythm of fairways and greens, picking up her last birdie on the par-5 eighth with a 5-wood into 20 feet and an eagle putt that hung on the lip.
Bastel handled the length of the course just fine, picking up two birdies with metal clubs -- the hybrid on the 18th and a 7-wood to 12 feet on the 13th hole -- and the only downer was coping with a nasty cold.
Kane, a popular Canadian with a big smile, has gone seven years since her last victory and was starting to wonder what was wrong. A month ago at the Michelob Ultra Open, she wasn't aware that sports psychologist Bob Rotella was watching her along the back nine. He told her she was doing fine, and when the putts started falling, they would fall in bunches.
She made four from the 10-foot range, chipped in for birdie on the 13th and picking up much-needed confidence along the way.
This is a major week for Kane for two reasons -- after the LPGA Championship, she will try to qualify for the U.S. Women's Open. Kane's caddie asked her if she wanted to take a free pass from the pro-am and practice on the qualifying courses.
"I'm here to win the McDonald's, and I'm preparing for that," she said. "I'm going to worry about Monday when Monday comes."