News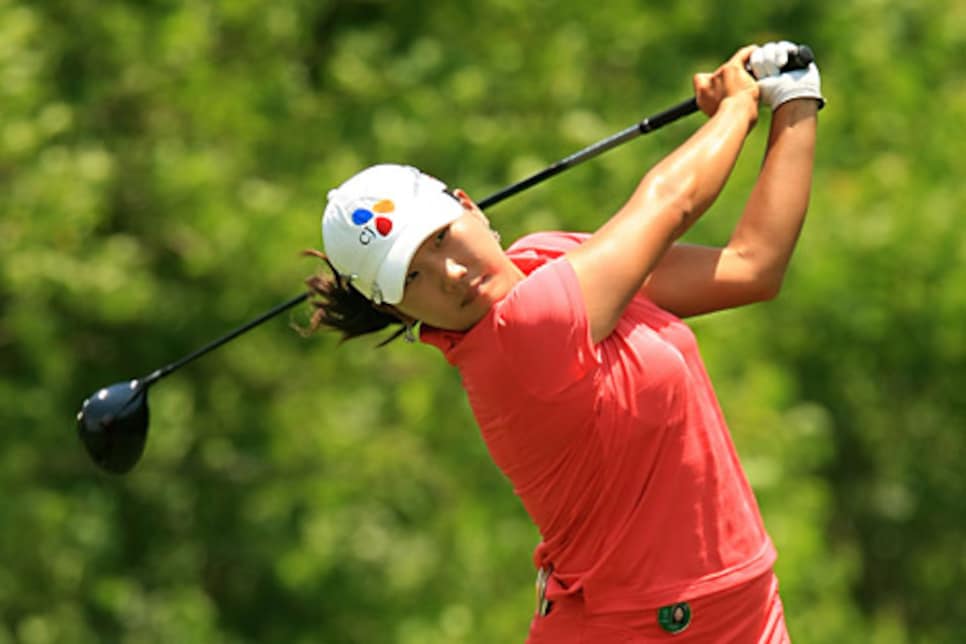 Seon Hwa Lee won after being nine-strokes back when the day began.
MOUNT PLEASANT, S.C. (AP) -- Sophie Gustafson's stunning collapse and Karrie Webb's short playoff miss opened the way for Seon Hwa Lee to come from nine shots back and win the Ginn Tribute on Sunday.
South Korea's Lee two-putted from about 45 feet for par on the lone playoff hole, the 18th, then watched LPGA Hall of Famer Webb miss a 3-footer that would have extended things at RiverTowne Country Club.
Lee shot a 67 for her third LPGA title. She earned $390,000, one of the richest prizes in women's golf.
It wouldn't have happened without Gustafson's improbable fall. Holding a six-shot lead when the day began, Gustafson had five bogeys and two double bogeys in her last 15 holes for a 7-over 79 that left her three shots from the playoff.
"I didn't expect to win this becuase the leader was so far" ahead, Lee said.
After Lee chipped in for birdie from about 40 yards on the 13th hole, she saw she was only a shot off the lead and began to think about victory.
Playing in the next to last group, Lee capped a wild back nine when she curled in a 20-foot birdie putt from off the fringe on the 18th hole to break from a three-way tie to finish at 14-under 274.
Moments later, it was Webb with the dramatic shot, getting her tying 12-footer to fall in on No. 18 for a 70. She punched the air in celebration.
On the playoff hole, both players drove into the rightside rough, and Webb got her approach to within 16 feet. But after Lee tapped in for par, Webb was short on the birdie try that would have won the tournament and missed her par.
"There is no excuse for missing that putt," Webb said.
Song-Hee Kim (69) was third at 13-under, followed by Gustafson and Jane Park (72) another two shots behind.
For Gustafson, it was a disheartening finish to what had been a dominating week.
She was trying for her first LPGA Tour win since 2003 and raced to the top the first three rounds with long, accurate drives and dead-on putting. She entered Sunday with a six-shot lead and opened as rock solid as ever with a first-hole birdie.
Gustafson made birdie on the third hole to reach 20-under, and was still ahead by five when her troubles began.
She hit her tee shot on the par-3 eighth into a bunker behind the green for a bogey, then three-putted the next green to drop another shot.
Gustafson followed on the 10th with a double bogey, her lead shrinking to one stroke over Na-Yeon Choi.
Gustafson gave up the lead on the par-3 14th, her tee shot going dead left into a greenside lake. She walked back behind her bag with little emotion, staring straight ahead.
When she tapped in for another double bogey a short time later, Gustafson had given up the lead she'd held or shared since Friday.
And the problems didn't stop. Gustafson drove into thick rough for a bogey on the 15th. She put her tee shot into the marsh on the final hole for her last bogey.
It was the second recent disappointment for Gustafson. Two weeks ago, she missed a 12-foot putt on the final hole of the Sybase Classic that would've tied world No. 1 Lorena Ochoa.
Ochoa withdrew from the Ginn Tribute earlier this week because of the death of her uncle.
With the threat of severe weather, organizers moved up tee times and started players off both nines to squeeze in the round before storms arrived. Tournament host Annika Sorenstam was among those starting off the back nine.
She finished tied for 32nd after a final-round 71 left her at 4-under. The Swedish star, who last month announced she's retiring after this season, had hoped for a better showing in what was likely the last time she'll play in her tournament.
Sorenstam had won three times this season.
"I'm very disappointed about that," she said. "I think everything else has been great this week. The host just doesn't perform."