News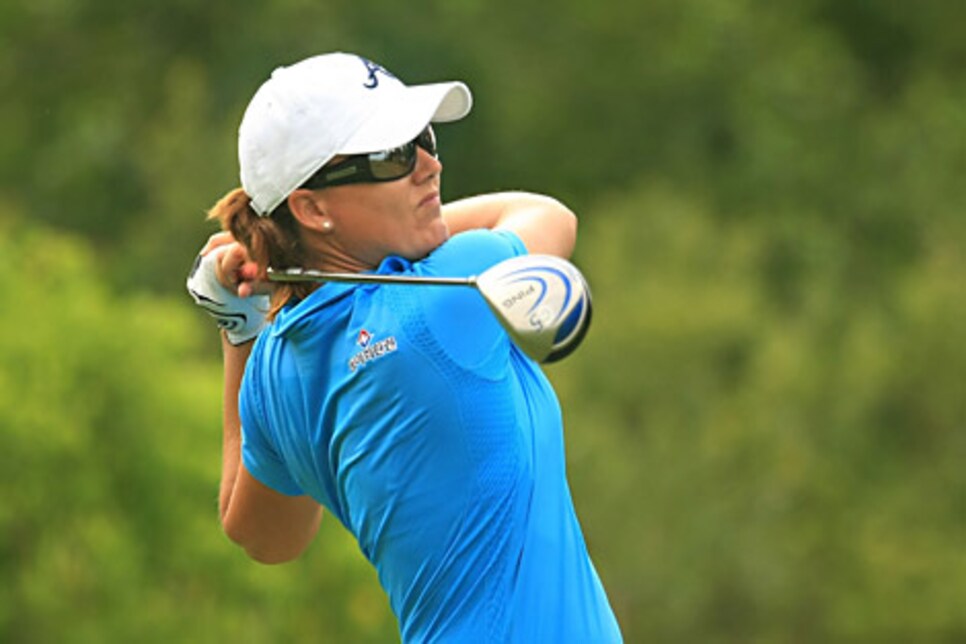 Gustafson is in position to grab her first tour win in five years on Sunday.
MOUNT PLEASANT, S.C. (AP) -- Sophie Gustafson is not about to get complacent as she heads into the final round of the Ginn Tribute with a six-shot lead.
Not after a surprising early eagle, a disappointing double bogey and watching Karrie Webb fall apart down the stretch in the third round Saturday.
Gustafson shot a 67 to open up a big lead over Webb and LPGA Tour rookie Na-Yeon Choi, putting herself in position to win on tour for the first time in five years.
Gustafson was tied with Webb, her playing partner, when the round began. Within three holes, Gustafson had opened a three-shot lead after her birdie and chip-in for eagle on the par-4 third.
"You know what, you can't think like that," Gustafson said when asked if her eagle got her excited about her chances for success. "You have to focus on your next shot and just keep going."
It sure helped Gustafson bounce back for her only mistake of the day, a double bogey on the par-4 12th. She later had back-to-back birdies on the 15th and 16th holes.
"I just keep telling myself to have patience and to have a good attitude," Gustafson said, "and it's not that difficult."
It was for a couple of Hall of Famers — Webb and Annika Sorenstam.
Webb made four bogeys during a five-hole stretch on the back nine at RiverTowne Country Club.
The tournament's host, Sorenstam, continued her struggles at her namesake event with a 75.
Webb was unflappable for two days, with only two bogeys the first 36 holes. She came apart, though, on the back nine of a sweltering round.
The unraveling began when she put a ball into a hazard on the par-5 11th, loudly expressing her displeasure for TV cameras, for one bogey. Things got worse for Webb with three straight bogeys on Nos. 13-15.
On the 15th, Webb stood awkwardly on a patch of gnarly rough amid a bunker and could do nothing else but move her ball a few yards forward into the sand.
When Webb tapped in for that bogey, she was six shots behind Gustafson.
"I had a pretty poor back nine, which I'm a little disappointed about," Webb said.
Some might've let Webb's troubles affect their game. Not Gustafson.
"I try not to pay too much attention to my playing partners or group," she said. "That helps me to just focus on the course."
Sorenstam needed a late rally — six birdies in 10 holes — on Friday simply to keep playing on the weekend.
Sorenstam, who's won three times this year, talked of a strong weekend that might get her into contention. Instead, she went backward and was tied for 34th.
Sorenstam has only bettered 70 one time in seven career rounds here.
At 15 strokes behind, Sorenstam might need one of those all-birdie rounds of 54 she's envisioned to reach the top in her last appearance as a full-time competitor at the Ginn Tribute.
"I was hoping for a little better," Sorenstam said. "Of course, I'm bummed out about that. Nothing I can do, but disappointing."
Sorenstam announced her retirement about two weeks ago.
Perhaps Sorenstam's countrywoman, Gustafson, can earn the trophy that bears Annika's name for Sweden.
With husband and former LPGA Tour commissioner Ty Votaw trailing, Gustafson took the lead with a birdie on the second hole, then chipped in from behind the green on the par-3 third for an eagle.
The way Gustafson's going, she might've wanted to squeeze in another round. But Gustafson, who finished second to world No. 1 Lorena Ochoa two weeks ago at the Sybase Classic, won't have to wait long for her chance at a fifth career LPGA win — and first since 2003.
The LPGA Tour moved up tee times several hours Sunday to get the final round in before advancing storms reach the Charleston area.
Ochoa withdrew before play started this week and returned to Mexico because of her uncle's death.
Choi, a 20-year-old rookie, moved into contention with her third straight sub-70 round. It was also the second straight day the South Korean made an eagle 2. She accomplished it on the fourth hole Friday and did it on the fifth hole this time.
"I had two eagles, but I really had a lot more chances to do it more than twice," Choi said. "That's how great I've been feeling about my shots lately."
Gustafson has won 13 times on the Ladies European Tour, including at De Vere Ladies Scottish Open last September.
She's liked her play this week. Maybe enough to think about another LPGA victory?
"That would be nice," Gustafson said, "but there's one more day tomorrow."