News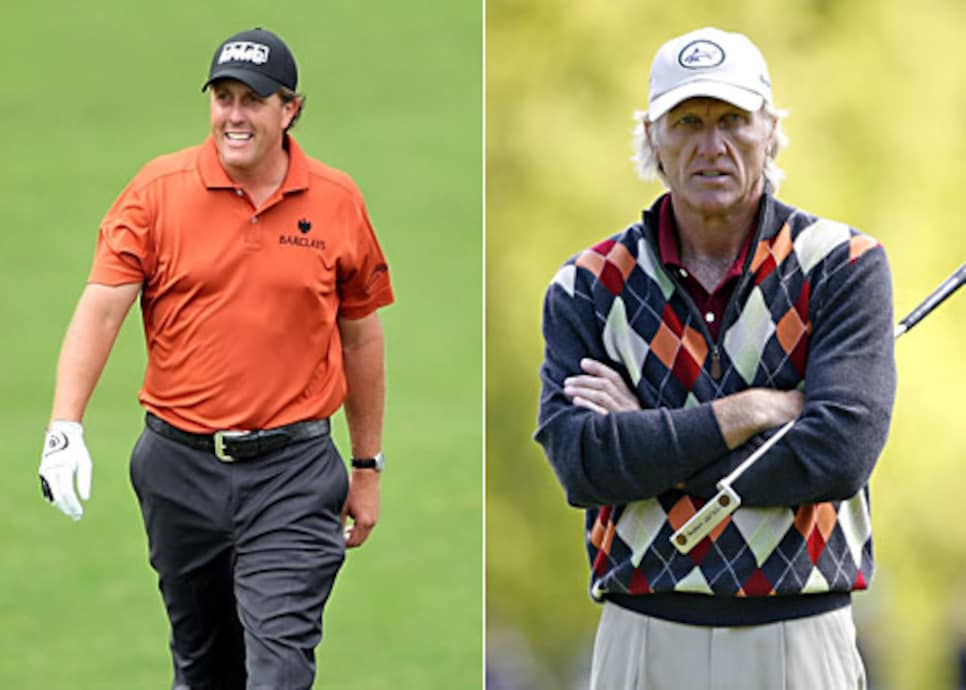 The similarities between Phil and Shark, positive and negative, abound.
A dozen years ago I caught up with Greg Norman in the parking lot at Harbour Town Golf Links in the middle of a Sunday afternoon as the PGA Tour event there was winding down. Norman was not a factor going into the final round and finished well ahead of the leaders. The parking lot was empty, with most folks out following the action.
We chatted for a few minutes about the tournament the previous week--the 1996 Masters--in which Norman took a six-stroke lead into the final round at Augusta National and, in one of the most painful collapses ever witnessed in golf, shot a 78 as Nick Faldo blew past him with a 67. As always, Greg was generous with his time and honest with his answers.
When we had wrapped up the business end of our chat, I asked Norman what he was going to do now, and his face lit up. "I'm taking my boat to the Gulf of Mexico and do nothing but fish for three weeks," he said, clearly excited he was going to be able to devote some time to one of his other passions.
During our conversation about fishing--more of a monologue in which I was the listener, really, because I know virtually nothing about fishing--Norman started telling me about a memorable battle he had with a shark. It lasted nearly three hours, he said, proud of the fact that he was not strapped into "one of those chairs they use," and that he fought the battle man-to-shark, on his feet the entire time.
Not really knowing a knowledgeable question to ask, I inquired as to what the shark weighed. With absolutely no change in his expression and with absolutely no loss of enthusiasm about the subject matter, Greg said: "Oh, it got away." It was in that instant I came to understand Greg Norman. He was all about process and not the result.
What Norman loved was the battle, the challenge and the thrill of being engaged in a challenge. The outcome of the confrontation was almost secondary. The joy was in the test; the answers were inconsequential. Phil Mickelson, I have long thought, is the Greg Norman of his generation. And that is why Lefty has connected so strongly with so many fans--just as Norman did.
History will surely judge Norman as an underachiever because he won only two major championships, both of those British Opens. And I am among those who believe that is an unfair evaluation of Norman. For 15 years the guy's name was on the leader board almost every time he teed it up. He was a brilliant shotmaker with an exquisite short game and is one the greatest drivers of the golf ball ever.
Like Mickelson, who has three majors and is closing in on three dozen PGA Tour wins, Norman let quite a few slip away. In fairness, some of those were snatched from him--the Larry Mize chip-in at the 1987 Masters comes to mind. But in addition to their enormous talent, here is the other thing Norman and Mickelson have in common: They never lost by laying up, and they always were entertaining in victory or defeat.
Yes, the memory of the double bogey Mickelson made on the final hole of the 2006 U.S. Open at Winged Foot will be revisited many times when people write stories about Lefty, as well it should be. But just as surely, so should the shot he hit Sunday on the final hole to win the Crowne Plaza Invitational at Colonial Country Club be revisited time and again.
All Phil did was hit a 52-degree wedge off a downhill lie from 140 yards under one tree and over another to inside 10 feet, from where he made the winning birdie putt. Now that's entertainment. And that's why Mickelson is the most-loved player in professional golf whose name is not Tiger--and, in the truth, the voting would probably be a lot closer than you might think.
Phil's fans are like those of Norman: The numbers don't really matter; it's all about the theater, it's all about the heart. And, like the Shark, lefty is the consummate performer. The golf course is his stage, and part of his mission is to take his performance--and his audience-- to those magical places were success is recorded by emotions more than by numbers.
It is quite possible that both Norman and Mickelson could have won more tournaments--especially major championships--if they had changed their style and become more conservative. But it is also possible they would not have been as successful, because they would have been trying to be something they aren't.
Would Arnold Palmer have won seven majors if he had tried to be Jack Nicklaus and play fairways and greens instead of his slashing, never-up-never-in style? Maybe he would have won 12, but maybe he would have won three. Playing like Hogan works best if you are Hogan. Not everyone is the Ice Man, and not everyone should try to be.
Norman and Mickelson have so many similarities--awesome talent, scintillating short games and aggressive styles--but the most important thing they have in common is this: They are fun to watch. Neither flew all this way just to lay up.
So the earliest we are going to see Tiger Woods again is the U.S. Open at Torrey Pines. What Mickelson reminded us of on Sunday at Colonial is that there is golf without Tiger. And what that birdie on No. 18 teased us with was the promise of a Mickelson-Woods shootout at Torrey, a course where both have had significant success.
Before the knee surgery, most everyone was already giving the Open trophy to Woods because he has won so often there. What Mickelson said Sunday was, "Not so fast." But whatever the outcome in this year's U.S. Open, you can count on this: Win or lose, Mickelson will entertain. The shark might get away, but the battle will be worth watching.