News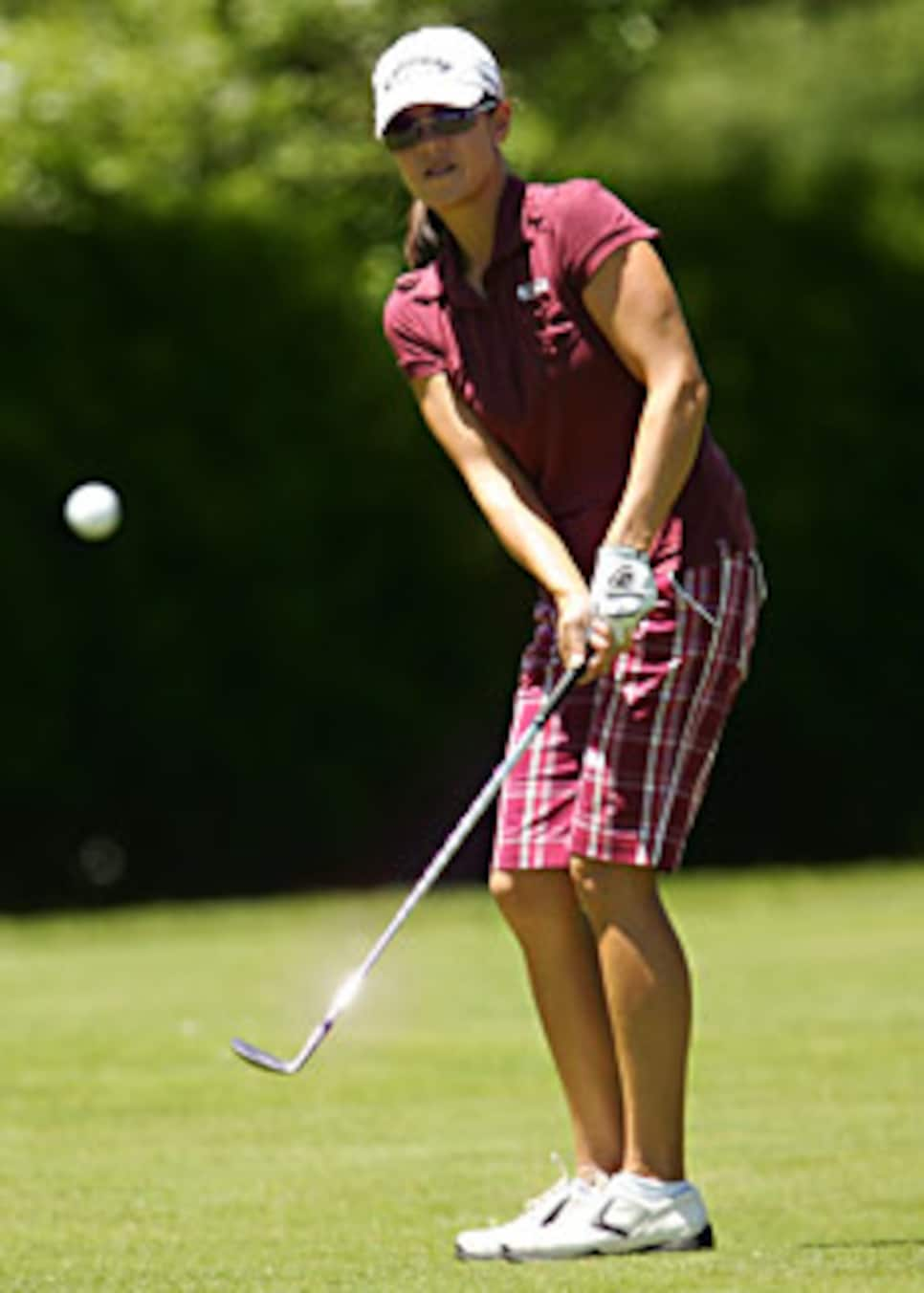 Lindley overcame a missed three-footer on 5 to get in the playoff and win.
CORNING, N.Y. (AP) -- When she missed a short birdie putt at the fifth hole on the final round of the Corning Classic, Leta Lindley grumbled to herself.
"I was a little disappointed. You can't miss putts like that and expect to win," Lindley said. "I thought, 'Is it ever going to come? When it comes down to it, am I going to be good enough to make those clutch putts coming down the stretch or to win on 18?' "
On this day she finally was. Lindley (67) overcame that miss from 3 feet, rallied with four birdies on the back nine to finish regulation in a tie with Jeong Jang (68), then beat her in a one-hole playoff for her first career victory in her 295th professional start on tour.
That equaled Missie McGeorge for the third-longest time a player had gone before notching that elusive first victory on tour.
"I am just so overwhelmed," said Lindley, who took off most of 2004 and 2006 to give birth to her two children. "I can't hardly believe it. I've been dreaming about this day forever. I can't even believe I'm living this experience."
Lindley, who lost a two-hole playoff with Chris Johnson at the 1997 McDonald's Championship, won $225,000 to boost her earnings for the year to $332,814.
Jang and Lindley, with her husband caddying and her young son and daughter watching on television, began the final hole of regulation tied at 11 under. Lindley, in the group ahead of Jang, made a two-putt par from the front edge of the green to place the pressure on Jang.
Jang's drive at 18 sailed into the right rough and, blocked by an overhanging branch just ahead, she had to punch her second shot out and it landed in a greenside bunker. With only her right foot in the sand, Jang blasted to 6½ feet and made the par putt to force the playoff.
"I knew she would make it because J.J. makes everything," Lindley said.
Lindley won the draw and let Jang go first on the extra hole, No. 18 again, and this time Jang hooked her tee shot into the left rough. Lindley followed with a drive down the right side and nailed a 7-iron to 6 feet, easy birdie range.
"I hit it perfect," Lindley said. "Seeing that she hit in the right bunker, I went for it."
Jang rallied again with an even better sand shot that stopped inches from the hole to set up a tap-in par. After Jang made it, Lindley calmly stepped up and sank her winning putt.
"I tried hard, and somebody played better than me," said Jang, who fell to 0-3 in playoffs.
Two years ago, Jang led here by three shots after three rounds, faltered with a 76 on the final day, and finished seventh. Jang and Erica Blasberg began Sunday with a one-shot lead, and Jang seemed intent on erasing that painful memory, making two birdies and an eagle on her first five holes to reach 11 under.
Jang, who tied for third in the SemGroup Championship and tied for second at Kingsmill in her previous two starts, then made bogey at No. 9 and Lindley tied for the lead with birdies at Nos. 10, 11 and 12.
Jang birdied No. 16 to regain the lead, and just moments later Lindley hit sand wedge from 94 yards to 5 inches for a tap-in birdie at 17 to tie it again.
Scoring was difficult on the first three rounds because of the elements. The first round was played in 40-degree weather with rain and wind, and though the sun broke through on the next two rounds, a gusting 20 mph breeze made each shot a guessing game. Sunday was ideal, a picture-perfect day with blue skies and a slight breeze that made the greens fast and true.
Blasberg, who is non-exempt and also was in search of her first victory on tour, was unaccustomed to having the lead on the final day of a tournament and it showed. She faltered at Turtle Bay in February when she was in the final pair with Annika Sorenstam in a tie for the lead and finished eighth.
In the final group again on Sunday, this time with two-time winner Jang, Blasberg had three bogeys and a double bogey on the front nine to drop out of contention.
Sun Young Yoo (66), who tied Mi Hyun Kim (66) for third at 10 under, made one birdie and also eagled the fifth hole to reach 7 under at the turn. After birdies at Nos. 10 and 12, Yoo nearly aced the par-3 15th hole, her tee shot stopping 2 inches shy of the cup, and her tap-in birdie put her at 10 under and in a three-way tie for the lead.
Yoo missed a chance to take the lead when her short putt for birdie at No. 17 stopped on the lip.>
Divots:@ 1988 Corning champ Sherri Turner, who has hinted she will retire, had a closing 71 to finish at 1 under. ... Aussie rookie Anna Rawson shot her second straight 70 and finished at 4 under.