News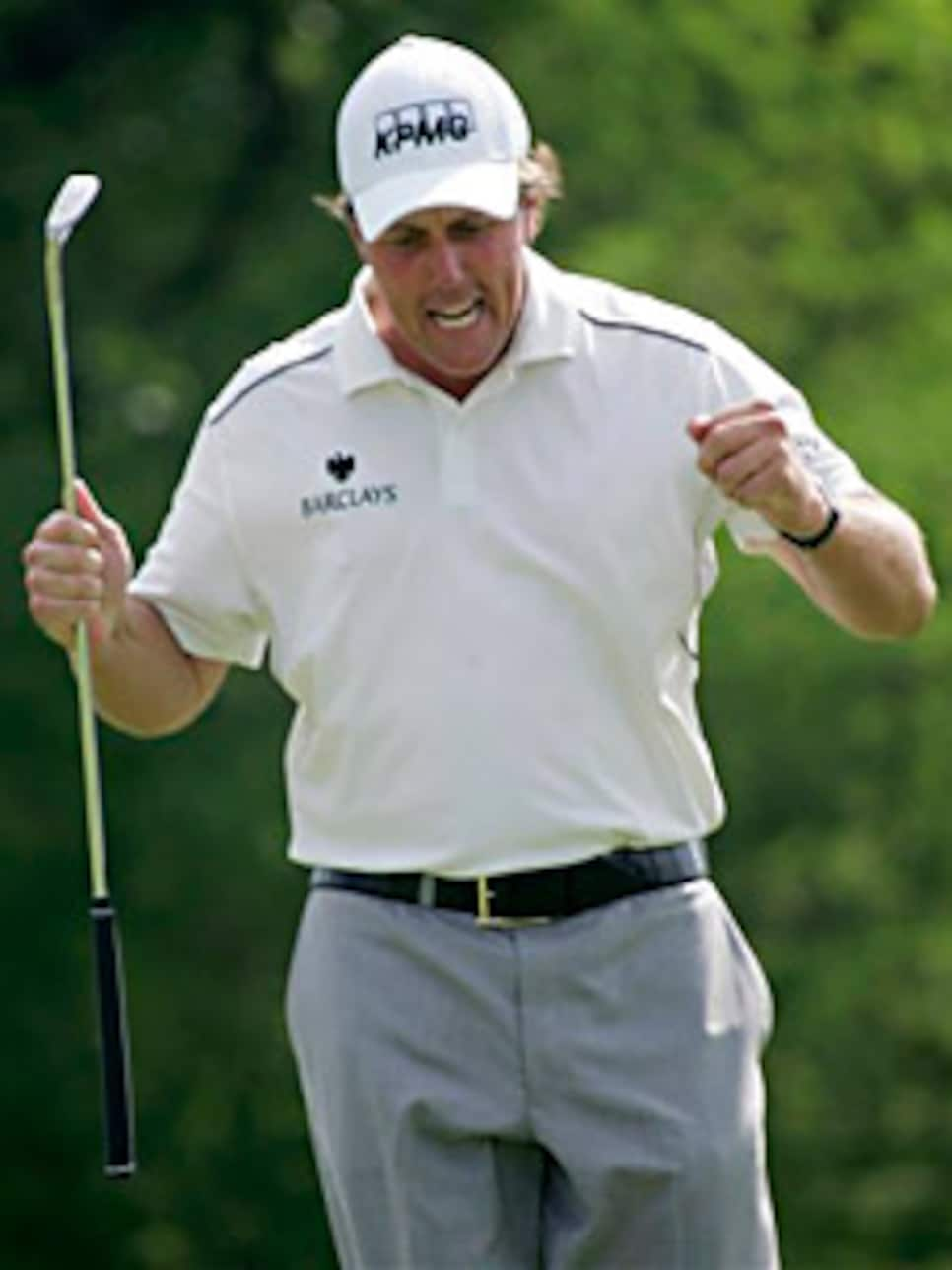 The shot that set Phil up for the winning putt will be talked about for a long time to come.
FORT WORTH, Texas (AP) -- Another memorable shot, and another victory, for Phil Mickelson's impressive ledger.
Not the 9-foot birdie putt on the final hole that gave him a one-stroke victory at the Crowne Plaza Invitational on Sunday. Instead, it was the 140-yard wedge from heavy rough that set it up: when Mickelson had to hit under one tree and over another, the ball clipping branches while headed sky-high.
"Just lucky," Mickelson said, with a smile. "I'm as surprised as anybody I was able to make a 3 from over there."
Once Mickelson hit the ball -- "it just came off perfectly," he said -- he couldn't see it through the branches. So he took a couple of steps before jogging through the trees into an opening just in time to see the ball fall back to earth near the flag.
One of Mickelson's best shots ever?
"Probably top five," Lefty responded, pointing out that he had already discussed that with his wife, Amy.
"That's what No. 2s in the world do," said Rod Pampling, who blew a two-stroke lead on the back nine. "Those guys make those kinds of shots."
The birdie closed out a round of 2-under 68 that got Mickelson to 14-under 266, a stroke better than Pampling (68) and Tim Clark (66) for his second victory at Colonial.
It was the 34th career victory for Mickelson, who also won the Northern Trust Open in February and is the only person on the PGA Tour with multiple victories in each of the past five seasons.
Mickelson began the final round with a one-stroke lead. But like the day before, he fell behind before regaining the lead on his final putt of the day.
Pampling, playing with Mickelson, made the turn at 14 under. He still led by one after saving par out of a greenside bunker at the 188-yard 16th.
But on the ensuing drive at the 382-yard 17th, Pampling hit the ball way right toward a ditch. He had to take a penalty stroke after a drop -- though that put his ball where it could be seen rather than buried in heavy rough at the edge of a concrete gully. He managed to get the approach shot into a bunker, then blasted to 4 feet, pushing both arms in the air before tapping in the bogey. That came after Mickelson had two-putted from 28 feet for par.
After Mickelson's final drive went well left, Pampling drove down the middle of the fairway. But Pampling left his approach 38 feet away, his second putt going in after Mickelson had already made his birdie.
"Came close again at the end," said Pampling, who finished third at Colonial two years after a double bogey at No. 15. "I hope next time, I'll be good to go."
Pampling still may have done enough to get into the top 50 for a spot in the U.S. Open.
Clark had birdies at Nos. 16 and 17 to get to 13 under and tie for the lead.
Pampling hit his tee shot at 16 into the right greenside bunker, and blasted within 9 feet. After Mickelson made par, Pampling took extra time to examine his line and then saved par, pumping his right fist hard in the air as the ball dropped into the hole.
"At times I got nervy, I was trying to relax, do breathing and focused what I have to do. I was fine out there," Pampling said. "It was bad swing on 17. It was the only one I was disappointed in."
As Mickleson and Pampling were finishing No. 17, Clark's 14-foot birdie chance at the closing hole curled just short. He finished second for the sixth time in his career, still without a victory.
"I wasn't trying to force anything. I was playing the course the way I did the first few days," Clark said. "I made some good shots coming in and made a few putts. It was disappointing I left 18 short."
Stephen Ames (70) finished fourth at 269, a stroke ahead of Ben Crane (67).
Mickelson earned $1.098 million, nearly double the $594,000 check he got for winning the last Colonial eight years ago, and surpassed $49 million in career earnings. He is the 11th player to win multiple times at Hogan's Alley, where five-time champion Ben Hogan is the only golfer to win more than twice.
Mickelson was back within a stroke after getting on the green at the 611-yard 11th in two, then two-putting from 33 feet. Pampling, the Australian native who lives in nearby Flower Mound and gets to play Colonial often, hit his first two shots there out of the rough before a 13-foot birdie chance stopped right by the hole.
But they kept matching pars after that -- until the final two holes.
When Mickelson got to the 6th tee in front of the huge scoreboard Sunday, he still had a one-stroke lead over Pampling. That was the spot the day before when Mickelson realized he had dropped out of the lead and three strokes behind Pampling, who was in a different group then.
But Mickelson didn't hold his lead much longer.
After driving into the right rough at the 394-yard hole, Mickelson's shot from there hit a tree branch and ricocheted left into the fairway, though he managed to save par after hitting the third shot within 3½ feet. But Pampling got even with a 48-foot birdie putt off the fringe, after coming out of his stance once and turning around to ask a spectator to turn off their phone.
Then at No. 7, Pampling outdrove Mickelson by 60 yards and made a 7-foot birdie putt to get to 13 under, a stroke ahead.
Pampling made it a two-stroke lead after his approach at No. 9 was within 4 feet for another birdie. Mickelson's 16-foot attempt slid right of the hole.
"He looked like he was in control," Mickelson said. "I was obviously very fortunate to come out on top."
Divots:@ Mickelson is the seventh Colonial winner who had at least a share of the 54-hole lead. ... Geoff Ogilvy, the No. 7-ranked player, followed an opening 72 with three subpar rounds and finished tied for seventh at 273. Ogilvy and Mickelson were the only of the five top-10 players in the field to make the cut.