News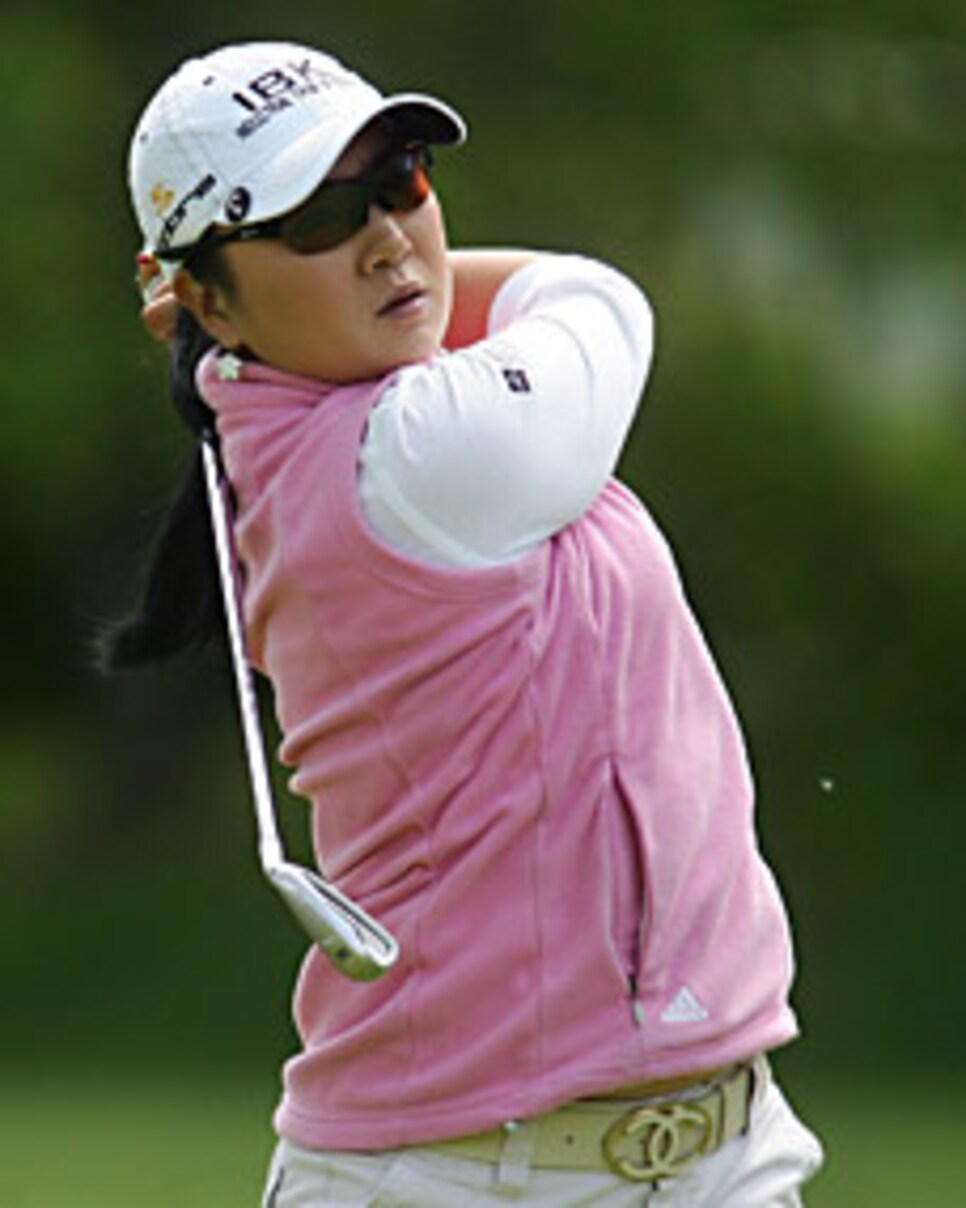 Fifth on the LPGA money list, no one should be surprised Jang is contending again.
CORNING, N.Y. (AP) -- Even with an arthritic right wrist that hampers her swing, Jeong Jang is a player to be reckoned with.
Jang, fresh from two straight top-3 finishes that moved her to fifth on the 2008 LPGA money list, shot a 3-under 69 on Saturday to tie Erica Blasberg for the lead after three rounds at the Corning Classic.
Playing with a bandage that conceals a painful cyst, Jang sank a 3-foot birdie putt on her final hole to tie Blasberg (70) at 7-under 209.
Jang has won twice on tour, including the 2005 British Open, but two years ago here she led by three shots after three rounds and ballooned to a 76 on the final day and finished seventh.
"I think I am just learning everything every time I get a mistake," said Jang, who finished 11th at Corning in 2007 for the second time in three years. "I tried too hard. I don't think I want to do that again."
Jang, who had two bogeys and four birdies on the front nine, reached 7 under with an 18-foot birdie putt at No. 10 and managed to save par at 14 with a deft downhill putt after her third shot on the par-5 landed on the back edge of the massive, undulating green.
Jang's string of five straight pars ended when her second shot at 16 was short and she two-putted from 5 feet for bogey. She almost got that shot back at 17, but her birdie putt rolled around the rim and somehow didn't fall.
The top two were one shot ahead of Leta Lindley (70) and Katherine Hull (72). Song-Hee Kim (70) was another stroke behind in fifth, and Mi Hyun Kim (68) was in a tie for sixth with Sung Ah Yim (70), Seo-Jae Lee (71), Sun Young Yoo (71), and Meredith Duncan (71). Dina Ammaccapane began the day with a one-shot lead but shot 76 and was five shots behind.
A year ago, Young Kim shot 20 under to win here, but the difficult weather has played havoc all week. Blasberg's opening 65 is the low round so far, and the average score Saturday was just above par at 72.46. The final round will begin with 27 players within five shots of the lead or closer.
"I'm a little surprised (at the scores) because there's quite a few good players here," Blasberg said. "I think it's the swirling wind out there."
Janice Moodie (77) could vouch for that. Seeking her third career victory and first since 2002, Moodie was just one shot behind at the start of the day. But any chance she had disappeared after five bogeys and a double bogey dropped her to par.
Blasberg had her troubles, too, making bogey at the difficult first hole, a 402-yarder with a slight dogleg right and the most difficult hole at Corning Country Club. She rebounded quickly, though, with eagle at the par-5 second hole and followed with three more birdies to make the turn with the lead at 9 under.
Blasberg's surge ended when she pulled a 2-foot par putt left of the hole and made bogey at the par-3 11th hole. Then she missed a 10-foot putt for par at 13 to drop into a tie with Jang and Lindley at 7 under. Blasberg's putter failed her again at the par-5 14th when she missed just left on a short birdie try, and she parred out to retain a share of the lead.
It's a position she doesn't necessarily relish, but she has some experience to fall back on. Blasberg was in the final group with Annika Sorenstam on the final day at Turtle Bay in February and shot 74 to finish in a tie for eighth.
"I struggled my final round out there," said Blasberg, a two-time All-American at Arizona. "I think I was almost taking it as a learning experience. I don't think I quite was focused on my own game as much. But it was good because I learned a lot. I'm going to go out and play tomorrow and see what the golf gods give me."
Temperatures were in the mid-60s again, but the wind was gusting to 20 mph or more, and Sandra Gal (76) found out quickly just how tricky the course again was playing. After making three birdies on her first five holes to reach 7 under, Gal had a three-putt triple bogey at No. 6, a bogey at No. 7, and another triple bogey at the 10th hole to fall to even par.
"I'm definitely going to forget about it and go for every single shot on Sunday," Gal said.
Divots:@ Australian rookie Anna Rawson, who made her first cut in her fifth tour start with opening rounds of 69 and 75, had a 2-under 70 and was at 214. ... 1988 Corning winner Sherri Turner, most likely playing here for the final time as she contemplates retirement, shot 73 and was 1 over after three rounds.