News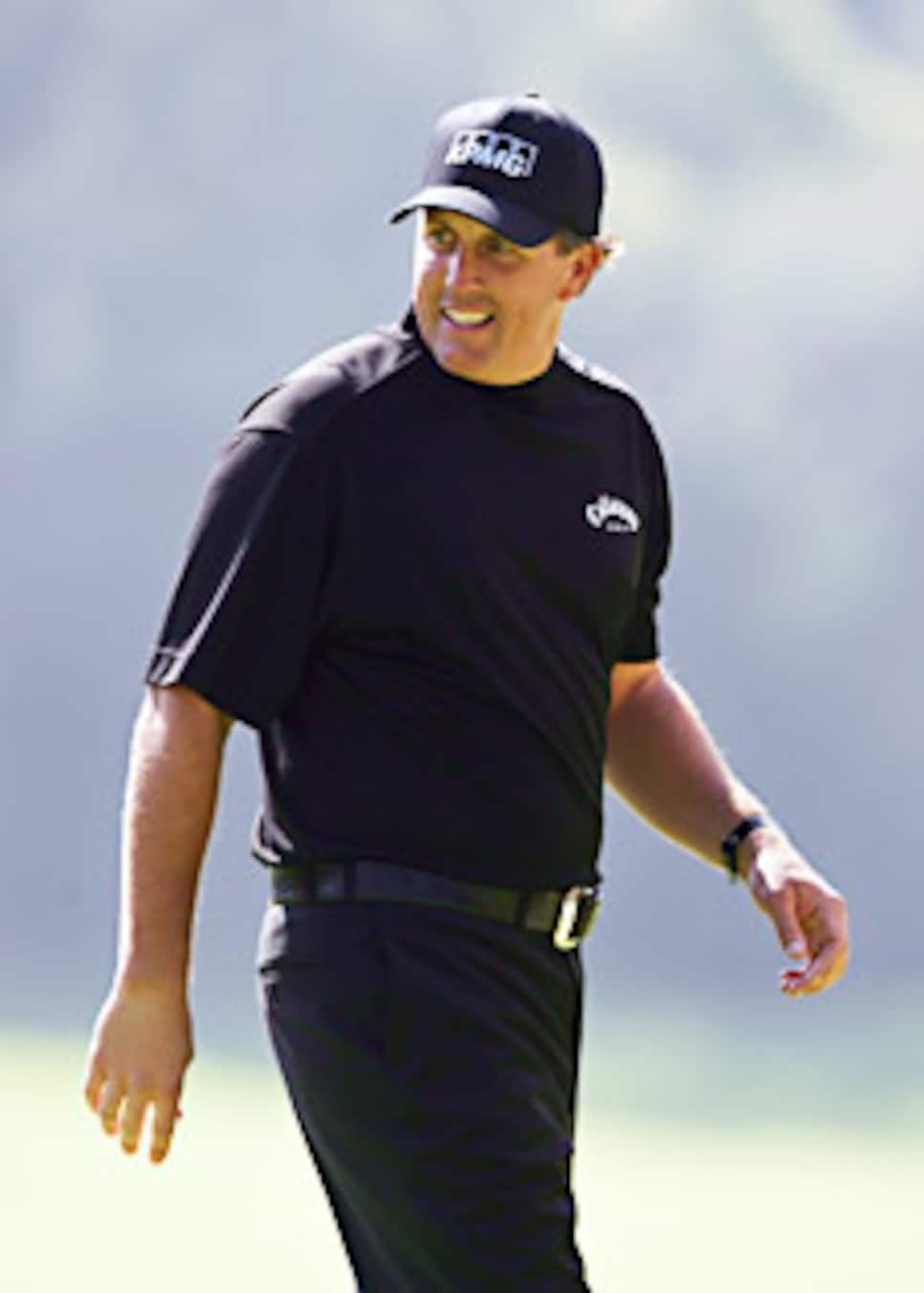 Phil might be the guy who knows Torrey better than anybody else.
LA JOLLA, Calif. -- At first, he was just coming for dinner. Some tee times were moved up to accommodate his travel schedule, but Phil Mickelson came early and stayed late, going from honoree at the Boys and Girls Club Celebration tournament earlier this week, to the unofficial host pro at Torrey Pines' vaunted South Course, site of the U.S. Open in three weeks.
Mickelson showed up Tuesday morning with a double-strap Callaway travel bag slung over his broad shoulders, walking every step of the 7,607-yard champion course with Paul Spengler, the executive vice president of the Pebble Beach Co., long-time friend Pete Coe, the head pro at La Jolla CC, and Coe's son, Bucky.
Mickelson's buddy Gregg Tryhus, the Scottsdale developer (Grayhawk and Whisper Rock), walked every step with them, but Phil never let him take the bag. After telling everyone at the dinner that Torrey Pines would be the toughest U.S. Open in years, he went out and shot 70 from the back tees before gathering up the family and heading to Fort Worth for the Crowne Plaza Invitational.
Seeing Mickelson in shorts, carrying his own sticks, is nothing new around Torrey Pines. Lefty has been doing that since he was playing junior golf. He was out with brother Tim before the Players in the same gear and came back with a scouting report and take on the Golf Digest U.S. Open Challenge. Tim, the coach at the University of San Diego, is actually longer than Phil, who drove one 357 yards on Thursday at Colonial during an opening round 65.
"Phil has enjoyed carrying his own bag since his junior golf days," Coe said. "He just feels more connected to the course and it allows him to play at his own pace. I feel if the USGA would let him, he would pack his own bag for the Open and probably imagine he was playing in another Junior World."
Spengler, who organizes the annual Boys and Girls Club event along with golf course architect Tom Fazio, and their friends Davis Sezna, Peter Morse, Jerry Kling and Hollis Cavner, asked Mickelson at this year's AT&T Pebble Beach Pro-Am, if he would come by for a dinner in his honor. Two years ago, the Harmon brothers were honored at Winged Foot. Phil looked at his schedule and it fit. He arrived early, mingled during the cocktail hour, and was in no hurry to leave.
Hosting the dinner was New York Times best-selling author Jim Nantz, who said during the introductions he had a vision of a Mickelson victory. Afterward, they sat on a stage and conducted a question and answer session that lasted almost an hour. Phil was open, self-deprecating, teasing, funny. At one point, radio host Rush Limbaugh stood up and asked an impassioned question about Tiger Woods, but Phil gave it the full dodge, as any good politician would.
Phil made new friends that night, East Coast guys who were never around him before, who just read and heard about this Left Coast character and never knew what to think. When he showed up the next day, hanging around the putting green before teeing off without hitting balls, it sealed the relationship. Over $1.2 million was raised for the Boys and Girls Clubs, and the course was shut down right after the event Tuesday, giving officials almost three weeks to prepare for the championship.
There was only one roar loud enough to be heard as 18 groups got around the Open venue in 4:30. That was when Coe rolled in a curling six-footer at 18 to shoot 89. He and Mickelson had a $50 bet that the club pro wouldn't break 90 from the tips. Phil also lost $10 when Coe's son, Bucky, who played for Tim Mickelson at USD, shot 78.
"We broke even on the day because we had another bet of the same amount with him giving me a stroke a hole," Coe said. "For Bucky and I, breaking 80 and 90 from where we played the course was a moral victory."
He likes how the USGA's graduated rough lines look. He doesn't like the new tee at No. 13, the one that requires players to hit their drives across a barranca. "I'm kind of hoping it doesn't get used," Mickelson said. "I think it's such a great par 5 from the regular tee."
He said he probably plays Torrey every other week when he's in town, which Coe confirmed. Asked how much different it will play in June than it does in late January-early February for the Buick, Mickelson pointed out, "It doesn't need to be too different to make par a good score. Keep in mind, we play on the North course and that's where most of the under par numbers are shot. On the South course, par has always been a pretty good score since the redesign."
Phil forgot to mention what he told the guys gathered around him on the putting green Tuesday morning at Torrey. Even at 7,607, he'll only have to hit driver four times.