News
Right Where She Wants To Be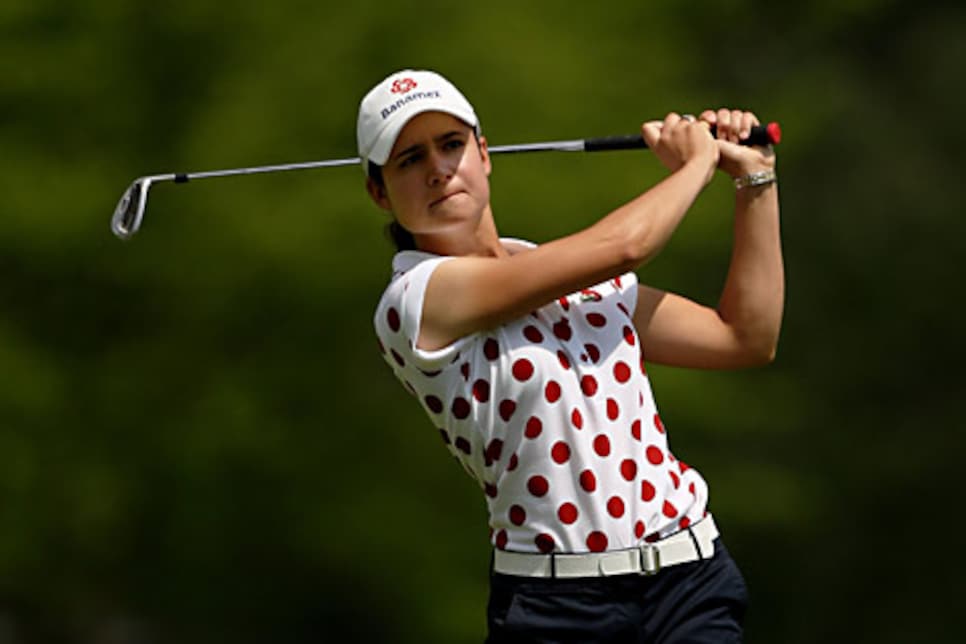 Lorena's 67 was the low round of the day. It was enough for a two-stroke lead.
CLIFTON, N.J. (AP) -- Lorena Ochoa said her own little goodbye to Annika Sorenstam.
The two-time defending champion shot a 5-under 67 on Saturday and left the retiring Sorenstam in her wake after two rounds of the rain-shorted Sybase Classic.
Ochoa will enter Sunday's final round of the now 54-hole tournament with a 9-under 135 total and a two-shot lead over third-year tour player Teresa Lu and veteran Sophie Gustafson. South Koreans H.J. Choi and Na Yeon Choi -- no relation -- were three behind.
Brittany Lang was four back and Sorenstam, who announced Tuesday that this would be her final year on the LPGA Tour, was five behind after a 1-over 73 that included a double bogey after hitting a tree on a par 5, and a bogey on her final hole.
"I don't need any more motivation," said Ochoa, looking for her sixth win of the year. "I am pretty motivated to win. And about Annika having all this time from the media, she deserves it. She knows I like to win, and I want to be on the top this year."
Ochoa has won 16 of 23 LPGA Tour events in which she has taken the lead into the final round, including all five this year and six in a row dating to last year.
"I am going to play tomorrow like I am three shots behind," Ochoa said. "I am going to be aggressive. I am going to try to make a lot of birdies. I win that way."
Sorenstam intends to follow her game plan, until she needs to be aggressive.
"She (Lorena) is playing steady golf," Sorenstam said. "I don't expect her to come back to the field. We have to catch her."
Ochoa's dominating performance Saturday also was a definitive response for everyone who thought Sorenstam might make a run at the Ochoa's No. 1 ranking in the world.
The 37-year-old Swede came into the event off two straight wins, and she looked ready to put more the pressure on Ochoa on Thursday when she shot a 67 for a share the first-round lead, one ahead of the Mexican superstar.
After Friday's round was washed out by steady rain, Ochoa showed she was more than ready for the challenge at the traditional Upper Montclair Country Club.
Ochoa made six birdies and a bogey in a round in which she was 3 under on four par 5s, making three two-putt birdies. She vaulted into the lead by closing her front nine -- Nos. 16, 17 and 18 -- with birdies from 12 and 20 feet and a two-putter from 40 feet.
Sorenstam had three birdies, two bogeys and a double bogey on Saturday after playing a 5-under round Thursday that had no bogeys.
"It was small mistakes that turned into big ones," said Sorenstam, who said her club was too open on the second shot from the right rough on the par-5 18th that bounced off a tree. "I am not going to make a big deal of it. I played very well today."
Sorenstam was 2 over on the par-5 holes, three-putting No. 11 after landing left of the green with her second shot. She could not stop her chip from the rough and missed a short par-saver.
Gustafson climbed into second place late with a 45-foot eagle putt on No. 18, her second eagle of the round. The Swede shot a second-round 68.
Lu, who had a career-best tie for third at the Ginn Open earlier this year, had an eagle, two birdies and a bogey for a 69.
Na Yeon Choi, a 20-year-old who came into the week leading the rookie standing despite being a nonexempt player, had six birdies and two bogeys in setting herself up for her fourth top 10 finish this year.
H.J. Choi, a 23-year-old third-year player who has not finished better than 54th this year, had three birdies, an eagle and a bogey.
Lang, who tied for fifth two weeks ago in Oklahoma, shot a steady 71.